It's official: Meet Windows 11 , the next version of Microsoft's operating system
Windows 10, the current operating system, was said to be the company's final version – but the company is now promising "significant" updates on the upcoming update.
Windows 11 will include a new UI, with a Start menu overhaul, performance improvements, and updates to improve multitasking. It even includes access to Android apps through Amazon's Appstore. Here is everything Microsoft announced today: m
Windows Team, Good Bye Skype?
Microsoft announced that collaboration platform Teams will be built into the core of the company's new Windows 11 operating system.
During the Windows 11 launch event, Microsoft lifted the lid on a new Teams integration that will allow users to launch into chats and calls with a single click or touch via an icon in the taskbar.
Developers in the store
Developers can be in their store with their own "commercial engine" and will receive 100 per cent of the profits, Panos says.
In the wake of Apple and Epic Games' lawsuit, this could be a huge move.
Apps on Windows 11
"Windows has always been about apps", Panos says.
A new rebuilt Microsoft Store – "built for speed" – which we expected from reports and the leaked build.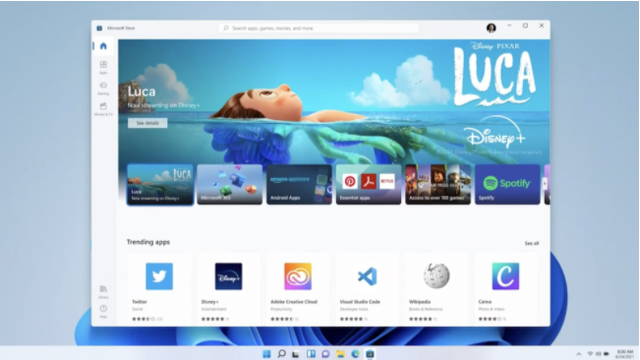 Xbox Game Pass on Windows 11
Xbox Game Pass is now built into Windows with a new app.
For a monthly price, gamers get access to hundreds of games on PC. It includes all of EA Play, Bethesda games – which Microsoft bought recently – and third party games.
"The highest fidelity games on all PCs", Bond says. Crossplay and cross-save works across devices.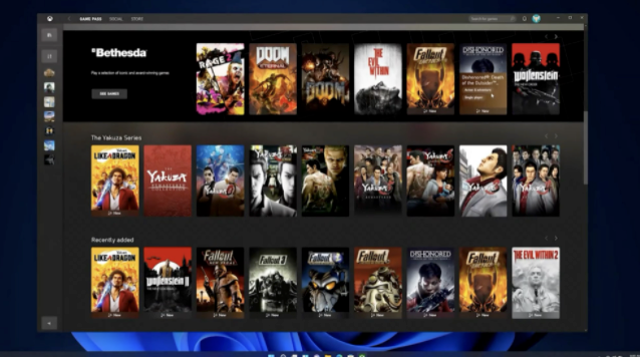 Android apps coming to Windows
Android apps are now coming to Windows – integrated into the Start Menu and the Microsoft Store.
Microsoft is doing this through the Amazon App Store which, on Android tablets and Amazon's own Fire tablets, is not great. Interesting that it is not the Google Play Store – but that's because Amazon's App Store is in the Windows Store already. Apps are running via Intel Bridge technology
Windows Widgets are Back!
Widgets is a personalized feed, powered by AI, and it builds on the widgets we've seen Microsoft introduce in Windows 10. It slides in from the left-hand side of Windows 11, and you can also make it full-screen. Built-in widgets include a news feed, weather, and maps.
Faster Faster Speed
Microsoft is also promising speed and performance improvements for Windows 11. DirectStorage will be part of Windows 11, a big new feature from the Xbox Series X / S. DirectStorage will require the latest NVMe drives to speed up game load times on Windows 11, and game developers will need to enable this technology to boost load times further.
All new improved app snapping experience
Snaps layout allows you to quickly snap several apps into the various modes that Windows 11 supports. Windows 11 will also capable of remembering where your apps are stored, thanks to something called Snap Groups.
Free or not Free?
Microsoft is making Windows 11 available as a free upgrade to all Windows 10 users. In theory, Windows 7, Windows 8, and Windows 8.1 users will also get the update for free if they upgrade to Windows 10. It's not yet clear if there will be a direct update path to Windows 11 from Windows 7 or 8.1
Releasing date
Starting in the fall of this year, owners of Windows 10 can upgrade to Windows 11 through Windows Update at no cost as long as they have a genuine copy of Windows.
So are you excited about the new Windows update? Hopefully we would never see a blue screen of death again.