Nasa has unveiled a first-of-its-kind video of its car-sized rover Perseverance making its sensational landing on Mars, and released the first audio recorded on the surface of the planet.
The American space agency shared the footage on Monday, days after the spacecraft made its dramatic descent to the Martian surface.
The rover documented its own touchdown via an ingenious system of booster rockets and a "sky crane". It landed in a "pool-table flat" area of the chosen landing site – the Jezero crater, which billions of years ago housed a Martian lake bed.
Nasa scientists also shared – for the very first time – the sounds of Mars, a feat never achieved before
"The amazing panorama and the first rocked landscape shot of the Jezero crater seen with human eyes and the first Martian sounds are the closest you can get to landing on Mars without putting on a pressure suit," said Dr. Thomas Zurbuchen, Nasa's associate administrator for the science mission directorate.
"The video, I believe, should become mandatory viewing for young people who don't only want to explore outer world, and build spacecraft to take them there, but also want to be part of diverse teams achieving all the audacious goals of our future."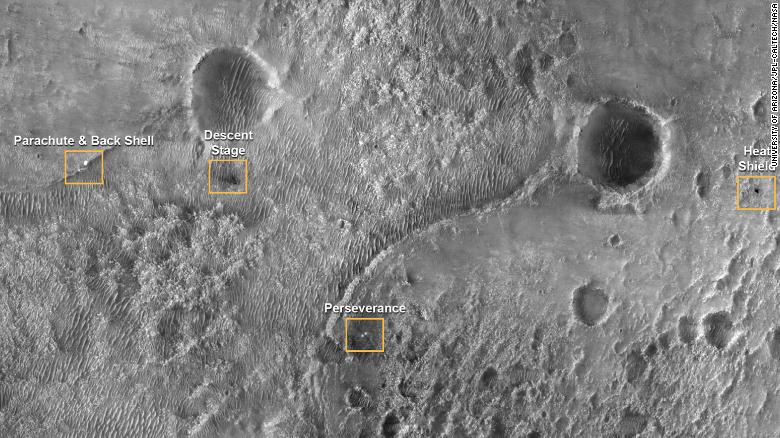 Perseverance, known fondly as Percy, was pronounced 'healthy' by Nasa scientists. Over the weekend, said Jessica Samuels, the rover's surface mission manager, scientists executed 5,000 instructions for the vehicle for to perform in the hostile environment of the cold, dry, hostile planet. "And … everything came back exactly how we've been wanting it to."
The $2.7bn rover – whose primary aim is to search for ancient signs of life – also produced some spectacular panoramic imagery courtesy of its 20 megapixel colour cameras detailing the peaks and troughs of Mars' dimpled surface.

Overall, the team said they had received a little over 30 gigabytes of information, and over 23,000 images of the vehicle's descent.
"I know it's been a tough year for everybody and we're hoping that maybe these images will … help brighten people's day," said Justin Maki, the imaging scientist for Mars 2020.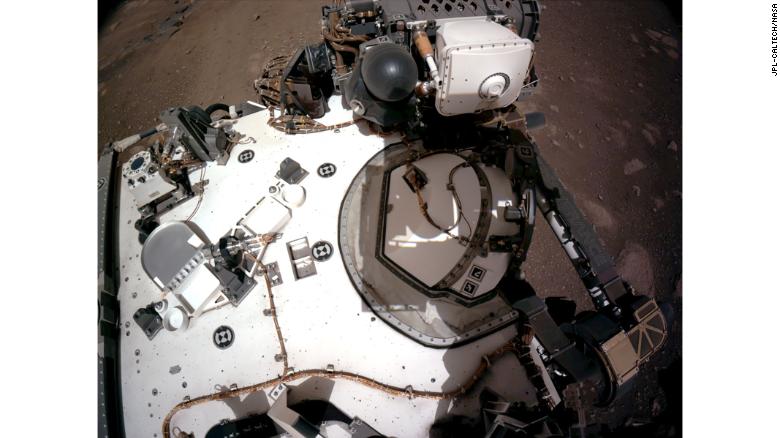 "We are a long way from understanding that landscape but we are there … the mission begins right here," said Susanne Schwenzer, an astrobiologist at the Open University.
"I for the first time can imagine what landing on Mars is like."
Perseverance will gather rock and soil samples using its drill and will store the sample cores in tubes on the Martian surface ready for a return mission to bring around 30 samples to Earth in the early 2030s.
It will also trial technologies to help astronauts make future expeditions.
These include testing a method for producing oxygen from the Martian atmosphere, identifying other resources such as subsurface water and improving landing techniques.
They also involve characterizing weather and other environmental conditions that could affect future astronauts living and working on Mars.