Families have been torn apart as women and children are given priority at congested border crossings.
Many Ukrainian men – father, brothers and husbands between 18 and 60 who are of fighting age – have been urged to stay behind and defend their country.
Some women are leaving their children at the border to return home and protect their country with their husbands, the UN refugee agency (UNHCR) said.
This could become the "biggest refugee crisis this century", the UN has said, predicting that as many as four million people could leave.
Who is leaving?
"It is women, children and the elderly that have been escaping and seeking protection with literally only small pieces of luggage and the clothes on their backs," said Christine Pirovolakis, UNHCR senior external relations officer.
She said it was proving to be a "challenge", with psychological support being offered to women and children as they cross borders "because they have been traumatised by what is happening".
Asked how many children are being left at the border by their mothers, she replied: "We don't know, but the UNHCR is at the border and is looking after all unaccompanied children that are crossing and ensuring that they are protected, that the national authorities are looking to put them in protection services and that they are being cared for.
"The next step will of course be family reunion, and in these circumstances, the situation is changing all the time."
Where are they going?
Ukrainian refugees will get the right to live and work in the EU for up to three years.
As of March 24, over two million have arrived in Poland. The EU member's geographical and cultural closeness make it the destination of choice for people fleeing the war.
A number of those who flee move on to nations beyond the country they enter first after leaving Ukraine.
Other countries to have taken in refugees, according to the UNHCR, include
Poland has taken in 2,144,244 refugees
Romania 555,021
Moldova 371,104
Hungary 324,397
Russia 271,254
Slovakia 256,838
Belarus 4,938
The U.S. will take in up to 100,000 Ukrainian
How are refugees leaving Ukraine?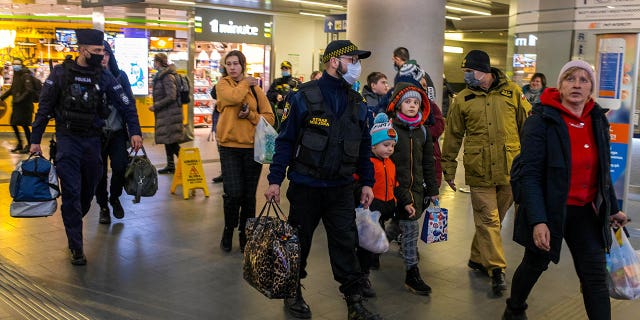 Trains heading towards Ukraine's border have been packed, and there have been long queues of traffic on roads leading out of the country.
Refugees don't need all their official documents, but it is helpful if they can provide provide identification cards or passports, birth certificates of children travelling with them and and medical documentation.
To get refugee status, they need to be Ukrainian citizens or people legally living in Ukraine, such as foreign students.
There have been reports of people from African countries being prevented from leaving Ukraine.
What help are countries offering refugees?
In countries bordering Ukraine, refugees can stay in reception centers if they can't stay with friends or relatives. They are given food and medical care, and information about onward travel.
The EU has granted Ukrainians who flee the war a blanket right to stay and work throughout its 27 member nations for up to three years.
They will also receive social welfare and access to housing, medical treatment and schools.
The government of Poland, which has received the highest number of refugees, has said it will need more money than the EU is currently offering in order to host the number of people arriving there.
Moldova, which has by far the largest concentration of refugees per capita, has also appealed for international help in dealing with the numbers arriving.
Discrimination claims at borders
There have been allegations that people are facing discrimination at borders, with some black students describing segregated gates for Ukrainians and non-white people.
Tokunbo Koiki, a 40-year-old social worker, said she has been in touch with black students who were terrified.
"People said they were pushed, sent back and physically assaulted on both sides of the border in Ukraine, Romania and Poland," she said.
Gagandeep Singh, who went to Kharkiv to study for a university course, claimed he faced discrimination at the Medyka border crossing in Poland: "There were two organised lines. One was for white people, and the other for everyone else."
Before he entered Poland, he said that one of the Ukrainian border guards covertly told him that the policy was "one foreigner for every 15 Ukrainians".
Ravinder Singh, chief executive of humanitarian charity Khalsa Aid, shared a video that showed a large group of Indian students being prevented from entering Poland, calling it "absolute racism".
However the Polish ambassador to the UN, Krzysztof Szczerski, has previously said any claims of racism or religion-based discrimination at Poland's border are "a complete lie and a terrible insult to us".
Ms Pirovolakis said "all the national governments have assured UNHCR that all the borders will remain open to everyone".