Billings, the largest city in Montana, is often overshadowed by its famous neighbor, Yellowstone National Park. But Billings is a phenomenal destination with a fantastic mix of history, culture, art, and nature. Whether you're in town for a day or a week, these are the attractions, restaurants, and shops that should be at the top of your list.
Experience The Wild West
If you've always longed to take a trip back in time to the Wild West, a visit to the Western Heritage Center is a must. This world-class museum, an affiliate of the Smithsonian Institution, brings the history of Billings, the surrounding area, and the Yellowstone River Valley to life through interactive exhibits and a variety of artifacts. The basement gallery has been renovated to look like the lobby of a 1930s dude ranch lodge!
When you visit, take a few extra moments to fawn over the building itself. Originally the Parmly Billings Memorial Library, it's one of the oldest buildings in Billings and is on the National Register of Historic Places. (And not to spread rumors, but just about everyone in Billings will tell you that there are some serious ghost stories about this place.)
Visit The Place Where Cattle And Classical Music Meet
At Tippet Rise, cattle and classical music go hand in hand. This 10,000-acre working sheep and cattle ranch, located 150 miles from Yellowstone National Park and 70 miles from Billings, is also a world-class art and performance venue. With its massive open-air sculpture garden, wooden concert hall, and hiking and cycling trails, it's an amazing blend of art and nature, with the modern sculptures seeming perfectly at home in the foothills of the Beartooth Mountains. With their energy-efficient lighting, geothermal heating, and solar power, the performance venues have a near net-zero energy consumption level. If this sounds like a fantastically cool place to visit, that's because it absolutely is. Time named it one of the 100 greatest places to visit in 2018.
Travel Back In Time
On the surface, the Yellowstone County Museum looks like a small pioneer log cabin, but 15,000 artifacts related to local history are displayed on the lower level. Some of the prized pieces in the collection are chuck wagons, Native American art and artifacts, and authentic cowboy tools.
The Yellowstone County Museum is free to visit and conveniently located on the grounds of Billings Logan International Airport. The area is known as "the Rims" because it's part of the Rimrocks geological formation. It's well worth arriving early for your flight just to check out the museum. A trip to the museum is an easy way to squeeze in some history and culture, and the breadth of the collection blows visitors away. It's a 2-minute walk from the airport entrance to the museum's doors. Note that the museum is closed Sundays, Mondays, holidays, and the entire month of January.
See Some Of The Country's Most Famous Graffiti
It's hard to convey just how important Pompeys Pillar is, but suffice it to say that it's home to the most precious graffiti in the United States. This sandstone rock outcrop, a national monument located about 30 miles east of Billings, reads like a who's who of Western frontier history. It features etchings of animals and other symbols carved by the people who used the area as a meeting point and campground thousands of years ago. And it famously bears the signature of one Captain William Clark, who carved his name there in 1806.
Clark's signature is the only visible evidence of the Lewis and Clark expedition that is accessible to the public in this part of the world, and the etching is as crisp as if it were just made. And the "Pompey" of Pompeys Pillar? He was Sacagawea's 18-month-old son and accompanied his mother and Lewis and Clark on their expedition. If only these rocks could talk!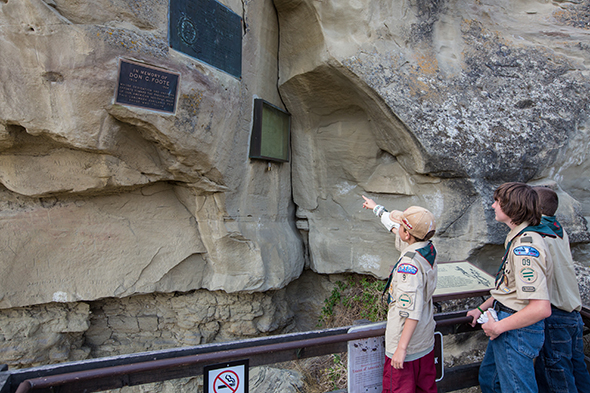 Go Spelunking
Billings's art, food, and culture scene might be thriving downtown, but travel just 5 minutes away and you'll be transported to another world, untouched by the nearby urban life. Pictograph Caves State Park consists of three main caves — Pictograph, Middle, and Ghost Caves — each containing pictographs, or rock art, dating back some 2,000 years. There is evidence that humans have inhabited the area for more than 3,000 years, and you can see some of the 30,000 artifacts that have been excavated in the visitor center, including stone tools and weapons. The area also offers fantastic bird-watching.
Get Ready To Rock And Roll
Swords Rimrock Park and Black Otter Trail is the place to go to shake off the stress of travel and enjoy nature. This rock formation near the airport offers scenic drives, walking trails, and jogging trails for outdoorsy travelers. For those who want a bit more exercise, gorgeous bike paths run along the Rimrocks Bluff (at an elevation of about 600 feet — talk about amazing views!). It's a great way to check out the Yellowstone Kelly Interpretive Site.
If you're really adventurous (in other words, the opposite of me), you can go rock climbing or rappel down the face of the rocks. Thrill-seekers will love it! Other Cool Places To Check Out
Art House Cinema
So much more than a movie theater, Art House Cinema is a nonprofit independent theater that features a mix of popular releases and foreign films. And beer is on tap for just $4!
The Reef Indoor Water Park
Kids and grandkids are sure to love Montana's largest water park — and it's a ton of fun for adults, too. The Reef Indoor Water Park is home to amazing waterslides, a wave pool, a water basketball court, relaxing hot tubs, and much more.
DanWalt Gardens
This beautiful public garden offers three acres of perennials, specializes in hibiscus, and bills itself as "Billings's best-kept secret." It might just be right! Note that visitation between November and April is by appointment only.
Written by Vanessa Chiasson
---
Want up-to-the-minute college, school life, entertainment news and features? Just hit 'Like' on our Teen Kids News Facebook page and 'Follow' on our @Teenkidsnews Instagram and Twitter account.