As the new school year begins, high school juniors and seniors are readying themselves for the dreaded college admissions process. And today, SAT scores, transcripts, and teacher recommendations aren't the only things causing stress. Now there's social media, too.
More and more, what teens post online influences the college admissions process. Some 35% of college admissions officers now check applicants' social media pages, compared to just 10% of officers in 2008, according to Kaplan Test Prep's 2017 survey of 365 college admissions officers.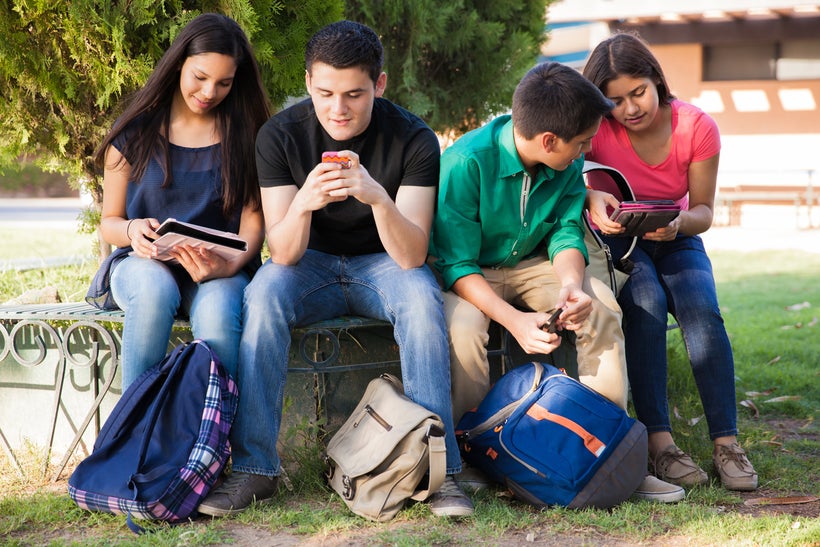 "For better or worse, social media has become an established factor in college admissions," says Yariv Alpher, executive director of research at Kaplan Test Prep. "It's more important than ever for applicants to make wise decisions."
When students don't use good judgement, the consequences are dire. Consider Harvard University's recent withdrawal of admission offers to 10 incoming freshmen for offensive Facebook posts. Harvard's decision created a stir and serves as an eye-opener for students, parents, and college admission officers alike. It's now clear that what happens online matters offline, too.
The Harvard scenario underscores that "admissions doesn't necessarily end at the acceptance letter," Alpher says. Colleges have a duty to build a positive community and can reject behaviors that undermine that. "We can't stress to students enough that their social footprint is their own personal calling card, and that the hunt for likes, shares and comments can have unintended, negative consequences," Alpher adds.
Nancy Beane, associate director of college counseling at The Westminster Schools and president of the National Association for College Admission Counseling (NACAC), agrees. "Make smart choices before you say or post something," she advises.
So, what's a prospective college student to do? Below are three tips to ensure your social media footprint works for you, not against you.
Determine your 'it' factor
Before jumping into the tactics, let's think big picture: What passions, expertise, achievements, and skills can you showcase? What value can you bring to your college community? In short: What's your personal brand?
"Pay attention to the image that you're projecting," stresses Hans Hanson, CEO and Founder of CollegeLogic. "Create the image you desire and build your brand. Work hard to develop it and protect it with every ounce of responsible intention."
Students need to differentiate themselves in a positive way by injecting their brand into their daily routines and habits, including their profiles, posts, texts, and emails. "A prospective student's image is formed in the initial email they send to the college admission office," Hanson explains. "It is further solidified during college visits in how they present themselves. It is cemented in social media posts. They must always keep in mind that someone is always looking, and what takes a long time to build can be torn down in a moment's lapse of bad judgement, typically resulting in lost opportunity."
Part of your brand should be your volunteer work, or entrepreneurial experiences. Beane, of The Westminster Schools, shares input from her colleagues in the college counseling department: "Colleges and universities want to make sure that incoming students are responsible and will be good community members," she relays. "Students who initiate a project, including earning the funding for it rather than having their parents' financial support, would probably be looked upon more favorably."
Audit your current online profiles. Do they match your planned brand? Then, view the profiles of students presently attending your dream school. What can you learn from them?
Develop your digital portfolio
Now that you have audited your online presence and reflected on your strengths, it's time to create a captivating online portfolio.
Start with a clean-up. Remove social media profiles that are dormant, off-brand, or inappropriate. No references to alcohol or drug usage, no profanity, no defamatory comments.
"Past social media posts are discoverable and don't disappear," notes Alan Katzman, Founder of Social Assurity, which provides social media education and training for students. "Every photo, video, tweet, like, and comment is out there in the public eye. It is key to learn how to use social media proactively and productively."
Next, construct the right profiles. Make every word, photo, and video count. Spend time crafting a LinkedIn presence, and showcase your experience, achievements, and aspirations. Secure testimonials and endorsements from teachers, employers, athletic coaches, and club presidents.
Lastly, remember: less is more. Rather than using every social media platform, select just a few that are in sync with your career aspirations. For example: Those interested in the creative arts should leverage YouTube or Instagram.
You have your portfolio complete. Now what? It's important to deliver the experience of you in a meaningful and deliberate way. Avoid posting "in the moment" — instead, take time to craft content that showcases your character, expertise, and passion. Hone the art of storytelling through blogging; tell your story through a series of thoughtful essays. And consider doing so on your own website. (If you're not up to that just yet, still snag the vanity URL. Otherwise, someone else may come along and scoop up yourname.com.)
Invest in networking both online and offline. College-bound students can use Facebook, Instagram, Twitter, and LinkedIn to communicate with other prospective students, or to seek out alumni events. Also make sure to connect via LinkedIn with college advisors and department heads at desired colleges and universities.
As an increasing number of college admissions officers turn to social media, these tips will become even more important. Indeed, the recently announced Coalition College Application plans to include an online student portfolio as a key component. As any smart, ambitious student knows, anything that can give you a competitive edge is worthwhile. And more and more, a strong online personal brand is that golden ticket.
Written by Stacey Ross Cohen | Huffpost
---
Want up-to-the-minute college, school life, entertainment news and features? Just hit 'Like' on our Teen Kids News Facebook page and 'Follow' on our @Teenkidsnews Instagram and Twitter account.