The remarkable 
Zapata Flyboard Air
 is simultaneously one of the greatest and most terrifying inventions we've ever seen. It brings the 1960s dream of personal jetpacks to life in a package that's somewhere between a Segway, hoverboard and, well, a jet.

The Flyboard Air is billed as "the safest, easiest, lightest, most maneuverable personal aviation system ever created." Most importantly, though, it just looks like a ridiculous amount of fun.
The Flyboard Air is the brainchild of former world champion jet skier turned inventor, 
Franky Zapata
, and there's some incredible technology behind it.
Join us as we take a closer look at the flying Segway that packs four turbines, 1,000bhp and the potential to crack 200kph.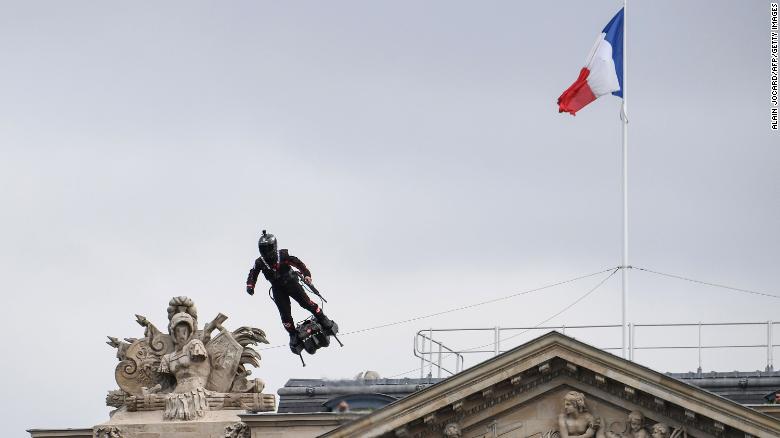 Along with the flying car, the idea of a personal jetpack is something that inventors have been dreaming of for decades, but most previous creations have come in the form of lethal-looking backpacks with rockets that have proved difficult or impossible to control. The Zapata Flyboard Air is different – there's nothing to hold onto for starters, and you stand on it rather than strapping into it.
Zapata has turned to turbines to give thrust to the Flyboard Air, highlighting a power to weight ratio that's 10 times better than other power sources, and offering some 1000bhp.
You can install a lot more power into a confined space, Zapata says on their website, and it's also more efficient at turning chemical energy into thrust.
You do get a handheld lever to control the Flyboard Air, offering thrust and elevation controls, and the ability to twist to turn, but the rest of it comes down to balance – like a Segway. It's easy to get to grips with, and it has been designed to work without any training.
Despite the lack of training, the Flyboard Air is also relatively safe, with four engines offering a backup should one fail, and Zapata claims that a failure can easily be compensated for by the Flyboard Air's onboard computer and pilot adjustments. If two engines fail, the Flyboard Air will simply make a controlled descent.
If the idea of balancing on a turbine-powered hoverboard sounds intimidating, you'll be happy to know that Zapata has implemented a whole heap of electronics to keep you airborne and upright.
In fact, in 
this recent interview
 Franky Zapata said, "We use the same kind of electronics like you use on a drone to stabilize. The problem is to create the algorithms, the right algorithms, to combine the intelligence in the board and in your brain. So we spent about four months to make that work."
There are some compromises to be made. Not everybody would be happy strapping a Camelbak-style bag to their back containing jet fuel, and the fact you stand on the Flyboard Air certainly leaves you open to the elements, and potentially vulnerable. However, it's clear that a lot of thought has gone into making the Zapata Flyboard Air as usable as possible. It's also not the first time Zapata has created a flying contraption; the company has learned a lot from previous efforts.
The Zapata company was borne out of Franky Zapata's passion for speed, initially created back in 1998 to make aftermarket parts for the world's fastest jet skis. But that wasn't enough for Zapata, and in 2012 the inventor set off down a new path, launching the innovative water-powered Zapata Flyboard that kickstarted an entirely new industry.
Over the years we've seen the original Flyboard become ever more popular, with A-list celebrities taking to the water to get their kicks aboard it.
There's even an annual Flyboard World Cup, highlighting the Flyboard's potential for competition.
Switching from water to a product that can fly anywhere, using lessons learned from the original flyboard, seemed like a natural progression for Zapata. In 2016 he bet a childhood friend one Euro that he'd build a hoverboard that would take the Guinness Book of World Records title for the longest hoverboard flight. The Zapata Flyboard Air was created, and Zapata duly won his cash.
Since then, he's been looking for further ways to improve the Flyboard Air, and although there's currently only one prototype, it may well turn into a production reality.
"For me, today it's a dream because I really realised my dream to fly," says Zapata. "And we're receiving attention from crazy companies, maybe even to put it in production. A week ago it was just for me, you know?"
But before that happens, Zapata has plenty of challenges to overcome. The Flyboard Air has already been banned from flying in France, and the company will need to work with governments around the world if the hoverboard is to become a production reality.
However, with Zapata predicting a future where the Flyboard Air could be used by the military and first responders, as well for entertainment and recreation, it does seem worth the effort. We'll be waiting patiently to test it out ourselves.
---
Want up-to-the-minute college, school life, entertainment news and features? Just hit 'Like' on our Teen Kids News Facebook page and 'Follow' on our @Teenkidsnews Instagram and Twitter account.