Tanyia Dawkins is brand new Soul Tiger, having joined the marching band in September. Every day, Dawkins and her bandmates meet after school in low-income Brooklyn neighborhood. Once they finish their homework (a mandatory requirement at practice), they get to the fun, she says.
For her and 145 other kids, the Soul Tigers Marching Band offers opportunities they wouldn't otherwise get, says Kenyatte Hughes, director of the program (and a former Soul Tiger). It's also a way for them to see possibilities outside of their neighborhood—which is why Hughes is taking the band on a college visit this week.
"I want them to see the black college bands," he says. "I want them to see people that look like them that are in college."
Of the band members (who come from several schools in and around the neighborhood), Hughes estimates that almost 90 percent graduate from high school and go to college. That's a pretty high estimate in a school district with a graduation rate of 59 percent. (The overall graduation rate for New York City is just 61 percent).
"The neighborhood is rough," Hughes says. "There are a lot of good things that happen in the neighborhood also, but of course, they get overshadowed by the violence and the gangs."
The marching band holds up a mirror to the neighborhood. It reflects the people in it, not the statistics that give it its bad reputation.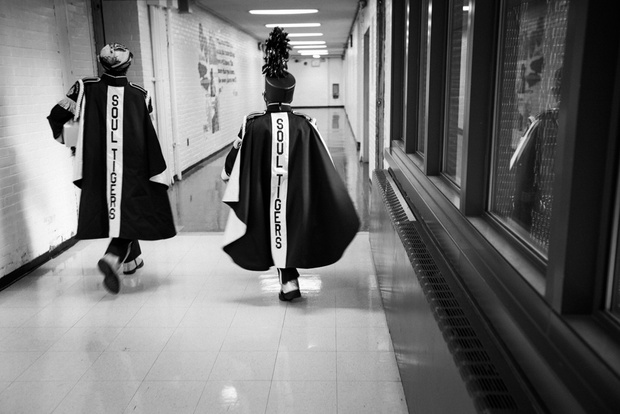 Photographer Phyllis P. Dooney documented the band's members in 2012, dropping in on them over a period of six months. Now, she is expanding on her photo series with a documentary short focusing on the families in the neighborhood—specifically the role of fathers.
Dooney is pretty familiar with the community now, and says that for the kids there, the band provided much-needed structure.
"If their home lives have that little continuity, something like a marching band that takes place five days a week, at two p.m.—the same guy leading it, the same classmates year after year after year—that is one of their most stable, consistent places of learning," she says.
Dooney herself grew up in the suburbs of Connecticut, in a very different environment from the East New York neighborhood she's documenting.
"I wanted to investigate beyond stereotypes what's really going on in our city," she says. "I knew that there was more to it than the version that I'd heard."
Kids as young as 8 join the band, and many stay until their high-school graduations. When they join, they learn their instruments with no prior experience; lessons aren't something their parents can afford to pay for, Hughes says. They perform high-profile gigs and have even taken trips abroad to Ghana and Senegal. Next year, they have a trip planned to South Africa.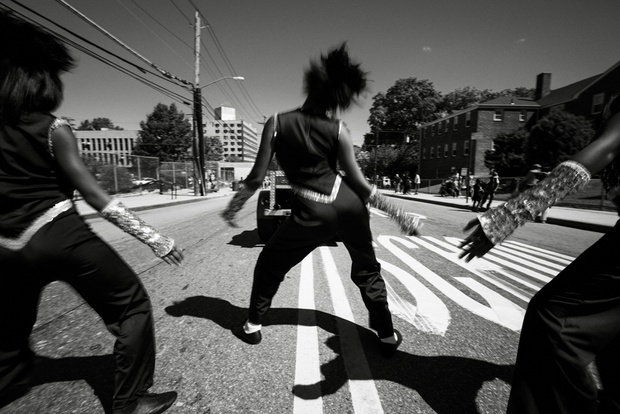 Apart from teaching them discipline and giving them a safe place to spend their time, being in the band gives the kids confidence in themselves.
"Yeah, their heads get big. They don't want to clean their rooms because they think they're stars now," Hughes says. "We try to keep them grounded."
The goal is to get them to college, and current band captain Devin Mercado thinks the band will help him get there. Mercado is a serious-sounding sixth-grader who plays lead baritone. He wants to be a lawyer because it pays good money, and that's important, he says. (For some members, Hughes says, the band has helped organize college tuition).
Being in the band will also give him the skills "to be a good adult," he says. When asked what a "good adult" is, he names his band directors. The band gives the kids someone to look up to—and a chance to become someone others look up to. In fact, a lot of members who end up going to college come back to tutor younger kids.
"Once a Soul Tiger, always a Soul Tiger," Hughes says.
Their parents—often single parents, often juggling multiple jobs—can rest assured that their kids will be okay for the couple of hours they're at practice.
Tenth-grader Akirah Taylor is also the Tigers' dance team, and says her mom is pretty happy that she's with the band.
"My mom loves it because it keeps me out of trouble," she explains. If she wasn't a part of the band, she says she'd probably not be going to school as much and fall "under bad influence," she says. (When Dooney photographed her troupe, Taylor says she didn't mind at all because she likes having her picture taken.)
"The time I spent here has been lovely because I feel like i have a second home …where I can trust people," she says.
Whether or not parents are supportive plays a big role in how far the kids get in the band. Some parents are strict to the extent of becoming what Dooney calls "helicopter parents"—always hovering, always watchful— so that their kids don't go astray.
Others leave the neighborhood altogether to try and make sure that their kids never end up on the streets.
But if parental support is lacking, the band is not enough to keep kids on track, says Hughes.
The program has been getting some funding through the city council discretionary fund over the past few years, says Mark Zustovich at the Department of Youth and Community Development. But Although Mayor De Blasio expanded after-school funding for middle school programs recently, it's unclear if the band qualifies.
They could always do with more, Hughes says. Right now, for example, they don't have money for enough chairs for everyone to sit on.
"I guess I would say that it's an under-appreciated program, considering our resumé," He says.
But chair or no chair, fourth-grader Dawkins feels great at practice. She joined because her friends told her about it.
"They said it was very nice and they could hear the music wherever they go," she says.
Written by Tanvi Misra
---
Want up-to-the-minute college, school life, entertainment news and features? Just hit 'Like' on our Teen Kids News Facebook page and 'Follow' on our @Teenkidsnews Instagram and Twitter account.