Sometimes being a rodeo clown isn't all that funny. A few years ago in Minot, N.D., a raging bull tossed its cowboy. In stepped clown Timber Tuckness, who waved and taunted the angry animal's attention away from its fallen mount. The bull zeroed in on Tuckness, who quickly surveyed his options and decided to jump into a barrel, one of the safety bailouts used by clowns inside the ring.
That maneuver usually does the trick. But this time the thrashing beast got its hind leg caught in said barrel and spent a good half a minute trying to kick its way out. "Every time he kicked it was my head that he was kicking," says Tuckness, 49, whose clown career spans three decades.
Tuckness emerged with a broken jaw and broken neck that left him in a halo brace for three months and out of action for half a year. But he returned to work as he always has. "I can't help it. My grandparents were in the rodeo, my mother was a trick-rider," he says. "I was born to do this."
Spring and summer are rodeo season in America. While cowboys are the stars of the show, supported by their bovine and equine partners, the little engines that keep the show running are the clowns. Their job: Entertain while trying to prevent tragedy.
Clowns work the crowd during lulls in the action with one-liners and Three Stooges-style slapstick. They protect cowboys with the athleticism of NFL running backs and the derring-do of stuntmen, trying to prevent a vulnerable cowboy from getting trampled–what's known in the business as a "wreck."
Most Famous Clown
Flint Rasmussen, 41, may be the most famous rodeo clown in the world. The Professional Rodeo Cowboys Association named him clown of the year eight times. Since 2005, he's had an exclusive deal with the nationwide Professional Bull Riders tour.
Though he wears traditional rodeo clown makeup (white around the eyes and mouth and red on the nose), Rasmussen made his mark by being different from his predecessors. "I grew up watching the traditional rodeo clown, who did a few gags and maybe told a joke or two," he says. "I wanted to do something different."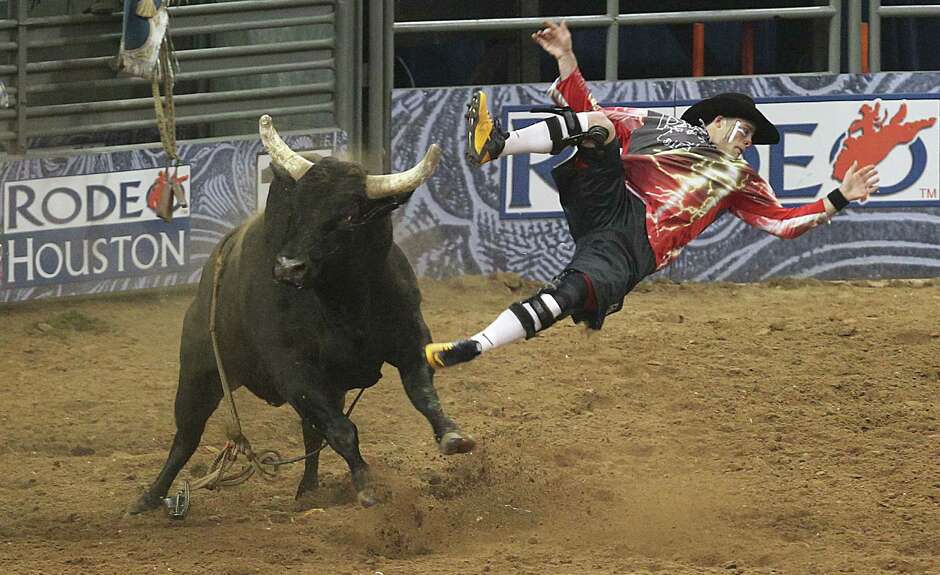 Rasmussen's act includes singing, dancing, jokes and pantomimes. He does "a mean Michael Jackson" that includes the tough task of moon walking in the dirt while wearing cleats. He sings his own version of Kid Rock's "All Summer Long." He says he's "not afraid to do some Elvis" and really likes to imitate the "lady in the dog show who runs beside her dog."
Entertainer and Bullfighter
Unlike Rasmussen, Timber Tuckness is both an entertainer and a bullfighter. On the day of a rodeo, Tuckness will spend some time visiting local schools, wearing full clown regalia. Then Tuckness will report to the rodeo ring, put on his wireless microphone and his protective vest made of a high-tech version of shatterproof glass, knee pads, elbow pads and makeup.
Tuckness says a rodeo clown has to be athletic and learn moves like a convincing shoulder fake. But a lot of his maneuvers are instinctive and come from something he calls "bull savvy."
"I've been around these animals all my life, and I've picked up a few things about how they move," he says. "I can break some of their moves down into categories, then base my moves on them."
The challenge, Tuckness says, is when you get an older bull–say, a 10-year-old–who's seen it all. "They learn as they get older, so you have to keep pushing your game," he says. "That's what keeps it fun."
The Younger Generation
Tuckness' son, Dusty, 22, is one of the best up-and-coming bullfighters in the country. He started when he was 11. Dusty has already suffered a litany of injuries, though. "I've separated my shoulder, dislocated my knee cap and broken my ribs," he says. "Nothing too major."
Dusty says preparation is the key to becoming a better clown. "I eat right and work out six days a week," he says. "In my off time, I review film of some of my own work and some from the great old names to see how they pulled things off."
Dusty spends time with the stock contractor (the bull's owner). He wants to know if the bull is mean, if it tends to run right or left, or if it is "welly" (a bull that tends to drop riders in the middle of a spin).
Dusty researches his cowboy colleagues. Are they prone to getting "hung up," meaning snagged on the bull? If so, is it usually by their hands or by a spur? Dusty also wants to know what kind of grip the cowboy is using. One grip prone to hang-ups: the "suicide," in which the rider wraps rope around his pinky.
Dusty has also honed his showmanship. He's known as one of only two clowns (Andy Burelle is the other) who can do a back flip over a charging bull. His method: Put his back to the animal and watch it out of the corner of his eye, then time his back flip over the beast. (Burelle once mistimed a jump and broke his back.)
A clown's most important skill, says Dusty, is adrenaline control, that is, the ability to remain calm in a dangerous situation. "A lot of times, the crowd won't even realize that we prevented a huge wreck," he says. "But that's our job."
Written by Monte Burke
---
Want up-to-the-minute college, school life, entertainment news and features? Just hit 'Like' on our Teen Kids News Facebook page and 'Follow' on our @Teenkidsnews Instagram and Twitter account.