The Special Olympics World Games will draw thousands of athletes to Abu Dhabi this weekend, each one bringing a unique story about obstacles faced and overcome. The more than 7,000 competitors come from 177 countries and have intellectual disabilities including Down syndrome and fetal alcohol syndrome. They will face off in 25 sports.
The Special Olympics began in 1968 under the leadership of Eunice Kennedy Shriver, John F. Kennedy's sister. Shriver, whose sister Rosemary suffered from an intellectual disability, had fought for many years to increase recreational opportunities for those like her.
Today, the Special Olympics provides competitions to over 4.4 million athletes across the globe, and hosts the Summer World Games every two years.
Here are some of the most inspiring stories from those who have competed, from the four-season athlete who hugged President Obama to the accomplished runner who has her own Disney movie.
The swimmer who not only wins big, but teaches kids to swim
Kim Chandler, 42, did not hesitate when a reporter asked about her victories at the Special Olympics 2014 USA Games.
"I like to win," Chandler, who has Down syndrome, told NBC Bay Area shortly after returning home to California last year with three swimming medals, one of each color.
But Chandler also likes to help other young athletes. In her hometown outside of San Francisco, Chandler volunteers at the Mill Valley Community Center, teaching kids to swim. Despite grim projections from doctors as a child, Chandler is not just an accomplished competitor, but also a role model.
The four-season athlete who hugged President Obama
The highlight of Tim Harris' Special Olympics athletic career came not on the court or field but at the White House.
Harris, who has Down syndrome and is an accomplished basketball, volleyball, track and field and poly hockey player, was a guest at President Obama's star-studded event to commemorate the anniversary of the Special Olympics.
Obama gave Harris a shout-out during his speech, praising not only Harris' athletic achievements but also his entrepreneurship in starting his own restaurant, Tim's Place, in Albuquerque, N.M. After Harris heard his name mentioned, he walked up to the stage to give Obama a hug.
"Presidents need encouragement once in a while too," Obama said, according to Reuters. "Thank you, Tim."
The accomplished runner with her own Disney movie
Loretta Claiborne has competed in six Special Olympics world games, winning gold in the mile run, the 13-mile half marathon, and singles and doubles bowling, along with silver in figure skating.
Claiborne, who is now in her 60s, was born partially blind and was unable to walk or talk until the age of 4. That didn't stop her. She has placed in the top 100 women finishers of the Boston Marathon twice, and received the 1996 Arthur Ashe ESPY Courage Award, among other accolades.
In 2000, she was the inspiration for The Loretta Claiborne Story, a TV movie about her astonishing journey, and she still runs every day.
"If it weren't for sports, I wouldn't be the person I am today," she said. "I was very angry before and sports was the arena that turned that around for me."
The runner who was a finalist to appear on the cover of Runner's World magazine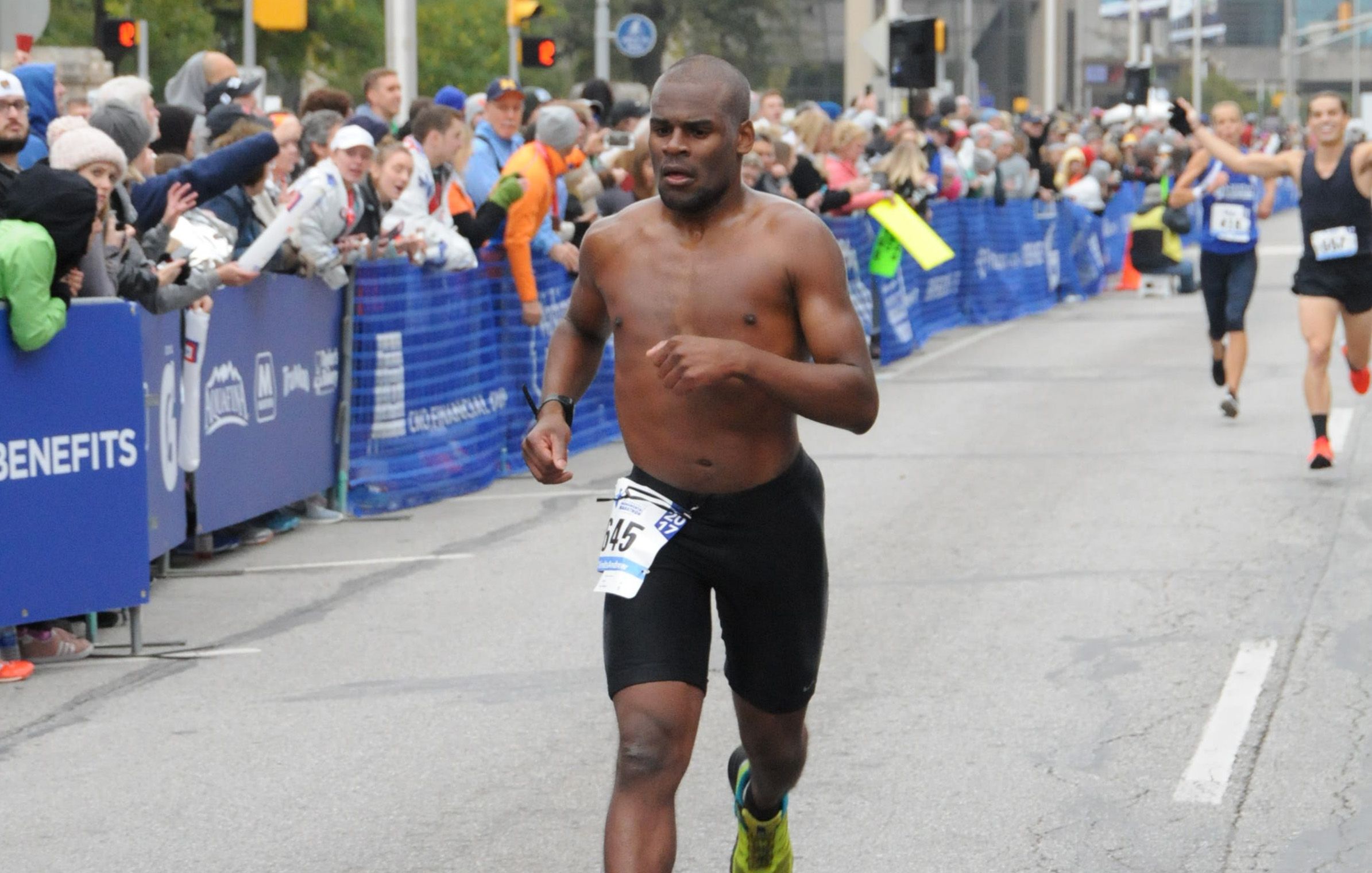 Andrew Peterson, 22, was born with fetal alcohol syndrome, but that didn't stop him from winning three gold medals at the 2014 Special Olympics games in New Jersey. Peterson competes in the 1500M, 3000M and 5000M running events and said he hopes his ability to overcome obstacles inspires other athletes with special needs.
"I just like to help other athletes, like, to get better," he told local news channel WISH last summer.
Peterson was also the runner up to appear on the cover of Runner's World magazine during their annual cover contest last year. Although he lost the spot to Scott Spitz, a fellow Indianian and marathoner who was diagnosed with a rare form of abdominal cancer in 2013, the two became friends upon discovering they both lived in Indianapolis and now train together.
The national champion gymnast who was virtually immobile as a child
When Chelsea Werner was a child, she had low muscle tone and trouble moving, a symptom of her Down syndrome. She began doing gymnastics as a way of building her strength, and now, at age 22, she has won multiple national titles.
Werner was enthusiastic about gymnastics from the very beginning, even though in her earliest competitions she usually placed last, her coach Dawn Pombo told TODAY last year.
"Then there came a time when she did understand what the lower score meant," Pombo said. "That began a whole new journey of training her to understand if this is what you want to do, then you have to work harder if you want to get a medal."
The road was rocky at times. In 2006, the Special Olympics committee of Northern California, where Pombo is from, got rid of its gymnastics program. She had to train on her own from that point on, and her father formed a nonprofit called Chelsea's Quest, to help pay for training and travel costs.
She began training for 16 hours a week, competing and winning as a one-person team at Special Olympics events, and even appeared as a special guest in the 2014 NCAA women's gymnastics championships.