It's almost that time of year when scary pumpkins dot lawns full of multi-colored trees and decorations adorn the fronts of houses. Halloween is upon us but, more importantly, the autumn season is also right around the corner with its chilly breezes and promise of a new year. As the seasons change, visiting the pumpkin patch almost feels like second nature to some people as they prepare their carving tools or paints, pans for roasting seeds, or recipes for pumpkin squash.
Perhaps one of the most popular autumn activities, pumpkin carving is something many love to do at home – but the fun doesn't stop there. While carving pumpkins is one way to have fun with the seasonal gourd, taking a tour of other people's carvings is equally as exciting. Across the country, there are Jack-'o-lantern tours that feature the work of carving artists from all over, and some of them might be in your very own backyard (well, close to it, anyway!). From beautiful sculpting to tiny works of art, these are the best places to view Jack-'o-lanterns in the country, with amended tours for the current safety guidelines.
Great Jack-'O-Lantern Blaze In Croton-On-Hudson, New York
Just a quick train ride away from New York City, this over-the-top display in Croton-on-Hudson, New York boasts over 7,000 jack-o'-lanterns designed and carved by local artisans on sight. Set up around an 18th-century historic site along the river, this experience defies all expectations — with everything from a Pumpkin Carousel to a Pumpkin Planetarium. If you're too busy scrambling for a last-minute costume to make it before Halloween, you're in luck: it's open after the holiday on select days until November 30.
Keene Pumpkin Festival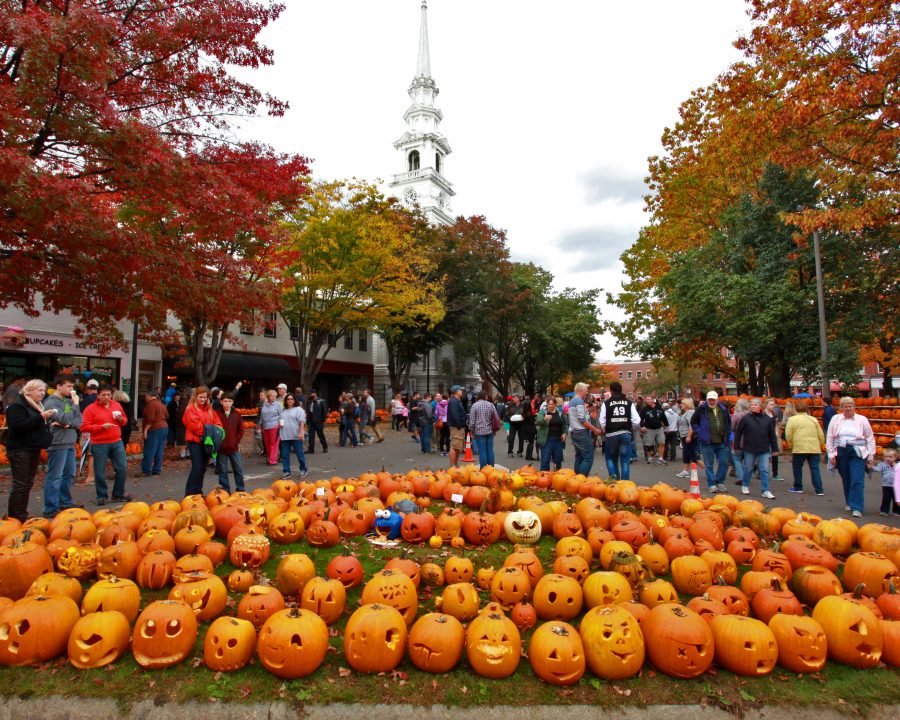 A local tradition that has gained notoriety over the nearly 30 years since its inception, New Hampshire's Keene Pumpkin Festival emphasizes the old-fashioned magic of the holiday.
"The Pumpkin Festival has been broadcasting to the world what can happen when people come together for no other purpose than making magic happen," writes founder Nancy Sporborg on the festival's website.
The festival has repeatedly broken the world record for the number of jack-o'-lanterns lit at one event, reaching as many as 30,581 pumpkins back in 2013.
Curious to see the spooky sight for yourself?

Jack-'O-Lantern at Williams Park Zoo
Beyond its impressive collection of over 5,000 intricately carved jack-o'-lanterns — such as the pictured portraits of John F. Kennedy and his brother Robert F. Kennedy — this spectacular offers an unbeatable aerial view to enjoy the display when it's all lit up. Be sure to stop by before November 3, and to hop on the Soaring Eagle Zip Ride to take in the twinkling lights of the pumpkins in addition to the city of Providence spread out below.
Rise of the Jack-'O-Lanterns
This iconic display of over 5,000 hand-carved illuminated jack-o'-lanterns in Long Island's Westbury Gardens makes for a walk to remember. Featuring multi-pumpkin structures comprised of dozens of jack-o'-lanterns to create everything from a life-sized fire truck to a 40-ft.-long dragon, this is a family-friendly experience not to be missed if you're in the area. It's on view from October 11-28 — but best to scoop up your tickets quick, as it's already selling out!
Louisville Jack-'O-Lantern Spectacular In Louisville, Kentucky
This display transforms Iroquois Park in Louisville, Kentucky into a blazing trail of more than 5,000 sweet, spooky and seriously artistic carvings. Themed music and scenes set the mood for a stroll through these illuminated woods, which are open through Nov 3.
The Great Highwood Pumpkin Festival
Seeking to break the Keene Festival's hold on the Guinness World Record for the largest display of carved and lit pumpkins (30, 851), this festival in Highwood, Illinois draws over 70,000 attendees annually to its towering pumpkin wall for one weekend in early October. Jack-o'-lanterns are stacked impossibly high and as far as the eye can see, with all proceeds from the event benefiting Make-A-Wish Illinois.