'For many, Halloween isn't an event. It's a state of mind. And it isn't a day. It's a monthlong dive into the joys of being creeped out. Sure, this year's circumstances mean you'll have fewer opportunities to visit highly produced haunted houses or throw a raucous Halloween party, but that doesn't mean Halloween is canceled. You just have to know where to look.
Every state has its own urban legends and places where only the brave tread. We're talking old mental hospitals, valleys filled by ghosts, cemeteries, historic hotels — no matter what scares you, your state has a place to freak you out. And because ghosts never get a day off, you can hit most of these places even now, whether it's for a guided tour or a bone-chilling solo walk into the darkness. Here's where you can go to truly embrace the Halloween spirit this year and remain safe. No costumes required.
Alabama
Maple Hill Cemetery
Huntsville

Oh, sure, the actually cemetery here is creepy and all, but it's the playground that'll really get you. In 1985, somebody decided to open a playground adjacent to Huntsville's oldest cemetery, presumably to give the children of mourning parents some respite. Instead, it appears that the resident ghosts are the ones enjoying it most: people report seeing orbs of light going down the slide and unoccupied swings moving, accompanied by disembodied giggles. Adding to the eeriness, some locals believe the victims of a rash of child murders in the '60s were buried nearby, their spirits now having eternal playdates with the cemetery's official residents. —Andy Kryza
Alaska
The Alaskan Hotel
Juneau
The most famous ghost to roam the halls of Alaska's oldest-operating hotel is that of a gold miner's wife who lived here while waiting for her husband to return. When he didn't, she began supporting herself by working as a prostitute… until he did return. Not exactly thrilled with her new career choice, he killed her, and now guests and staff regularly report encounters (no, not like that) with her ghost. —Matt Meltzer
Arizona
Yuma Territorial Prison
Yuma
Established during western expansion, this "territorial prison" scored itself 111 permanent guests during its heyday between 1876 and 1909. Not one to shy from a rep of locking people into hot, dark places, Arizona has designated this a state historical park—easily one of the creepiest in the nation, and one of the most haunted spots in AZ. Guides report feeling chills when they pass Cell 14, where an inmate doing time for "crimes against nature" killed himself. In the so-called dark cell, prisoners in pitch-black solitary went mad chained to ring-bolts in the walls. —Lauren Topor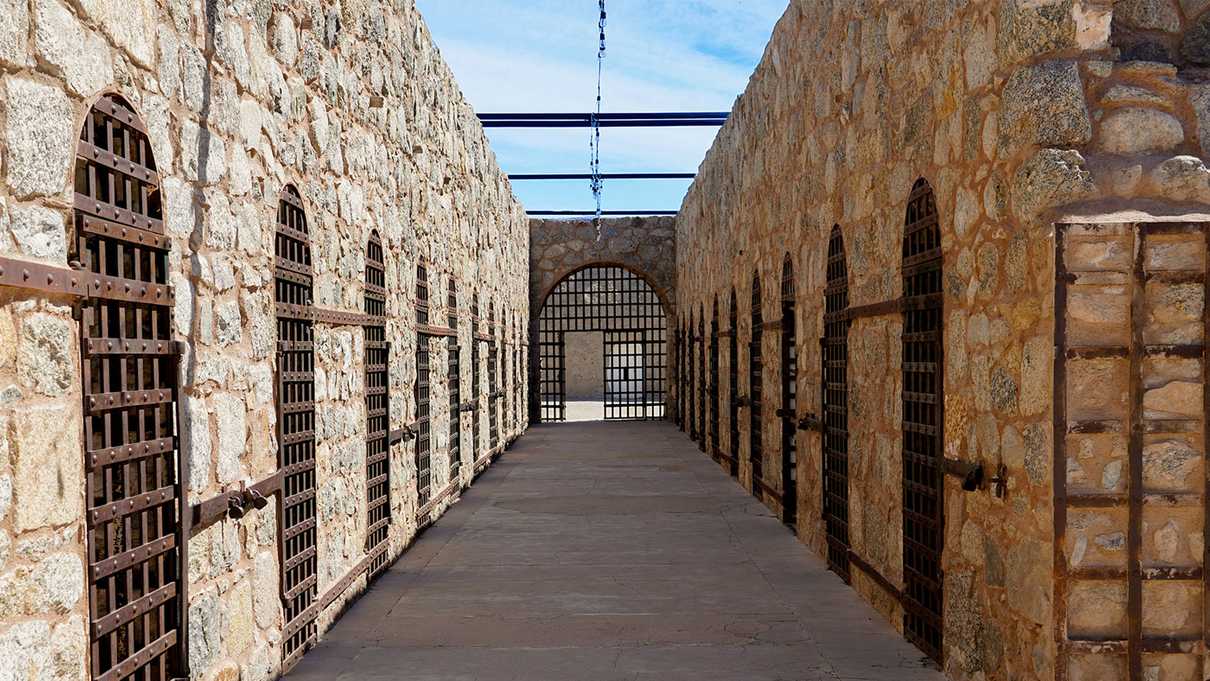 Arkansas
The Arlington Hotel
Hot Springs
This grand, century-old hotel is a paragon of ornate luxury, so much so that you'd probably choose to stay a while if you were a ghost, too. History weighs on the place, as well as on your mind: four presidents have stayed here, plus Babe Ruth and Al Capone. Outside, the old-timey lamplights guide your walk through the Downtown spring-fed spas that draw visitors to this resort town. Echoing against stone buildings and set against a backdrop of steep, inky forest, even the burbling fountains sound ghostly and ominous. —Sam Eifling
California
Turnbull Canyon
Whittier
California's packed with terrifying places, from cult compounds to famous murder sites, haunted hotels, and mysterious mansions. But none of them come with the promise of a brisk, scenic hike. Turnbull Canyon offers a 4-mile hike through the sprawling Puente Hills. Keep an eye out for sweeping city views… and the ghosts of 29 people who perished here in a plane crash in the '50s. Oh, and the ghosts of children who, according to (uncorroborated) legend, were taken from a nearby orphanage and used in ritualistic sacrifices. Oh, and the ghost of the teen who found some old electroshock equipment from the canyon's burnt-down asylum and fried his brain despite the site having no power. Wait, burned down asylum? UFO sightings?!? Rumors of multiple cults? No wonder the natives called it "Hutukngna," or the place of the Devil. So yeah, enjoy that hike. We're sure it'll be brisker than. you expected. —AK
Colorado
The Stanley Hotel
Estes Park
If you've read or seen The Shining, you'll know the feel of this often snowbound hotel: It's the location Stephen King based his Overlook Hotel upon. It may not look like the film—unless you watched the 1990s made-for-TV movie version, which was actually shot here—but it holds are rumors of haunted rooms and service workers who still wander the grounds. Be warned: There's a much more sinister danger. The hotel has such an extreme elevation that just walking to your room can drain you, so one stiff drink may have you seeing ghosts. —Brock Wilbur
Connecticut
Curtis House Inn
Woodbury
Gordon Ramsay once featured Connecticut's oldest inn on his appropriately-titled reality show Hotel Hell, bringing a paranormal investigator to corroborate what locals and visitors have been claiming for centuries: the joint's haunted. Ramsay's unsettling difficulty exiting his room during a five-day stay could have been due to faulty hardware, but try telling that to the guests who've reported disembodied voices, mysterious footsteps, and unwelcome otherworldly bedfellows throughout the inn's 265-year history. Apparent entities are believed to be the former inn owners, guests, and—perhaps most terrifying for anyone who works there—former employees who clocked in, but never clocked out. —Amber Sutherland-Namako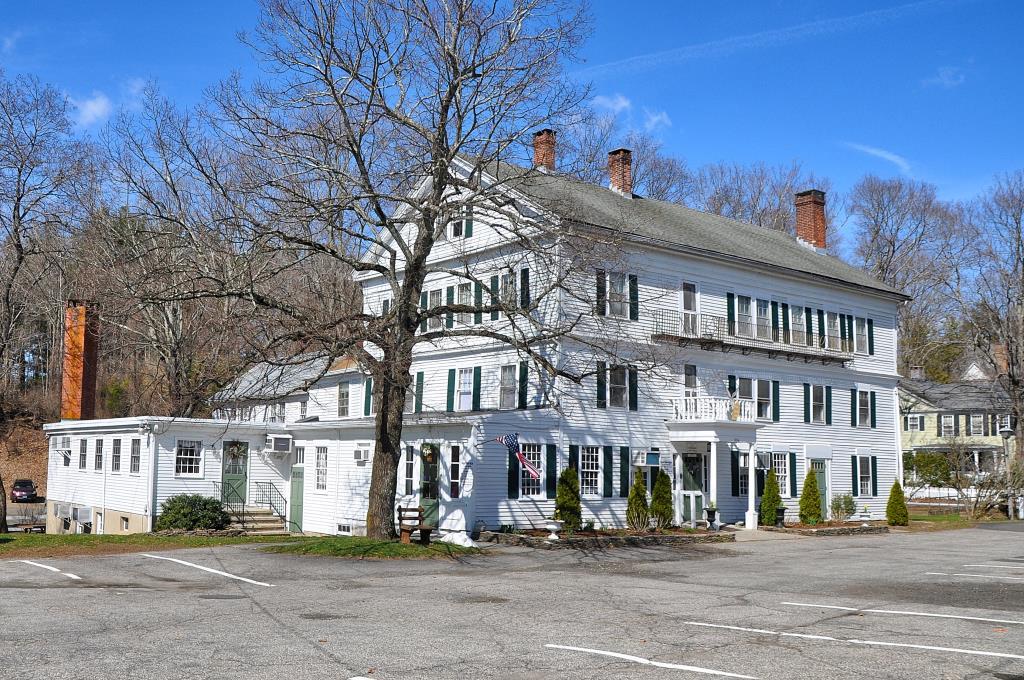 Delaware
Fort Delaware
Delaware City
Civil War prisons were particularly unpleasant places to be incarcerated back in the 1860s, what with the rampant gangrene, amputations, and war-induced psychosis. The spirits of the beleaguered Confederate soldiers interned at this former Union prison are said to haunt the imposing granite-and-brick behemoth, which sits a short ferry ride from Delaware City on Pea Patch Island. During October weekends, you can take an immersive five-hour tour of the fort , where you'll use ghost-sensing equipment to search for paranormal activity. Tickets are $110. —MM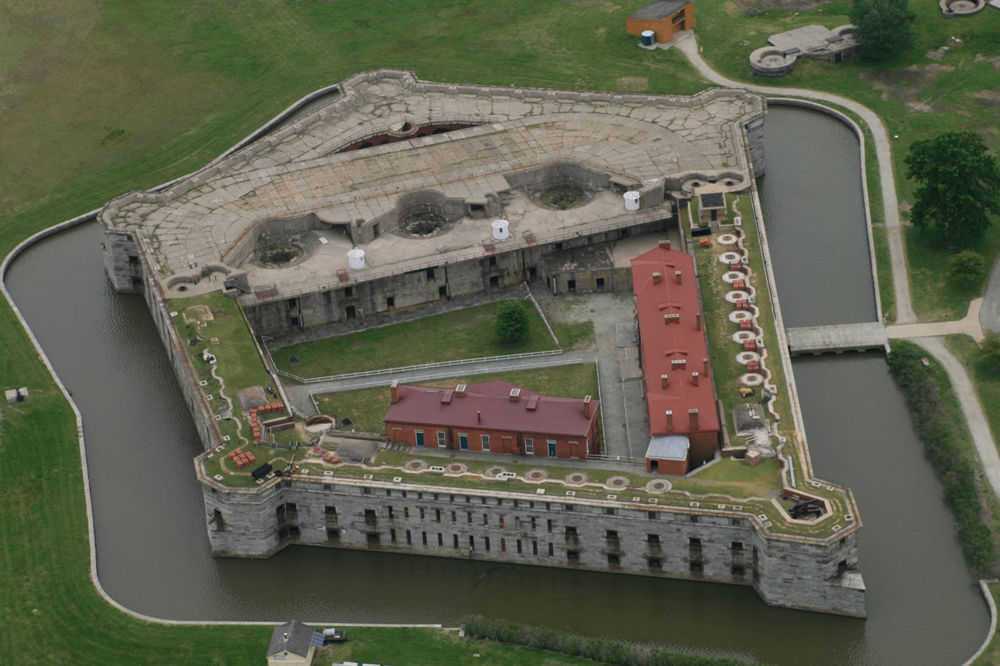 Florida
Fort East Martello Museum
Key West
Key West's Fort East Martello Museum is home to the OG macabre Florida Man, Robert the Haunted Doll. The inspiration for Annabelle, Robert was a gift given to the late artist Robert Eugene Otto. As a boy, Otto would blame the doll for all sorts of mischief, but the whole thing morphed from a cute little Calvin & Hobbes riff into something far more sinister. Some say the raggedy, weathered little sailor doll is cursed. He's reported to change facial expressions from time to time, and some say he'll let out little giggles. Oh, and some say he'll cause endless pain and suffering to people who disrespect him by taking his photo—which sucks because he's, you know, the centerpiece of a goddamn museum. —AK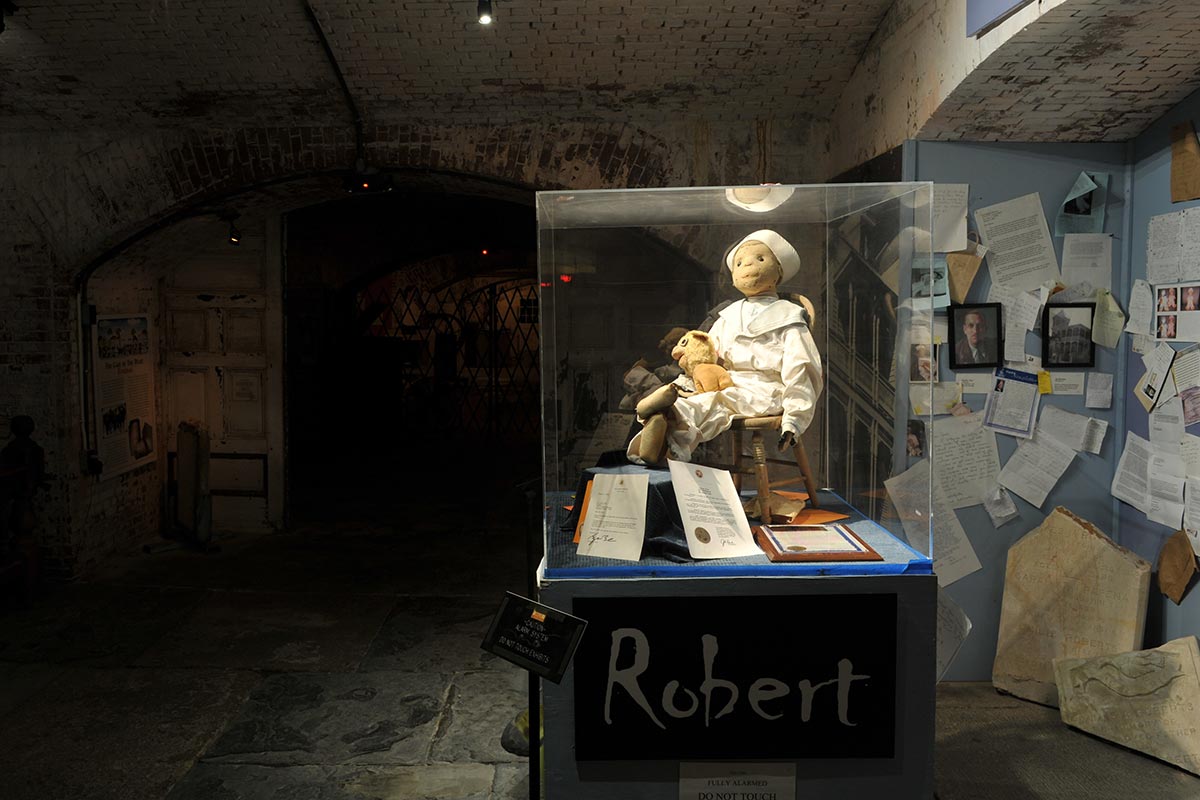 Georgia
Oakland Cemetery
Atlanta
Built in 1850, Atlanta's Oakland Cemetery—the city's oldest, largest cemetery, and among the most haunted places in Georgia—is home to Maynard Jackson, Bobby Jones, and Margaret Mitchell, among many others. The cemetery includes a Confederate branch where visitors insist they've seen uniformed soldiers wandering the grounds and even hanging off of trees. Creep in as far as you dare, but be warned: Some have alleged that they've heard Confederate Army roll call among the tombstones and sworn that their name was called amid the list. —Amy Schulman
Hawaii
Waipio Valley
Big Island
Hawaii is home to fiery luaus where island dancers welcome you with pounding drums, native chants, and blazing torches… All of which are awesome when those dancers are actually alive. Not so awesome when they're ghosts of ancient warriors marching through the islands armed to the teeth. But those are the night marchers, legendary spirits who roam the islands in an eternal march to battle. Most longtime locals have stories about encountering them, mostly in specific spots spread throughout the islands. The creepiest is the Waipio Valley on the northern shore of Hawaii: Though the park has some of the most scenic lookouts in the state, the pounding beats and chants of the night marchers echo especially loudly through the valley when the night marchers decide to join you for a hike. —MM
Idaho
Old Idaho Penitentiary
This prison, built in 1872, was closed for nearly 50 years. Today it's a full-stop tourist attraction, not unlike Alcatraz; you can tour the place, see where prisoners were held in solitary, and even get a peek at the gallows from death row. So, yeah, this place is haunted AF, largely by the prisoners who helped build it and ended their life sentences in the very walls they erected. Visitors report voices, a feeling of heaviness, and seeing apparitions, both with their eyes and in photos. With respect to the World's Largest Potato, you can't get that kind of experience with other Idaho tourist attractions. —AK
Illinois
Old Joliet Prison
You know that feeling you get when you find out the previous renter of an apartment was kind of a creep? This gothic, castle-like prison complex was once the (involuntary) home of notorious murder clown John Wayne Gacy and serial killer Richard Speck. There were riots and slayings, executions and other maladies that made this place midwestern Oz between 1856 and 2002, when it closed and sat abandoned for nearly nearly two decades. It's now re-open for tours (paranormal or otherwise), and sometimes hosts events like movie screenings (Blues Brothers was famously filmed here). Even without the hauntings, this place would be top-tier creepy. Throw in potential serial-killer specters and you've got a recipe for nightmares. —AK
Indiana
The Haunted Bridge
Avon
Indiana is packed with enough haunted inns and estates to pack a whole town, but for a little skin-crawling outside a big city, head to the sleepy bedroom community of Avon, home to one of the nation's creepiest-looking haunted bridges. The decrepit-looking concrete railroad span looks as old as the pyramids, and sports an undeniably sinister air—especially if you drive beneath it at night. If you care to park and poke around, locals say you might encounter the ghost of a weeping woman whose child was killed on the railroad tracks, or a drunken worker who fell into a load of wet construction concrete and was entombed in the bridge itself. But even if you're just driving through, you're likely to get chills. —AK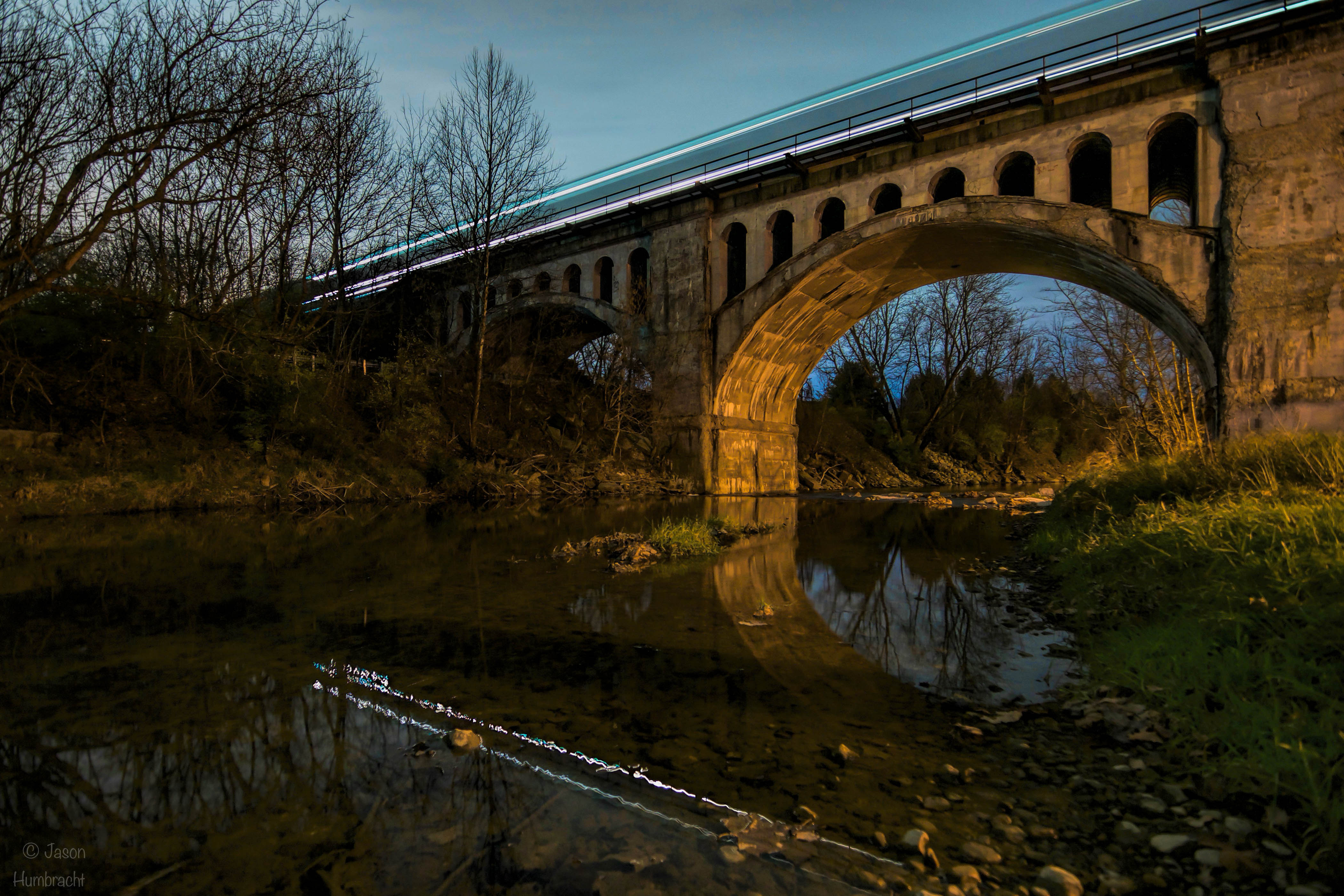 Iowa
Villisca Ax Murder House
Villisca
For a truly one-of-a-kind night away, book in at the Villisca Ax Murder House, the aptly named home where eight people were ax-murdered in their sleep back in 1912. The case is still unsolved, but the main suspect was a traveling minister who had taught at a nearby church that night and left town early next morning. Tours and overnight stays are offered in the very rooms that were the scene of a bloody massacre—you'll probably get the best sleep of your life, right? —AS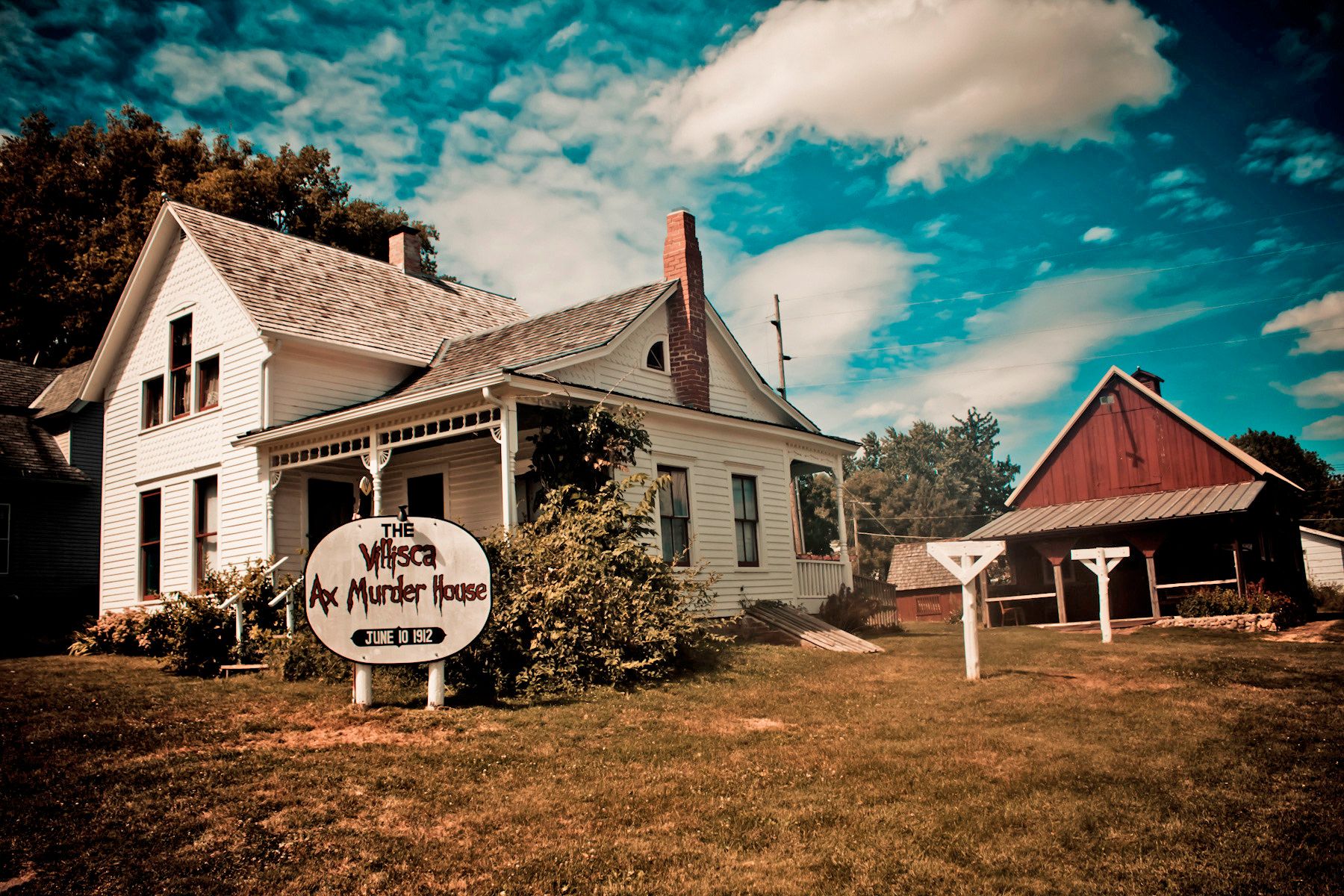 Kansas
Stull Cemetery
Stull
Locals know this tiny cemetery in an unincorporated Kansas township as a portal to Hell that the devil comes through twice a year. As outlandish as that sounds, the ruins of a nearby church and the bizarre architecture will have you half-believing the rumors. No Satanic sightings have been confirmed, and anyone caught trespassing in the private cemetery can face a $1,000 fine. But that only makes it a more appealing dare for the jumpy teens and courageous stoners looking to make the trip. Twice, in my case. —BW
Kentucky
Sauerkraut Cave
Louisville
Sure, it got its name because it was once used as to age sauerkraut, but there's something far more sinister fermenting here. Sauerkraut Cave earned its legend because it was located beneath the Lakeland Asylum for the Insane, an institution marred by accusations of overcrowding and mistreatment of patients. The cave beneath the now-razed asylum is believed to have been an occasional escape route for inmates, but there are also rumors of bodies being buried there. Strange visions and ghostly voices have been reported by many who have explored it; find it behind the archery range in E.P. "Tom" Sawyer Park. Guided tours are offered, but you can use your own judgment. —Kevin Gibson
Louisiana
St. Roch Chapel, Yellow Fever Shrine
New Orleans
In the 19th century, yellow fever swept New Orleans, but Reverend Peter Thevis, the pastor of the Holy Trinity Catholic Church, had a plan. He prayed to St. Roch (who is most identified with good health and healing), asking for members of his parish to be shielded from the disease and promising to build a shrine for the saint in gratitude. While 40,000 New Orleanians died, no one in Father Thevis' community perished. Today, pilgrims still visit the St. Roch Chapel, leaving offerings around the shrine. Among the artifacts: children's polio braces, crutches, rows of prosthetic legs, plaster feet, false teeth, and fake eyeballs. —AS
Maine
Mount Hope Cemetery
Bangor
You know who grew up in Maine? Stephen King. So it's no surprise, really, that part of the 1989 Pet Sematary adaptation was shot here. For extra scares, watch the movie before a nighttime stroll through this creepy 181-year-old cemetery and see if you can find the spot where Gage was buried. On the way, you'll see some of the first Civil War monuments ever constructed, and grave markers that date back to 1836. If you're not skeeved enough, Bangor is also the location of King's house, fronted by wrought iron-gates decorated with bats. Both are part of several Stephen King tours, which take you to sites around Bangor that inspired his novels. —MM
Maryland
Coffin Rock
Near Burkittsville
The Blair Witch Project still pulls tourists to Burkittsville, Maryland. To find where most of the film was shot, though, you need to head into Black Hills Forest about 20 minutes west of town to find Coffin Rock. It's a large flat rock near a creek in the middle of the woods. It's where a Maryland search party went missing in 1886 while looking for 8-year-old Robin Weaver. The kid eventually returned to town; the search party did not. A second search party found disemboweled bodies, bound at the hands and feet, on Coffin Rock. Those bodies later vanished when the search party returned with backup help. Local legend attributes all of this to the so-called Blair Witch. You can, of course, retrace those steps in history … just bring a flashlight and a good pair of running shoes. —Tim Ebner
Massachusetts
Lizzie Borden Bed & Breakfast
Fall River
In case you don't remember the world's most disturbing nursery rhyme, Lizzie Borden hacked up her parents with an axe back in 1892. And now, you can sleep at the delightful B&B/infamous crime scene where it all happened. On your visit, you'll sleep at the Bordens' home, eat their last meal (Johnnycakes and eggs), and sleep in the bedroom where the body of Lizzie's stepmother was found. After a stay there, I can attest: This home painstakingly furnished to look exactly as it did on the morning of the murders will creep you right out. Daytime tours accommodate lame-o wusses. Better, though, the 175-year-old property hosts up to 20 overnight guests, one of whom will invariably pull out the house ouija board after the evening guide departs and try to contact Lizzie. I did not sleep a wink. —Camille Dodero
Michigan
South Manitou Island
Leland
16 miles offshore from the Lake Michigan's Leelanau Peninsula, South Manitou is home to 300-foot sand dunes, deserted shoreline, and empty campgrounds. And with respect to the abandoned buildings of Detroit and Flint, it's about as creepy as you can get in Michigan. One legend suggests that a ship of cholera-stricken passengers stopped at the island, and sailors buried them in a mass grave while some were still alive. If that alone doesn't stir you to set sail to the island, there are two cemeteries, a cedar forest where unbodied voices are often heard, and off the coast is the shipwreck of the SS Francisco Morazan, where a young boy is rumored to have died after an attempt at exploring it on his own. Fair warning to all who seek refuge. —AS
Minnesota
Wabasha Street Caves
St. Paul
Our favorite Minnesota haunt, Forepaugh's Restaurant, recently closed. Luckily, Minnesota is home to as many haunts as it is lakes. One of the creepiest, and most accessible, is Wabasha Street Caves. This is one of the liveliest places on the list, an underground speakeasy from the '30s that still hosts weddings and parties so good that the original folks never seem to have left. That apparently includes the ghosts of three gangsters who, in the caves' bootlegging days, skipped out on their check by getting murdered and buried in the floors. To this day, people report seeing uninvited, very dapper guests roaming the halls, along with the ghost of a bartender and a madame. —AK
Mississippi
University of Mississippi Medical Center
Jackson
This gothic-ass state loves scary legends—the devil roaming Delta crossroads, ghosts haunting the mansions in Natchez—but a very real site of horror resides here in Jackson. Back in 2014, construction workers beginning a parking lot came across a mass grave of about 7,000 former Mississippi State Lunatic Asylum residents from the turn of the 20th century. The asylum closed more than 80 years ago, but it wasn't uncommon in those days to inter deceased patients together in unmarked graves. Estimating that the cost for outside contractors to remove and rebury the remains would cost an extra $21 million or so, officials decided to let them rest in peace until they can exhume the bodies through university channels and build a historical center where the parking lot would have stood. Until then, it's one hell of a spooky place to pay your respects to the anonymous thousands of dead. —Andrew Paul
Missouri
Main Street
St. Charles
This multicolored main drag looks like the perfect setting for a Midwestern horror movie: charming, peaceful Main Street USA that's actually haunted by dozens of roaming spirits. The legend dates to 1853, when the old Borromeo Cemetery was moved and a number of the graves they dug up had no bodies in them. Those spirits are rumored to haunt the shops at 700 South Main Street, where objects vanish inexplicably and mysterious cooking smells emerge — as does, apparently, a deep French-speaking voice. The town is also home to a haunted community college, a haunted high school, and a haunted forest. —MM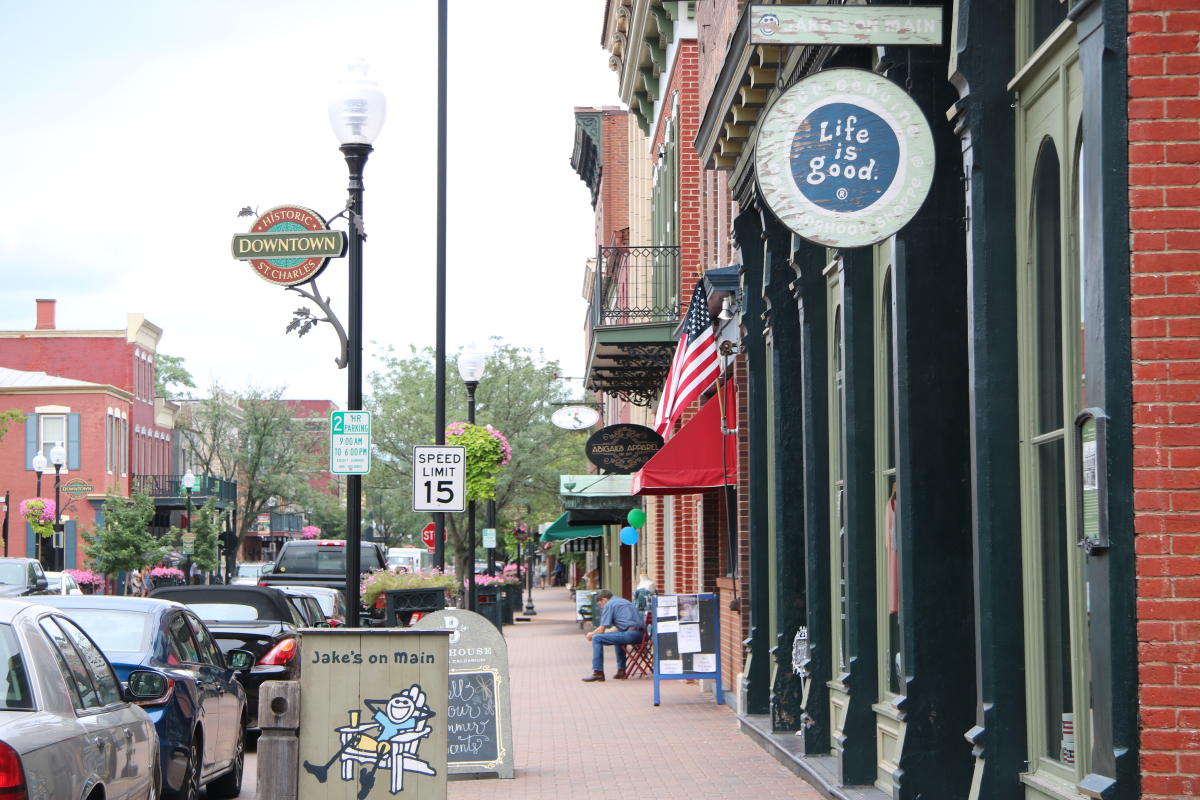 Montana
The Fairweather Inn
Virginia City
If you've ever been borderline homicidal because the kids in the next hotel room won't shut the hell up, steer clear of the Fairweather Inn. The lone hotel in this former gold-mining town is said to be haunted by the ghosts of children who get into all manner of shenanigans. They move your luggage, turn the lights on and off, and generally annoy the bejeezus out of you. The city's now-closed Bonanza Inn was also said to be haunted—by the ghost of an old nun, who was presumably better-behaved. —MM
Nebraska
Seven Sisters Road
Otoe County
We all get mad at our family members. Most of us get over it and just get them crappy Christmas presents. We do NOT, however, take all seven of our daughters out to separate hills and kill them, as one deranged Nebraska man did over a century ago. The road that runs between the site of each gruesome crime is marked as County Road L on the map, but colloquially it's named after the sisters who died there. Cars driving through routinely report headlights going dim, or electrical systems failing completely, leaving their cars stalled in the eerie darkness, with the screams of young women echoing through the hills. —MM
Nevada
The Clown Motel
Tonopah
Long a destination for people who can't say no to a dare, this old-school motel is home to a collection of 2,000 clown figures and some seriously ghostly vibes (owner Hame Anand told us he's seen ghosts, but most of them are friendly). That'll happen when you park a decades-old motel next to a dilapidated cemetery in a small town dotted with mining ruins. But hey, there's a bonus: When Anand bought the motel a couple years ago, he did some renovations to make the rooms more comfortable, so at least you'll be wetting a very comfortable bed. He also embraced the scariness by converting some rooms into horror themes, in case "clown motel in the middle of the desert" wasn't creepy enough. —AK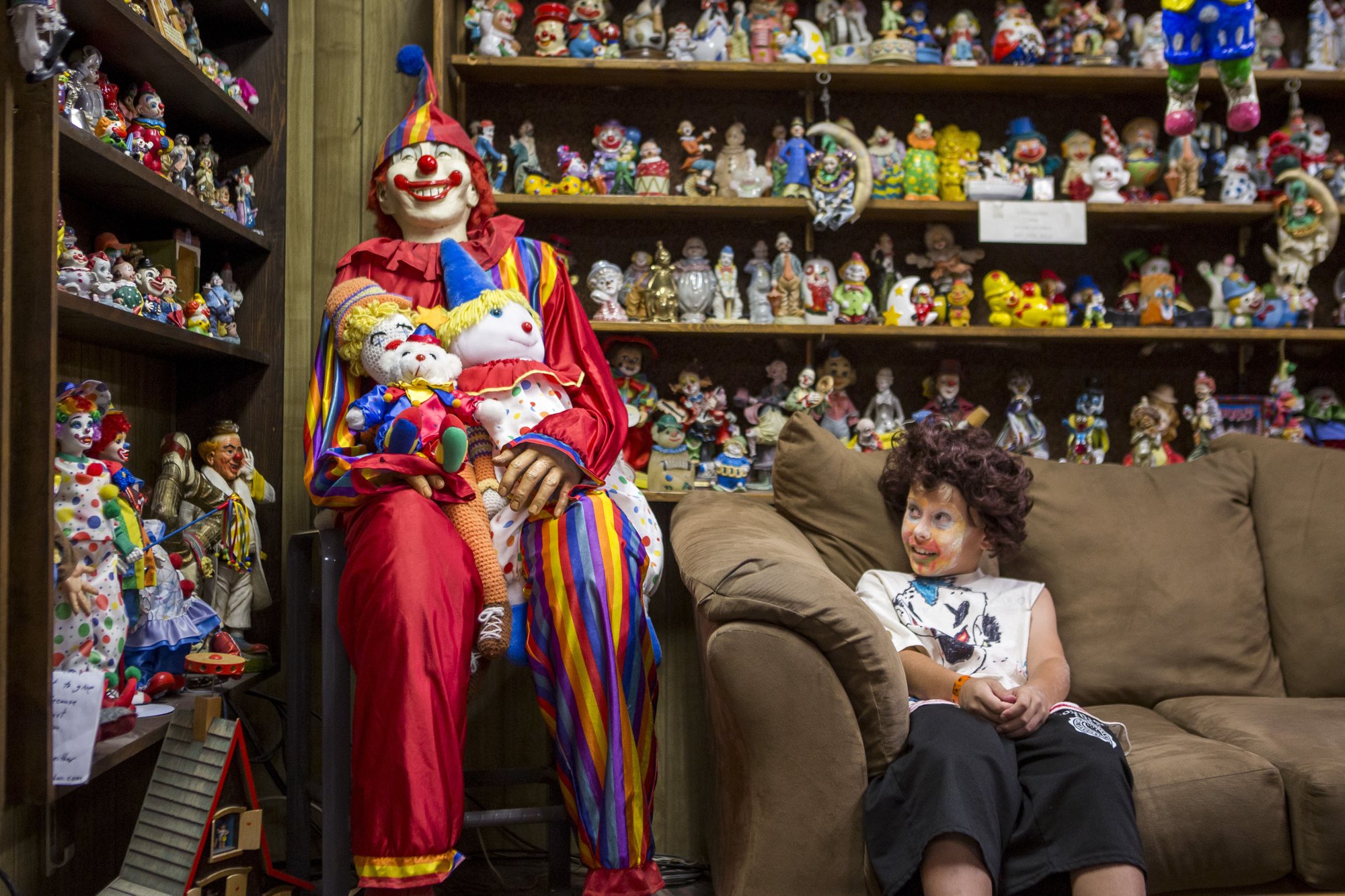 New Hampshire
Mount Washington Hotel
Bretton Woods
The tale of Carolyn Stickney sounds like the worst Disney princess story ever: she married the hotel's founder, who died right before construction was completed. She then remarried into European royalty, but alas, she too passed soon after. She never checked out of Mount Washington, though; she appears in people's photos as a hazy apparition, floats around the hallways, and is a regular fixture in room 314, apparently her favorite place to challenge the notion of 5-star accommodations. The four-poster bed she slept in remains in the room, where you can still hear her voice, some say… —AK
New Jersey
The Devil's Tree
181 Mountain Road, Basking Ridge
Out of context, the tree's silhouette alone is enough to inspire nightmares: a warped, half-dead oak looming in the middle of a lonely field, with dozens of ax marks lining its trunk. Then there's the gruesome history. A purported meeting place for the KKK, notorious suicide site, and rumored gateway to the depths of hell, the Devil's Tree is infamous among locals and has evolved into a chilling tourist attraction. Legend has it, anyone who harms the tree will suffer swift and violent retribution—so naturally, it has become a tradition for ballsy teens across the Garden State to pee on its trunk. But do so at your own risk—you might just lose your life (or your manhood) to the tree's sinister curse. Also, that's just unsanitary. —AS-N
New Mexico
Dawson Cemetery
Cimarron-ish
Ghost towns are a dime a dozen. But Dawson? Dawson's different. Once a boom town with a wealth of coal, things took a turn in 1913 when an explosion killed 250 or so mine workers. Dawson forged on for 10 more years, when another accident claimed 123 workers. Today, all that's left is a cemetery, which of course is considered one of the most haunted places in America. Many report seeing eerie lights—you know, the kind you'd see on the front of mining helmets—floating around the gravestones, with others see dirty spectres with very outdated clothing roaming about. —AK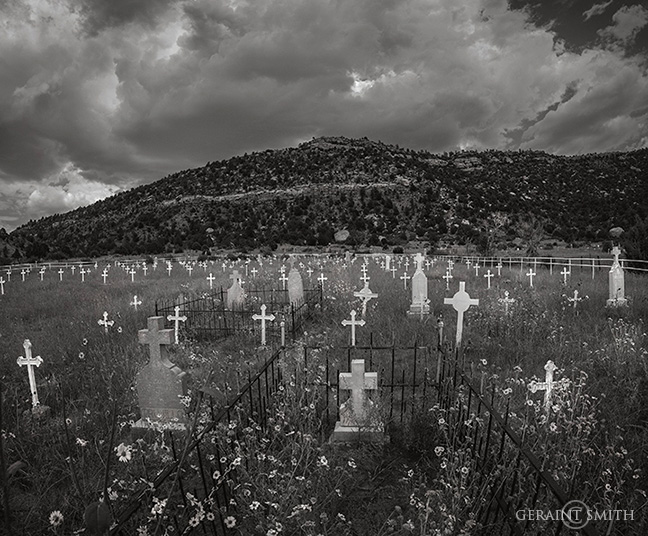 New York
United States Military Academy
West Point
If the Tudor-style architecture and all-around dismal creepiness of this campus don't give you the heebie-jeebies, then the school's reported ghost sightings will. Back in 1972, cadets claimed to have seen a ghost in an antiquated school uniform, roaming around Room 4714 —a room no longer in use. Other ghost stories have made their way into the school's colloquial chatter, most notably the ghost of former superintendent Colonel Thayer's Irish maid, Molly, who haunts the basement of Quarters 100, tousling the bedcovers in an otherwise orderly room, and borrowing and moving guests' possessions. —AS
North Carolina
The Biltmore Estate
Asheville
The largest private residence in the entire country is of course housing some ghosties up in those 135,280 square feet. The former vacation home of George Washington Vanderbilt II is now considered one of the most haunted places in North Carolina. George himself has been spotted chilling in the library, and his late wife Edith wanders around calling out his name. There's also a headless orange cat roaming the gardens, echoes of laughter and and splashing water in the empty pool, and disembodied voices heard throughout the 250 rooms. A day pass to visit the grounds starts at $40, with overnight options available. —KP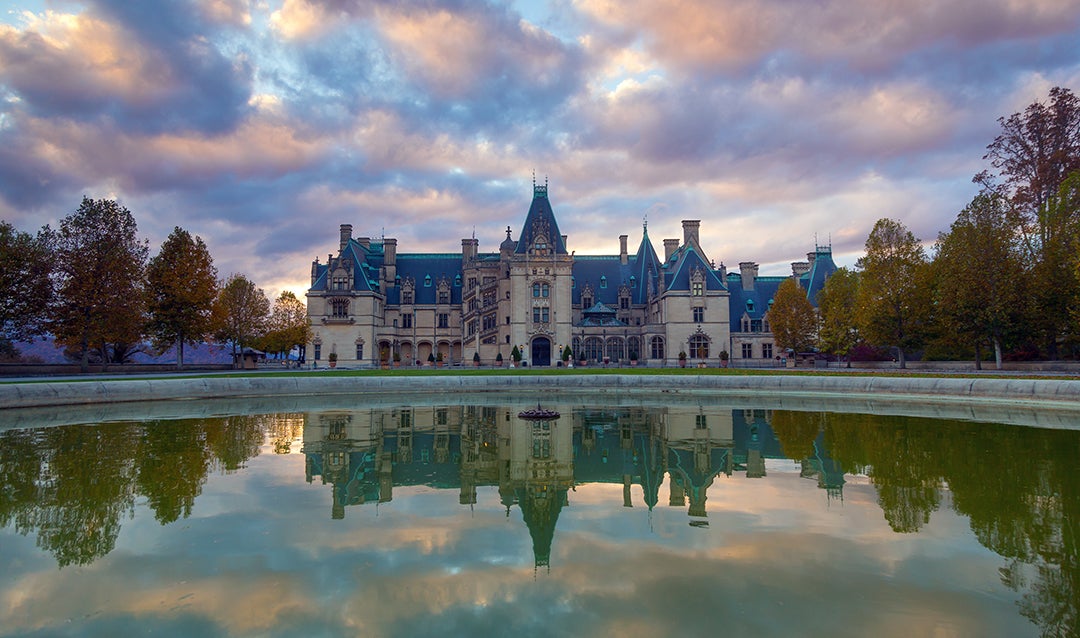 North Dakota
Fort Abraham Lincoln State Park
Mandan
Normally, this time of year the old fort named after Honest Abe would be teeming with teenagers in costumes, as it's home to a zombie-filled haunted attraction. That's canceled this year due to COVID, but don't worry, nobody told the ghosts. Particularly haunted is the Custer House, once home of the same general who was slain at Little Big Horn. The general's wife is still said to roam their preserved home in the fort complex in a black dress, slamming doors, and showing up to give people chills. Some believe Custer himself roams the grounds too, though others think that the ghosts in blue are other soldiers who never got mortally discharged from duty. The park is still open, so while you won't find teenagers in mask, you might just come across a widow still waiting for her husband to come home from battle. —AK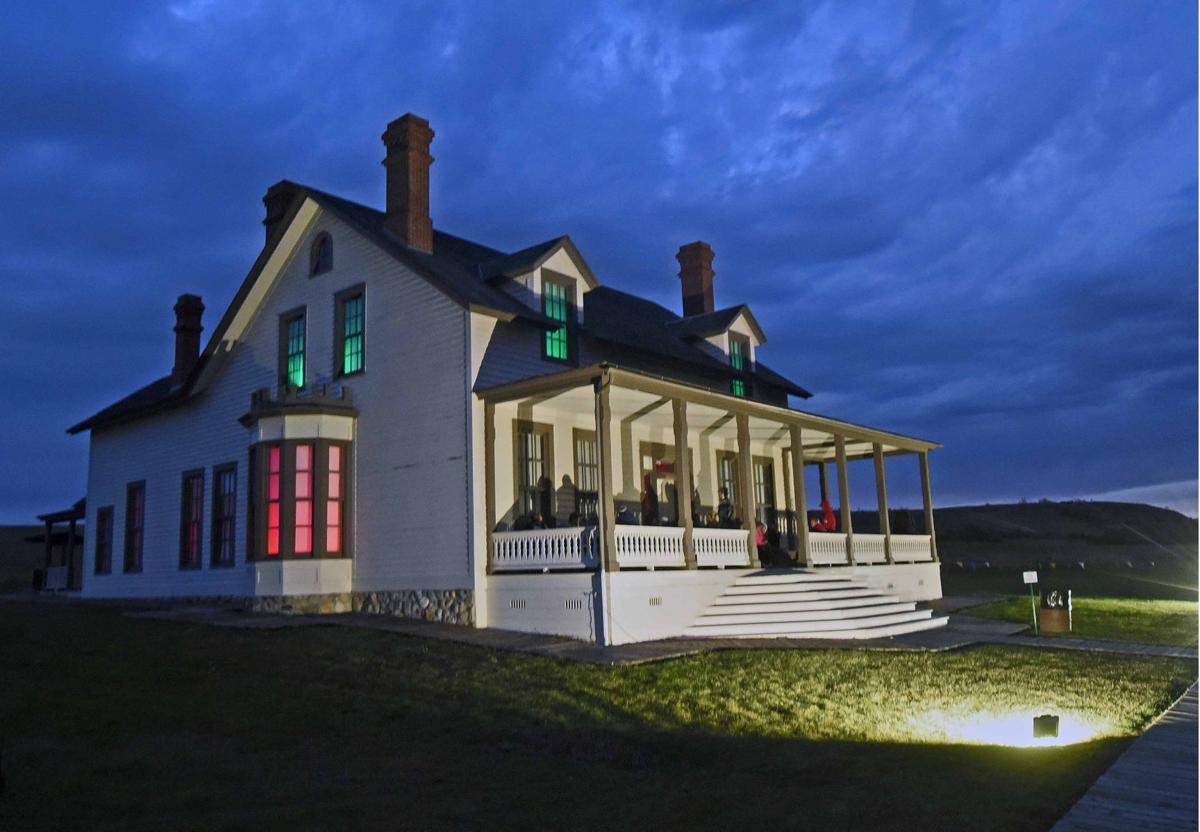 Ohio
Ohio State Reformatory
Mansfield
Ohio has its fair share of creepy shit, but this massive stone castle is basically hell disguised as Hogwarts. The majestically spired campus housed over 200,000 inmates over its history from 1896-1990. A tour through here on a normal day is grim, but during scare season it transforms into the biggest prison-based haunted attraction in America: Escape From Blood Prison. And yes, it's still happening in 2020. The cells and hallways are filled with undead inmates and faucets dripping blood, turning the already creepy reformatory into a bona fide nightmare through November 1, after which it returns into a regular old haunted prison. —MM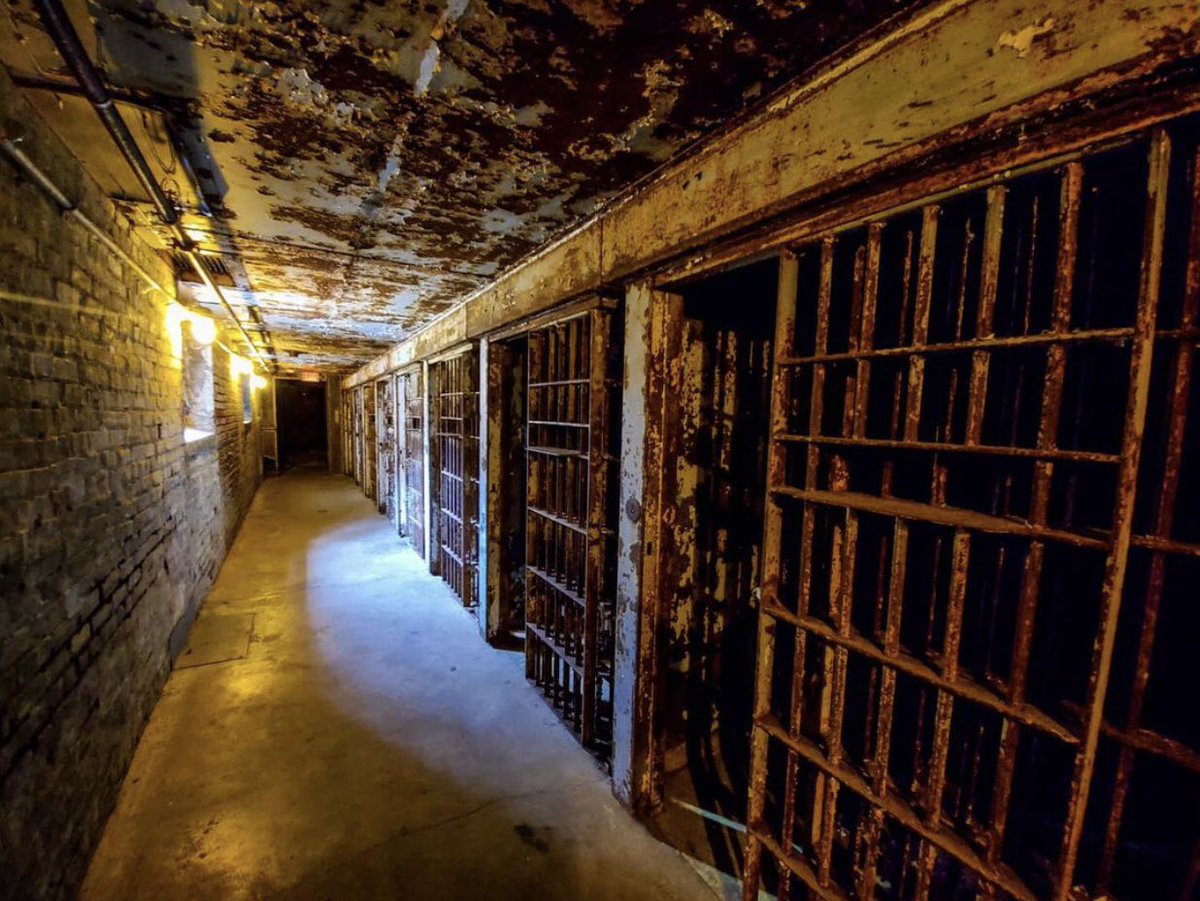 Oklahoma
The Skirvin Hotel
Oklahoma City
Since opening in 1911, the luxurious Skirvin established itself as a place nobody ever wants to leave. Or maybe can't. This is a collection of every haunted-hotel story all crammed together. There are the ghosts of the original owner's mistress and his illegitimate child, who still roam the halls with a stroller. You'll hear eternally crying babies and slamming doors. You might even find yourself groped in a shower. A while back, the hotel proved too creepy for several LA Lakers in town to play the Thunder, who checked out early and found accommodations with fewer handsy ghosts and eternally wailing children. Book your staycation now! Checkout is… maybe never?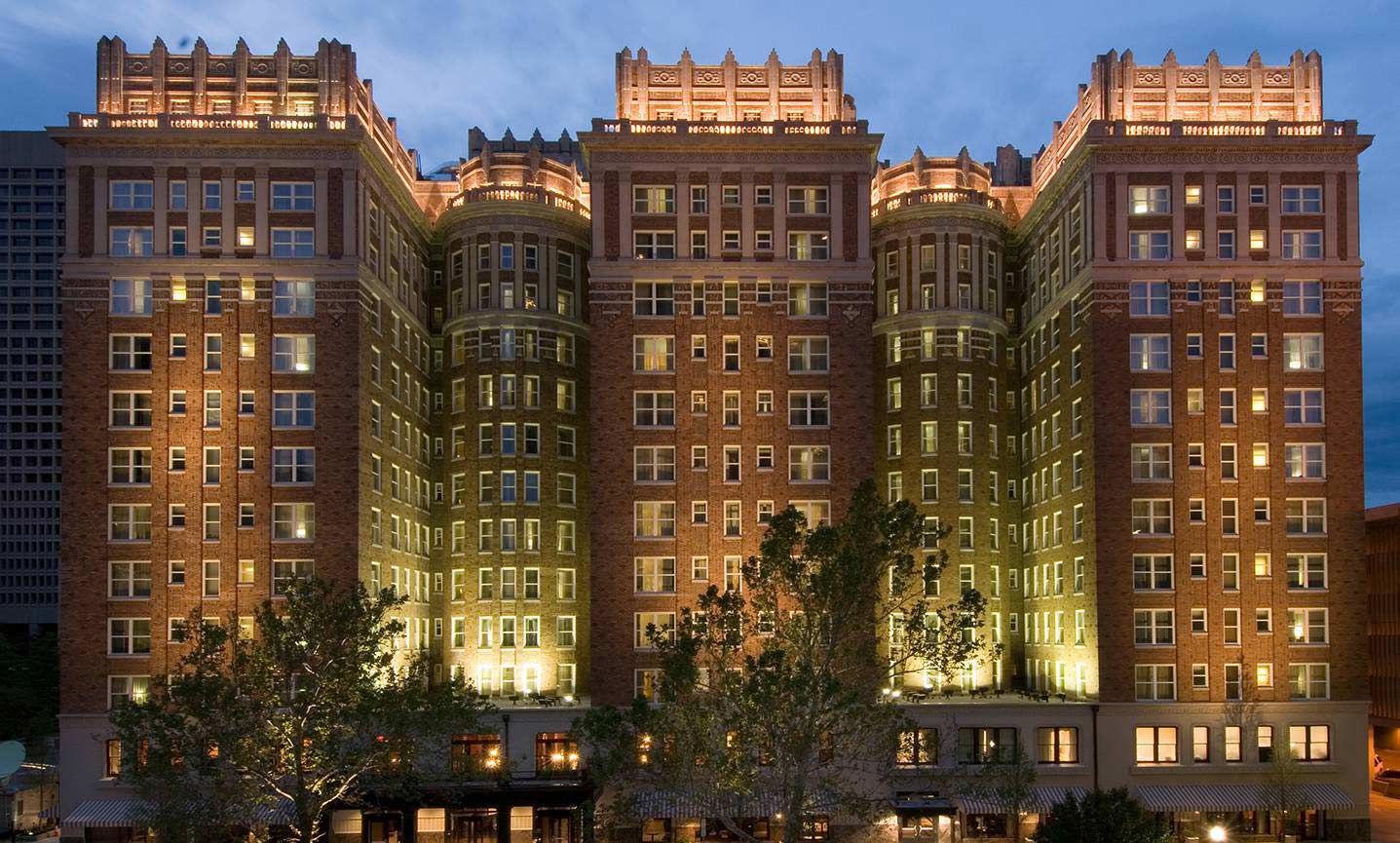 Oregon
The Shanghai Tunnels
Portland
The first things you notice when you enter the dank tunnels underneath Portland's bustling Chinatown are the shoes. Piles and piles of them, covered in decades' worth of dust. Why? Because it's hard to escape the underground when you have to run barefooted across broken glass. See, in the 1800s, Portland was a hot spot for Shanghaiing —a human trafficking technique in which unsuspecting people were drugged and dragged into these tunnels, then woke up at sea. Today, the tunnels still connect bars and restaurants (including the very haunted Old Town Pizza), and tours—currently suspended—take you past rusty old cells in addition to cobwebbed opium dens, many purported to still be frequented by long-dead madames. Hey, at least somebody's having fun down here. —AK
Pennsylvania
Eastern State Penitentiary
Philadelphia
Known locally as ESP (already a creepy touch), the 1829 prison intended to value reform over punishment, at a time when Puritanical America was embracing the penitent foundation of the penitentiary. Instead, this became a real house of horrors and the testing location for a number of "reform" techniques that included paranoia-inducing "panopticon" oversight, now synonymous with a constant threat of surveillance. The mix of weird science, gigantic brutal architecture, and famous inmates like Al Capone and bank robber Willie Sutton serves as a perfect staging ground for the nighttime haunted tours. —BW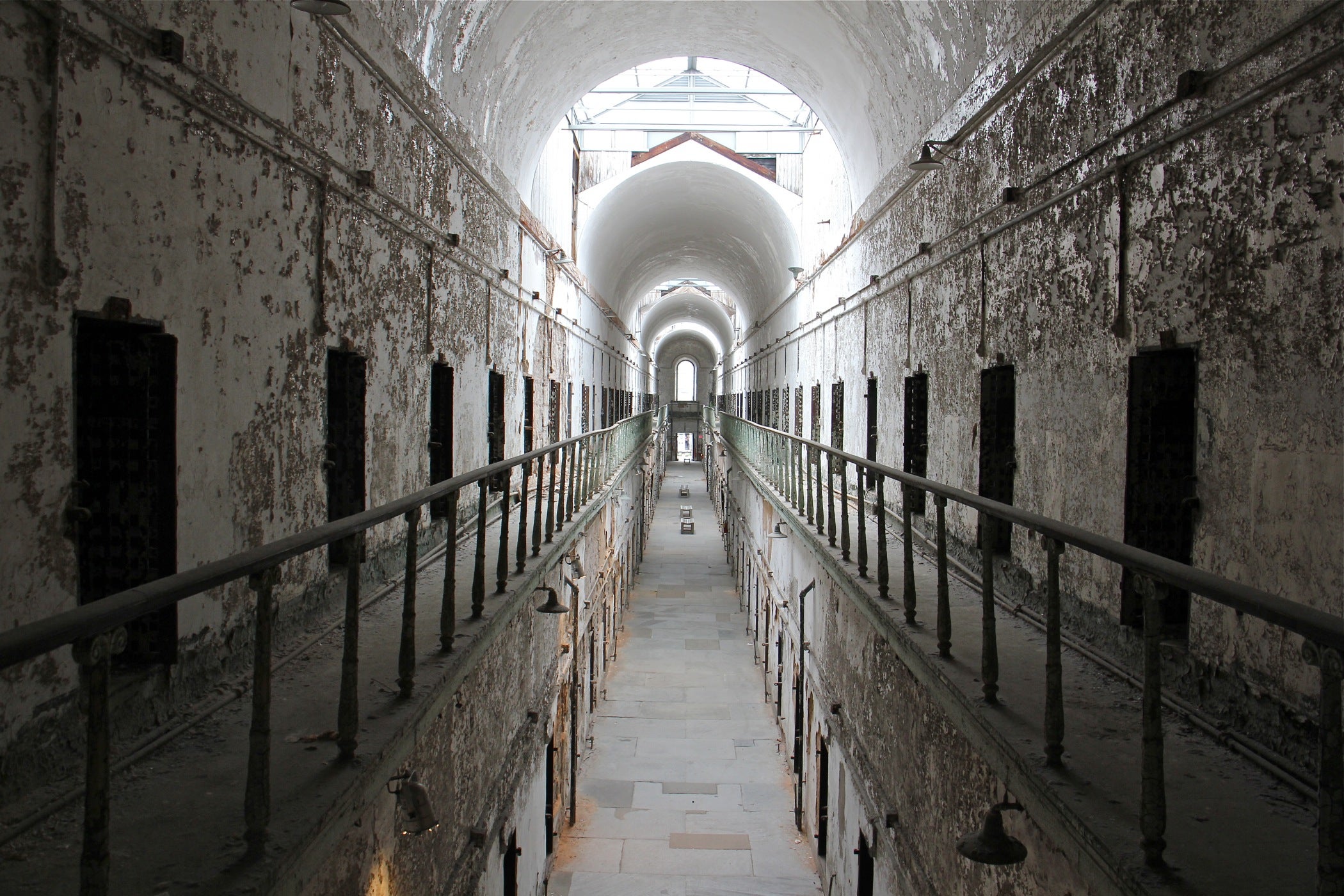 Rhode Island
White Horse Tavern
Newport
Like many a campfire tale, this one begins with two drifters. They showed up at the tavern in the 1720s looking for a room. The next day, the owners found one dead by the fireplace and the other completely vanished. A specter now chills by the fireplace, daring people to solve his freakish death. There have also been encounters with a colonial-looking dude in the upstairs bathroom, and mysterious footsteps all over the place. —AK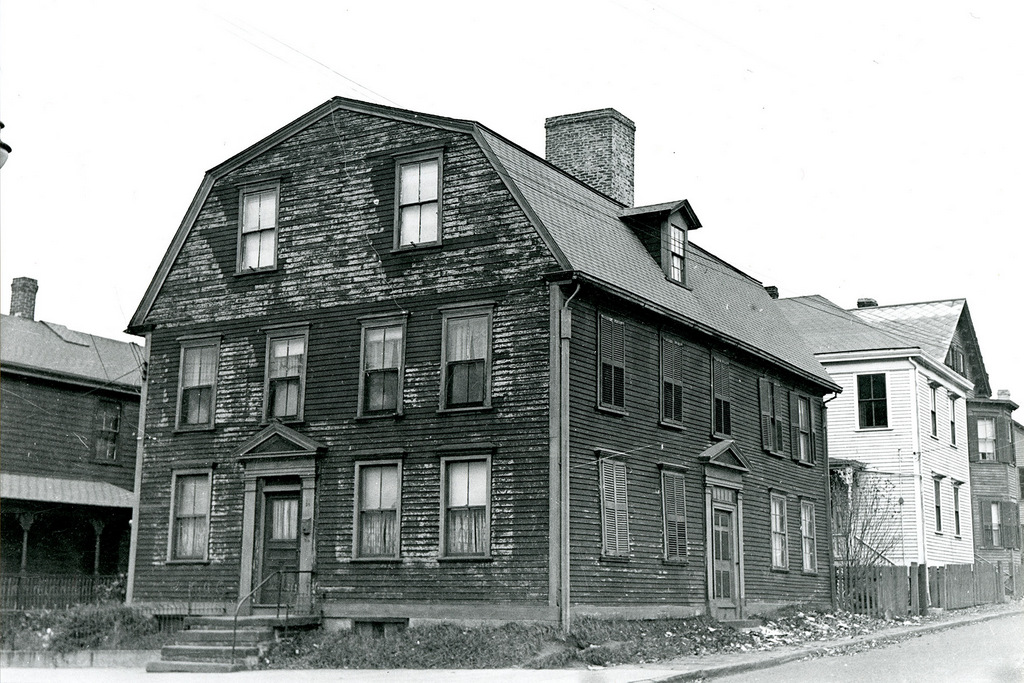 South Carolina
Baynard Plantation Ruins
Union
The South is crawling with ghosts, especially on former plantations — both of slaves, and of the overseers who are rightfully damned to walk the grounds for eternity. But unlike the historically preserved plantations that can be toured throughout the region, the Baynard Plantation is in ruins. The dilapidation itself is enough to get your stomach in knots, even before the creepiest part: Apparently, if you stick around at night, a freaky-ass funeral procession for namesake William Baynard will pass by. Maybe you'll hear it. Maybe you'll see it, or feel it. Either way, this place isn't known for its (living) repeat visitors. —AK
South Dakota
Sica Hollow State Park
Sisseton
It takes a special kind of hubris for the State Parks division to make it a recreational area when the name literally means "bad" or "evil" in the Dakota language. Iron deposits at Sica tint the streams red, but it's not just the blood-colored water that make it so eerie. According to Dakota legend, one winter long ago a stranger named Hand came into the Hollow. He showed no respect for the land and for the traditions of the tribe, who decided to banish him once spring arrived. Hand did not go quietly, and was ultimately destroyed by Thunderer, the messenger of the Great Spirit, whom the Dakota had called upon for help. Though defeated in death, Hand's evil lingers in the Hollow. People also report hearing drums and seeing figures along the Trail of Spirits therein. So, um, yeah, enjoy the leaf-peeping. —AK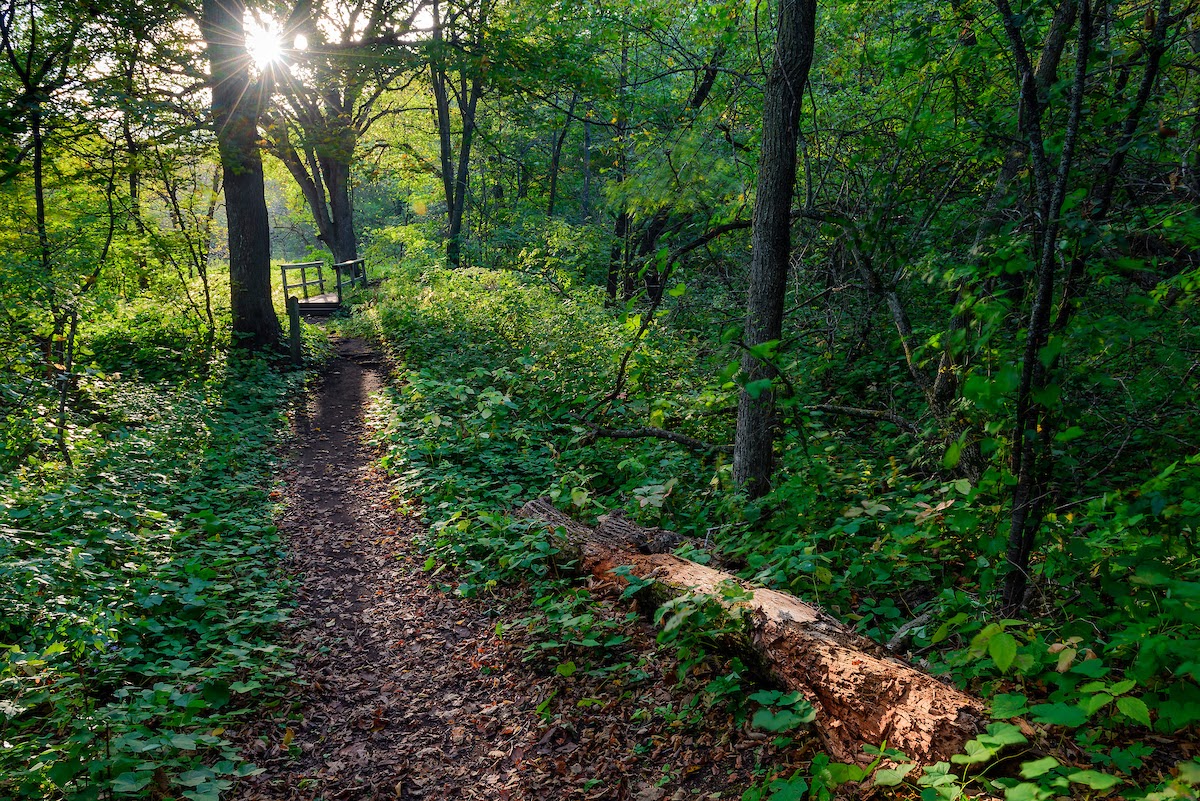 Tennessee
The Bell Witch Cave
Adams
Every kid in Tennessee grows up scared of the Bell Witch, daring each other at sleepovers to say "I hate the Bell Witch" 100 times in front of the bathroom mirror to summon her malevolent spirit. In the early 19th century, "Kate" the Bell Witch ghost tormented the Bell family in Adams, Tennessee, residing in a cave behind their property. Besides pinching, pulling hair, and taunting their visitors with strange sounds, she repeatedly tried to choke patriarch John Bell. For 12 bucks you can tour the spooky cave, which has been placed on the National Historical Register, and according to the tour guides visitors have felt sensations of being pushed, touched, or held down by a heavy weight. The famous haunting even spooked Andrew Jackson when he visited: "By the Eternal, I saw nothing, but I heard enough to convince me that I'd rather fight the British than to deal with this torment they call the Bell Witch." —Chris Chamberlain
Texas
Yorktown Memorial Hospital
Yorktown (about 75 miles from San Antonio)
The old beds, gurneys, mirrors, chairs, and other medical equipment are still inside, this decrepit abandoned hospital, where more than 2,000 patients died before it shuttered in 1988. Today, vsitors have described inexplicable apparitions, whispers, shadowy figures in the hallways, wheelchairs rolling unpushed, and a particularly terrifying talking doll in the nursery that asks, "Do you love me?" So um. Go check it out! The owner allows for regular tours and paranormal investigations. —Keller Powell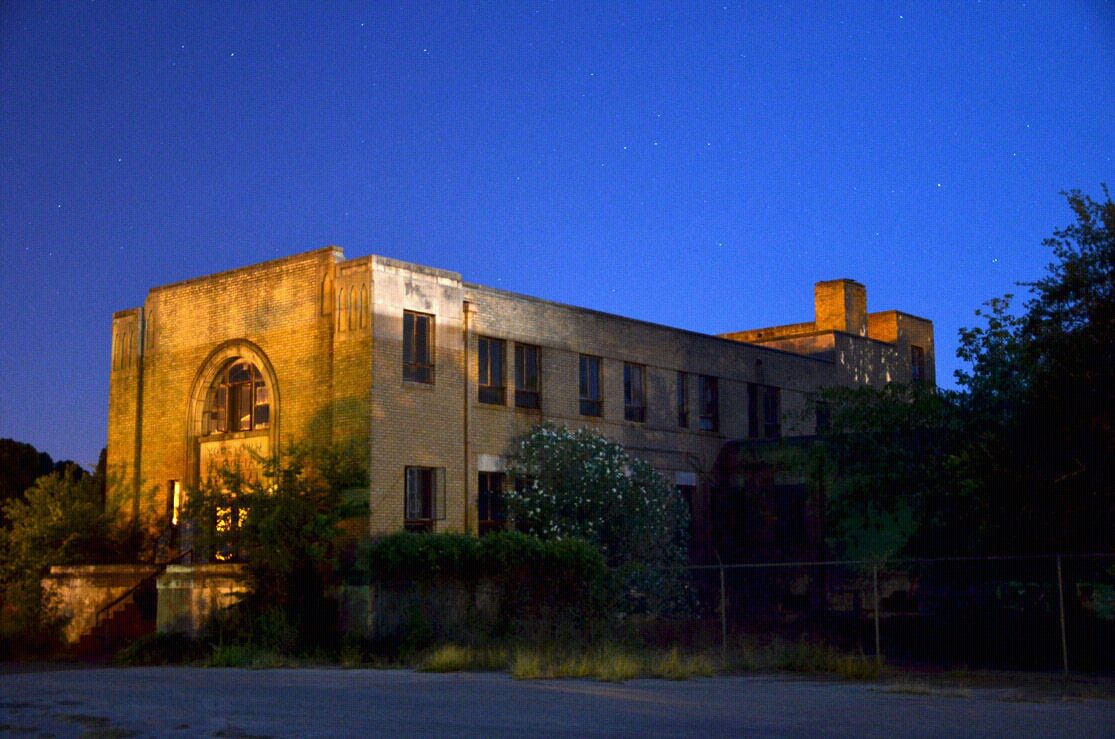 Utah
Moon Lake
High Uintas
If you go to a place like Utah's Mountain Meadows massacre site, you shouldn't be too surprised when you hear the voices the 100+ people slain by a militia in the 1850s: It's right in the name. But imagine you've found a great lakeside campsite in one the Uintas Mountains: A serene patch of mountain bliss in a state loaded with natural beauty. Suddenly, you're confronted by the a young, dripping, shivering girl with bluish skin looking for help. Then, as you panic, she suddenly disappears. In broad daylight. The Blue Lake ghost appears at all hours to campers, hikers, and fishers. Some people simply hear her wailing in the woods. Others report her running through campsite at night. And many claim to have seen her first hand. Probably not twice, though. This isn't a site that's big with repeat visitors. —AK
Vermont
Lake Bomoseen State Park
Castleton
The abandoned town of West Castleton is like Vermont's answer to the ghost towns of the Old West: Once a big industrial boom town, it's now empty except for a few ghostly residents that refuse to leave, among them a boatman that's been spotted rowing across the tranquil lake, leaving no ripples in the water en route to a happy hour at a tavern that will never open. These days, that lake is part of a beautiful state park where the ruins of old industrial operations still stand, meaning you can visit it whenever you please. Just maybe don't take any unsolicited boat rides. —AK
Virginia
Bacon's Castle
Surry
There's no shortage of spooky and sinister places to visit in Virginia — after all, old battlefields are some of the most haunted grounds anywhere. But if it's a haunted house you're after, Bacon's Castle — built in 1665 and the oldest brick home in the country — is it. People have reported encountering disembodied voices and wails, floating heads, books flying off shelves, rockers a'rocking, and unwanted visitors being pushed around. In addition to regular tours, the castle hosts Historic Haunt Nights when you can take a candle-lit ghost hunt. —KP
Washington
Northern State Mental Hospital
Sedro-Woolley
The abandoned remains of this old farm was once home to as many as 2,700 mental patients. The self-sustaining asylum ran from 1912 to 1973 and had a lumber mill, a library, a greenhouse, a bakery, canning facilities, and other amenities. Now it's essentially a ghost town. Remnants of the buildings are said to be haunted by patients who died during trans-orbital lobotomies. Some buildings are still in use and off-limits, but you can view the shells of others and an adjacent cemetery at any time. The isolated compound is a short distance off Highway 20—the perfect spot for a late-night Halloween walkabout. —MM
West Virginia
Trans-Allegheny Lunatic Asylum
Weston
Known these days as the Weston State Hospital, this massive gothic asylum housed many of West Virginia's mentally ill from 1864 to 1994. Though designed for 250 people, it once held 2,400. That kind of overcrowding made for some truly miserable souls, many of whom are purported to still haunt the hospital. Paranormal tours of the main building are offered at all hours, including flashlight tours. And masks are require It took more than 100 years, but they finally seem to care about the wellbeing of the asylum's inhabitants. —MM
Wisconsin
The Pfister Hotel
Milwaukee
The Pfister is among of Milwaukee's finest hotels. Yet many visitors—particularly MLB baseball players—are so creeped out that they're willing to sacrifice the luxury if it means they don't have unwanted roommates. So many MLB players have complained about ghostly encounters — strange knocking and pounding noises, TVs turning on and off, their belongings inexplicably moved — that many now refuse to stay there. So in the words of former MLB player Michael Young, "Oh, fuck that place." Of course you can book yourself a room and hope for apparitions, but if you just want to visit, you won't look odd sipping on a Bloody Mary in the Lobby Lounge. —LM
Wyoming
Wyoming Frontier Prison
Rawlins
Wyoming's first state penitentiary was about as miserable as you'd expect a stone prison on a cold, whistling prairie to be. It didn't have hot water until 1978. It did have something called the "punishment pole," to which prisoners were handcuffed, then whipped with rubber hoses. It's been closed since 1981, but guided tours allow you to get up close and personal with the "death house" (which housed inmates on death row), the gas chamber, and offices left exactly as they were. October is the best time to visit, when the prison hosts midnight tours in the days leading up to Halloween. —MM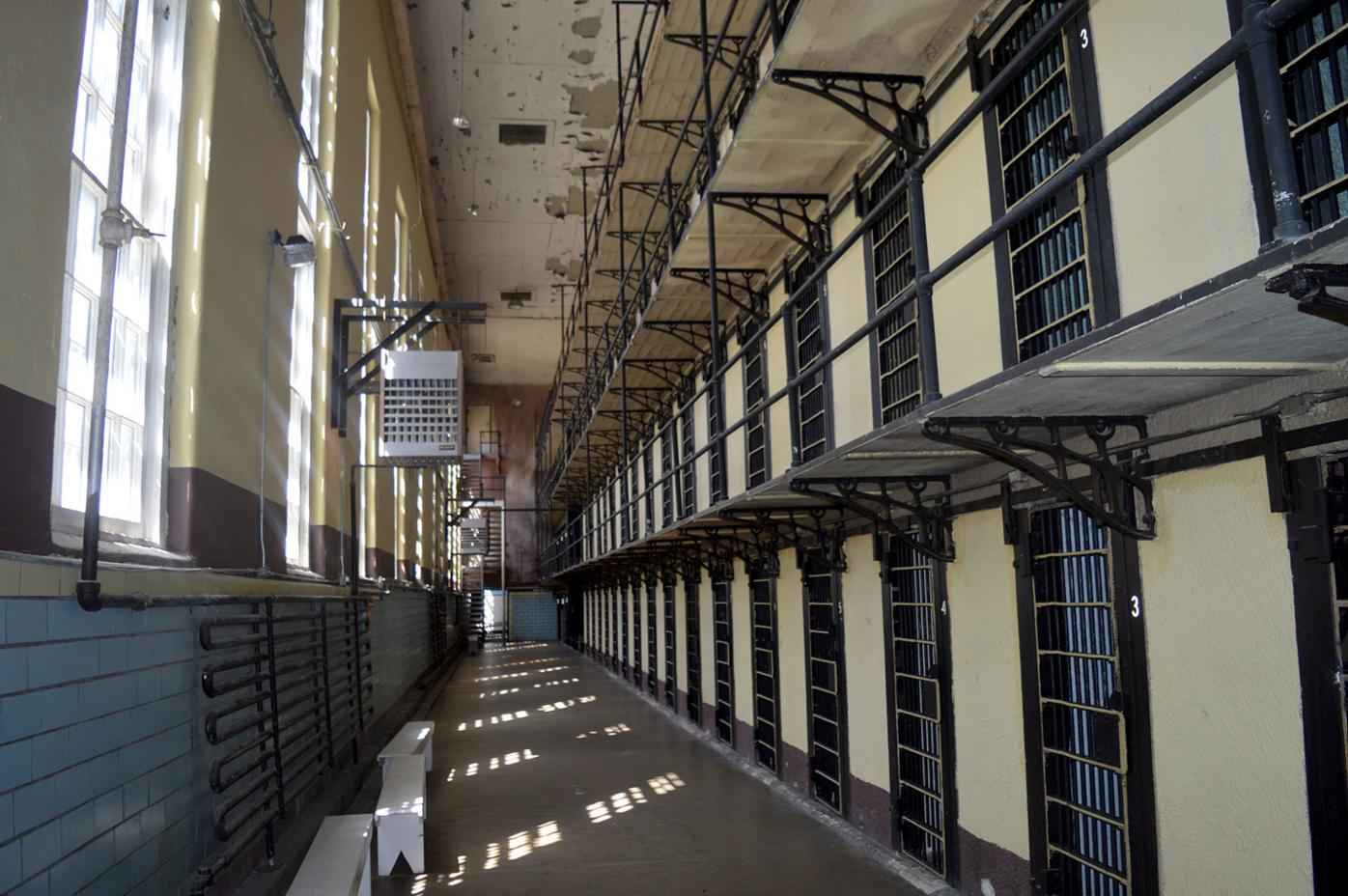 By Thrillist Travel