Presidential speeches are often remembered for one great phrase, memorable line, or rhetorical flourish that makes its way into the history books. But they should be seen as more than collections of memorable words – in fact, as documents of their time and place. Great presidential speeches are made in the context of crises, challenges, and times of great peril. But they can also inspire, uplift, and encourage. The truly great speeches manage to do both at once.
What's less well-known about many of the great addresses by presidents that they're short. Maybe the most famous speech in American history, Lincoln's Gettysburg Address, is just over two minutes long. Many others, rather than being long rambles of adjectives and superlatives, are fewer than one thousand words, and lasted just 10 minutes. They didn't need thousands and thousands of words to make their point, just a few well-chosen ones given by a dynamic speaker.Here are the greatest and most inspiring presidential speeches of all time, be sure to upvote those that inspire you the most!
The Gettysburg Address
President Lincoln delivered his most famous speech just five months after the Battle of Gettysburg, at the dedication of the site's military cemetery. There is no existing final copy, and the five surviving manuscripts of the speech all have slightly different word choices. The speech was just 10 sentences long, and took two and a half minutes to deliver.
Famous quote:
"[W]e here highly resolve that these dead shall not have died in vain – that this nation, under God, shall have a new birth of freedom – and that government of the people, by the people, for the people, shall not perish from the earth."
Lincoln's Second Inaugural Address
President Lincoln gave his second inaugural address on March 4, 1865, as the Civil War was reaching its bloody conclusion. With reconstruction between the North and South looming, Lincoln paused to take stock of what had been lost, and what could be gained. It was just 700 words long, and took around five minutes to deliver.
Famous quote:
"With malice toward none, with charity for all, with firmness in the right as God gives us to see the right, let us strive on to finish the work we are in, to bind up the nation's wounds, to care for him who shall have borne the battle and for his widow and his orphan, to do all which may achieve and cherish a just and lasting peace among ourselves and with all nations."
Washington's Farewell Address
President Washington actually wrote a version of his farewell to the American people after his first term, but decided to run for a second given the precarious state of the country. It was first published in the American Daily Advertiser newspaper, then in papers and pamphlets around the country. Washington never actually gave the address as a speech.
Famous quote:
"With slight shades of difference, you have the same religion, manners, habits, and political principles. You have in a common cause fought and triumphed together; the independence and liberty you possess are the work of joint counsels, and joint efforts of common dangers, sufferings, and successes."
Kennedy's Inaugural Address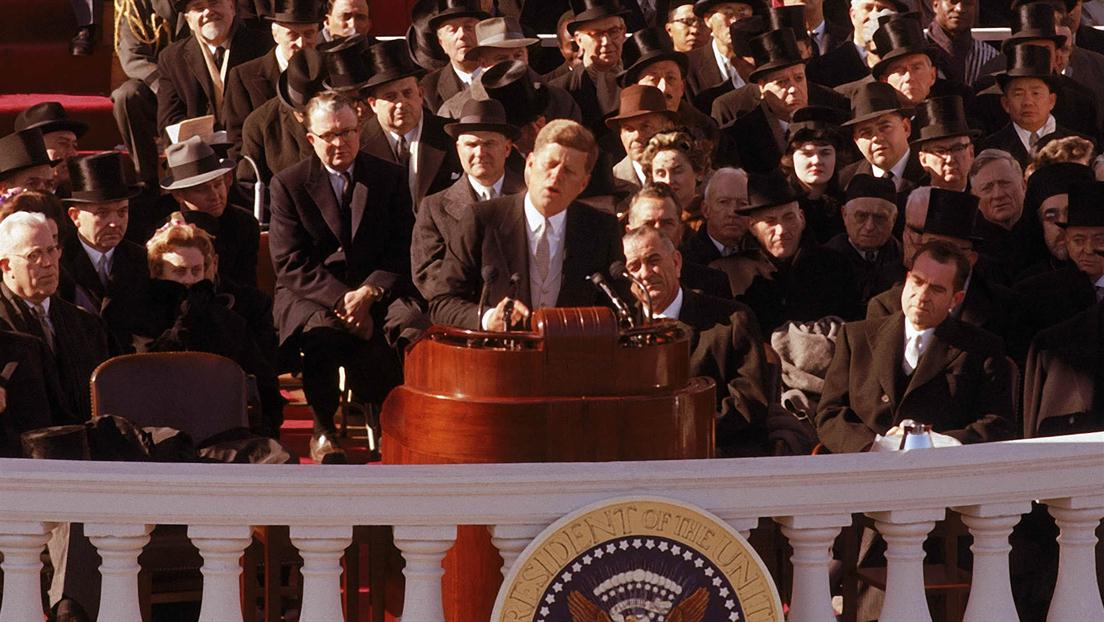 President Kennedy's only inaugural address was one of the shortest on record, fewer than 1,400 words and taking only 13 minutes and 42 seconds. But it perfectly encapsulated the social change, economic prosperity, and political upheaval Kennedy was walking into.
Famous quote:
"And so, my fellow Americans: ask not what your country can do for you – ask what you can do for your country. My fellow citizens of the world: ask not what America will do for you, but what together we can do for the freedom of man."
FDR's Infamy Speech
President Roosevelt's speech to a Joint Session of Congress the day after the attack on Pearl Harbor served to emphasize the idea of America as the victim of a cowardly sneak attack, rather than as a player in a complicated geopolitical struggle. Lasting just seven minutes, the speech let it be known that isolationism was no longer an option – and less than an hour later, the US declared war on Japan.
Famous quote:
"No matter how long it may take us to overcome this premeditated invasion, the American people in their righteous might will win through to absolute victory. I believe I interpret the will of the Congress and of the people when I assert that we will not only defend ourselves to the uttermost, but will make very certain that this form of treachery shall never endanger us again."
Kennedy's "We Choose to Go to the Moon" Speech
While President Kennedy had declared the United States's intention to put a man on the Moon in May 1961, the idea didn't truly resonate with the American people until his speech in September of the next year. In front of a massive crowd at Rice University, Kennedy managed to make Americans enthusiastic about spending billions of dollars on a prospect with no guarantee of success.
Famous quote:
"But why, some say, the Moon? Why choose this as our goal? And they may well ask, why climb the highest mountain? Why, 35 years ago, fly the Atlantic? We choose to go to the Moon! We choose to go to the Moon in this decade and do the other things, not because they are easy, but because they are hard…"
Reagan's Brandenburg Gate Speech
President Reagan's speech at an event commemorating the 750th anniversary of the founding of Berlin was little noticed in the American press, and hotly criticized by Communist media outlets, who found it inflammatory. Even Reagan's staff were divided on the speech's tone and call to disarmament, but one key phrase in the middle of the speech stuck out, and became a rallying cry for Reagan's final year in office.
Famous quote:
"There is one sign the Soviets can make that would be unmistakable, that would advance dramatically the cause of freedom and peace. General Secretary Gorbachev, if you seek peace, if you seek prosperity for the Soviet Union and Eastern Europe, if you seek liberalization: Come here to this gate! Mr. Gorbachev, open this gate! Mr. Gorbachev, tear down this wall!"
Eisenhower's Farewell Address
Upon leaving office in January 1961, President Eisenhower cautionedagainst the growing influence of the defense industry. He warned the American people that the vast ratcheting up of defense spending and arms production could one day become a threat to our own liberty. Eisenhower deemed this the "military-industrial complex," a phrase now in the common vernacular.
Famous quote:
"As we peer into society's future, we – you and I, and our government – must avoid the impulse to live only for today, plundering, for our own ease and convenience, the precious resources of tomorrow. We cannot mortgage the material assets of our grandchildren without risking the loss also of their political and spiritual heritage. We want democracy to survive for all generations to come, not to become the insolvent phantom of tomorrow."
FDR's First Inaugural Address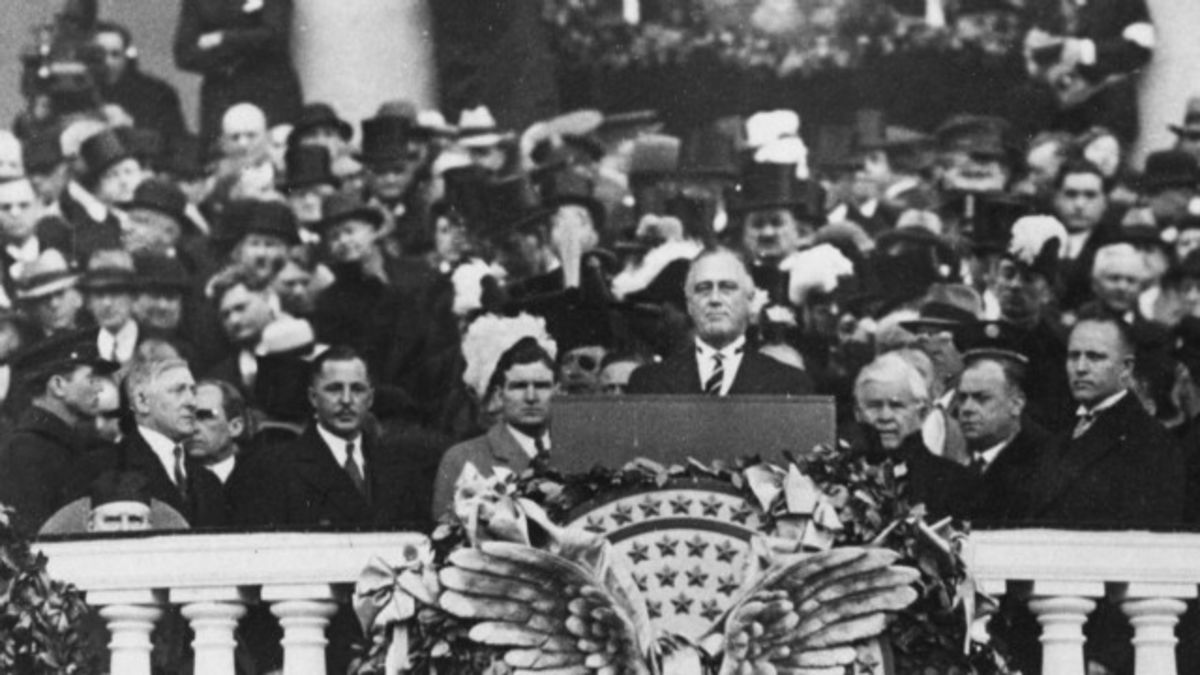 Having won a landslide victory over Herbert Hoover, Roosevelt took the opportunity to deliver a fairly short speech of around 20 minutes, meant to reassure the nation. The address became famous for its optimistic tone, in spite of the raging Great Depression.
Famous quote:
"So, first of all, let me assert my firm belief that the only thing we have to fear is…fear itself — nameless, unreasoning, unjustified terror which paralyzes needed efforts to convert retreat into advance. In every dark hour of our national life a leadership of frankness and of vigor has met with that understanding and support of the people themselves which is essential to victory."
Lincoln's Cooper Union Speech
Given a few months before the Republican nominating convention, historians believe Lincoln's speech at New York City's Cooper Union sealed his winning of the nomination. The speech, one of Lincoln's longest, laid out his views on what seemed to be the only important issues of the time – slavery and secession. He forcefully and clearly laid out his views, juxtaposing them with the Founding Fathers'.
Famous quote:
"Your purpose, then, plainly stated, is that you will destroy the Government, unless you be allowed to construe and enforce the Constitution as you please, on all points in dispute between you and us. You will rule or ruin in all events."
Teddy Roosevelt's "Man with the Muck-Rake" Speech
Roosevelt had been the first president to actively interface with the press, holding conferences and elevating the position of Press Secretary to his cabinet. In his April 1906 speech, the progressive president outlined his support of the crusading journalists who were bringing to light the abuses and exploitation of America's rapidly industrializing society. In doing so, he introduced the term "muckraker" into the popular vernacular.
Famous quote:
"There are in the body politic, economic and social, many and grave evils, and there is urgent necessity for the sternest war upon them. There should be relentless exposure of and attack upon every evil man, whether politician or business man, every evil practice, whether in politics, business, or social life."
Jefferson's First Inaugural
Thomas Jefferson was sworn in under a cloud of controversy, as, when he and Aaron Burr tied in the Electoral College, the election of 1800 had to be decided in the House of Representatives. With Jefferson finally emerging victorious, and the nation teetering on the edge, he spoke of the need to find common ground between the two parties controlling American politics at the time.
Famous quote:
"I know, indeed, that some honest men fear that a republican government can not be strong, that this Government is not strong enough; but would the honest patriot, in the full tide of successful experiment, abandon a government which has so far kept us free and firm on the theoretic and visionary fear that this Government, the world's best hope, may by possibility want energy to preserve itself?
George W. Bush's Post 9/11 Speech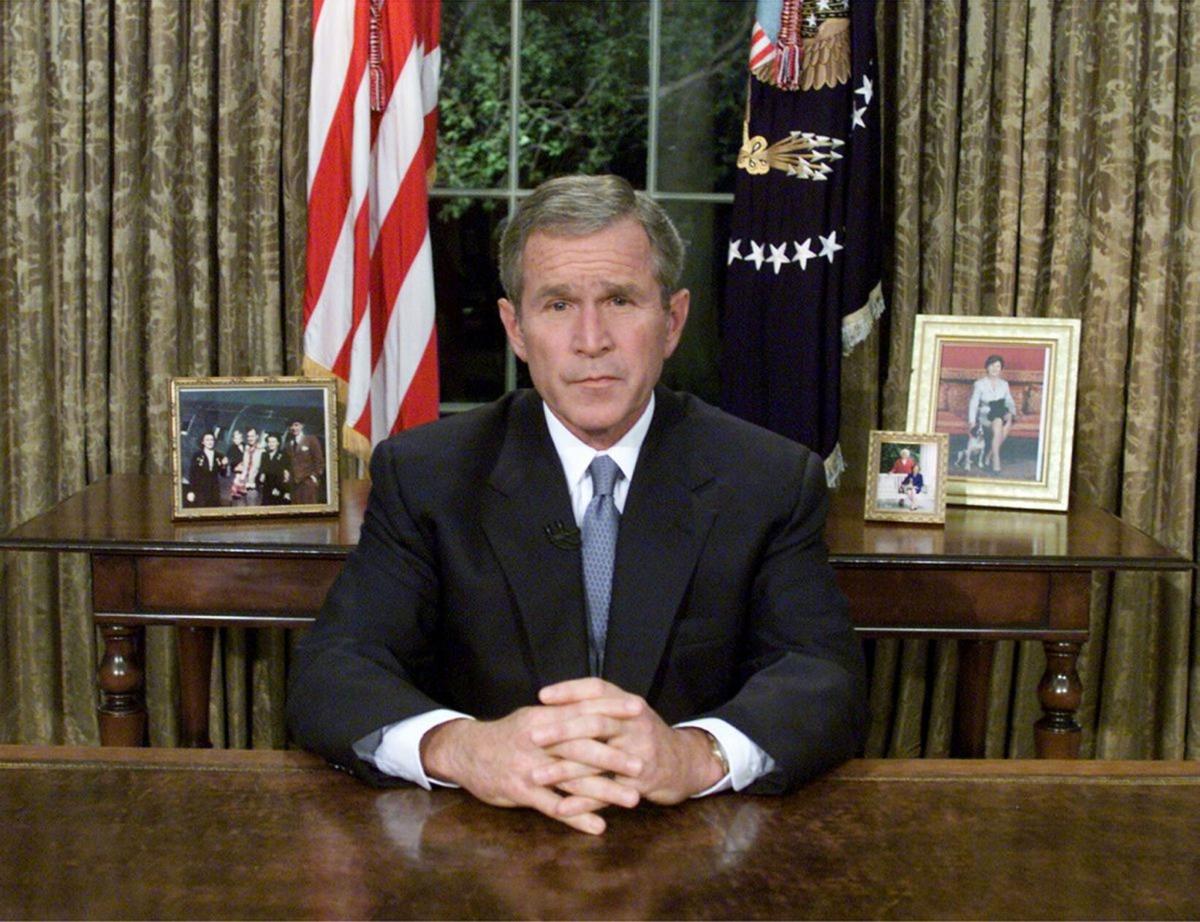 With the nation reeling in the wake of the September 11th attacks, President Bush addressed the country with a short but powerful message. Since the culprits behind the attacks were still unknown, Bush spoke to the resoluteness of the American spirit, and encouraged the people not to be overtaken by fear of what was ahead.
Famous quote:
"These acts of mass murder were intended to frighten our nation into chaos and retreat. But they have failed. Our country is strong. A great people has been moved to defend a great nation. Terrorist attacks can shake the foundations of our biggest buildings, but they cannot touch the foundation of America. These acts shatter steel, but they cannot dent the steel of American resolve."
Johnson's "We Shall Overcome" Speech
On March 15, 1965, President Johnson addressed a joint session of Congress on behalf of the Voting Rights Act and to denounce the violence attacks on marchers in Selma, Alabama. While many questioned Johnson's motives in giving the speech (he'd been on the other side of the civil rights debate until late into the 1950s), nobody could question his sincerity after hearing it.
Famous quote:
"…even if we pass this bill, the battle will not be over. What happened in Selma is part of a far larger movement which reaches into every section and State of America. It is the effort of American Negroes to secure for themselves the full blessings of American life. Their cause must be our cause too. Because it is not just Negroes, but really it is all of us, who must overcome the crippling legacy of bigotry and injustice. And we shall overcome."
FDR's 1941 State of the Union
Roosevelt spoke to a nation girding for war in 1941, reminding the people of what was at stake in the Second World War. The speech became known as the "Four Freedoms Speech," as Roosevelt advocated for freedom of speech, freedom of worship, freedom from fear, and freedom from want. The speech was criticized by anti-war contingents, but came to be seen as a kind of shorthand for why the United States was fighting.
Famous quote:
"[Disarmament] is no vision of a distant millennium. It is a definite basis for a kind of world attainable in our own time and generation. That kind of world is the very antithesis of the so-called new order of tyranny which the dictators seek to create with the crash of a bomb."
Ronald Reagan's First Inaugural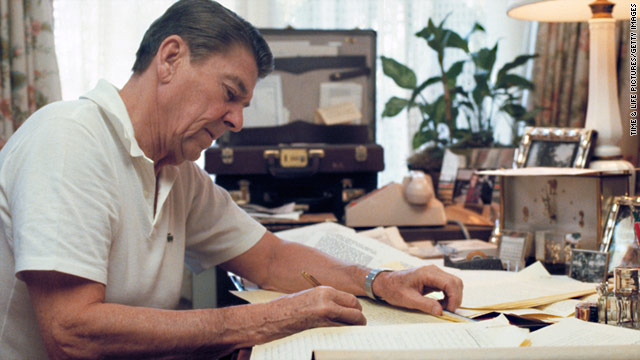 Reagan strode into office declaring his intention to sweep away the growing bureaucracy and economic stagnation that had plagued previous administrations. And while Reagan's address never directly mentions the American hostages being held in Iran, the tough message of the speech was clear, and the hostages were released while Reagan was speaking.
Famous quote:
"The economic ills we suffer have come upon us over several decades. They will not go away in days, weeks, or months, but they will go away. They will go away because we as Americans have the capacity now, as we've had in the past, to do whatever needs to be done to preserve this last and greatest bastion of freedom.

In this present crisis, government is not the solution to our problem; government is the problem."
"Truman Doctrine" Speech
On March 12, 1947, President Truman addressed a Joint Session of Congress on the recent crises in Greece and the Turkish Straits. Truman made it clear that the US would attempt to contain the spread of Communism in both countries, as one falling would lead to the other falling – the "Domino Theory" that became used as a justification for the Cold War. Truman espoused the dangers the world was facing, and the cost of inaction. Historians point to this speech as the beginning of the Cold War that would dominate US foreign policy for the next 40 years.
Famous quote:
"Should we fail to aid Greece and Turkey in this fateful hour, the effect will be far reaching to the West as well as to the East. We must take immediate and resolute action."
Obama's "A More Perfect Union" Speech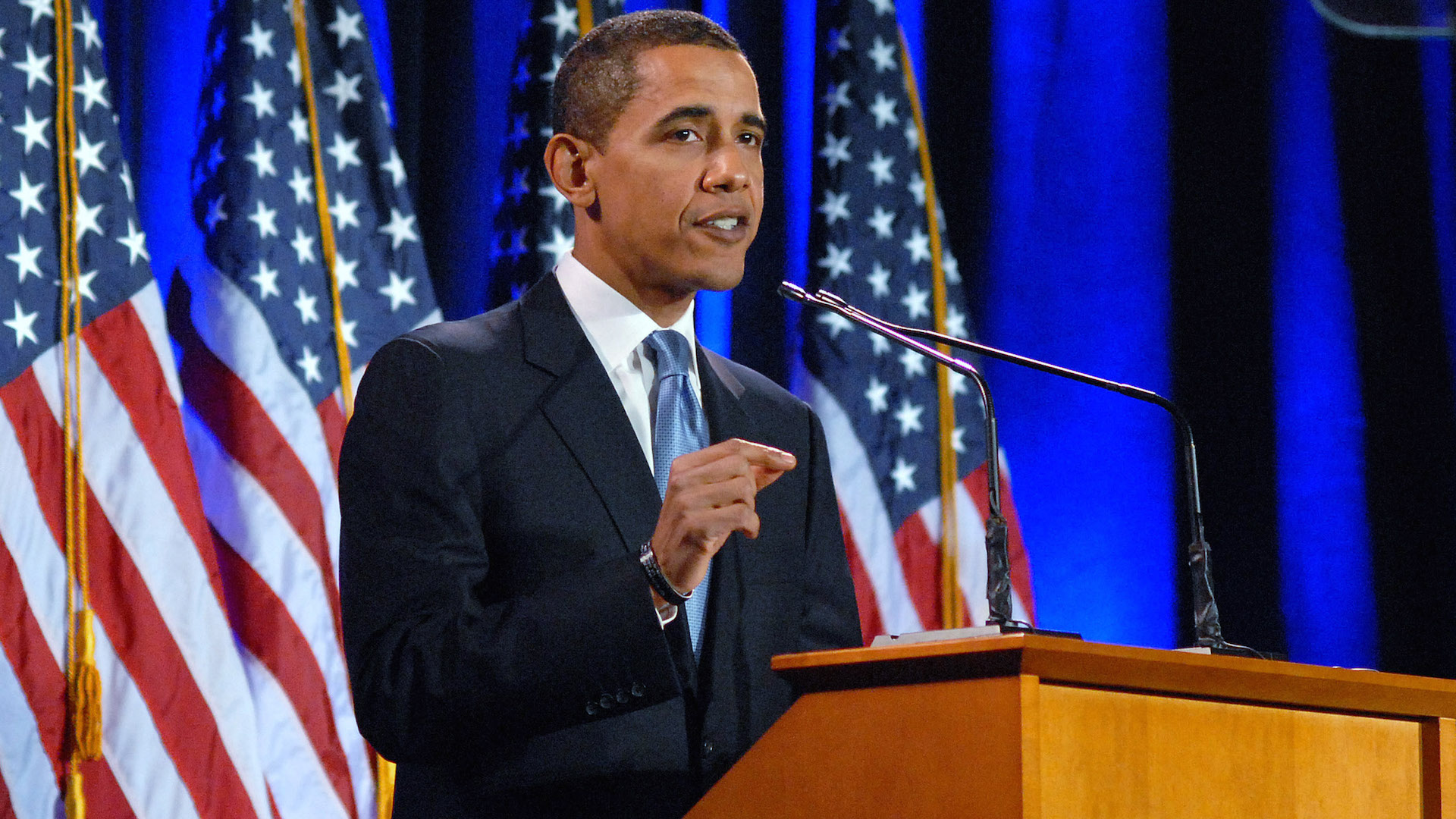 In the throes of the 2008 Democratic primary, Barack Obama had become embroiled in a controversy over his previous association with an inflammatory pastor named Jeremiah Wright. At a campaign event in March, Obama spoke of race relations in America in general, and of his association with Wright in particular, in a fiery speech that some pundits believe won him the Democratic nomination.
Famous quote:
"I can no more disown [Wright] than I can disown the Black community. I can no more disown him than I can my white grandmother – a woman who helped raise me, a woman who sacrificed again and again for me, a woman who loves me as much as she loves anything in this world, but a woman who once confessed her fear of Black men who passed by her on the street, and who on more than one occasion has uttered racial or ethnic stereotypes that made me cringe."
Nixon's "Silent Majority" Speech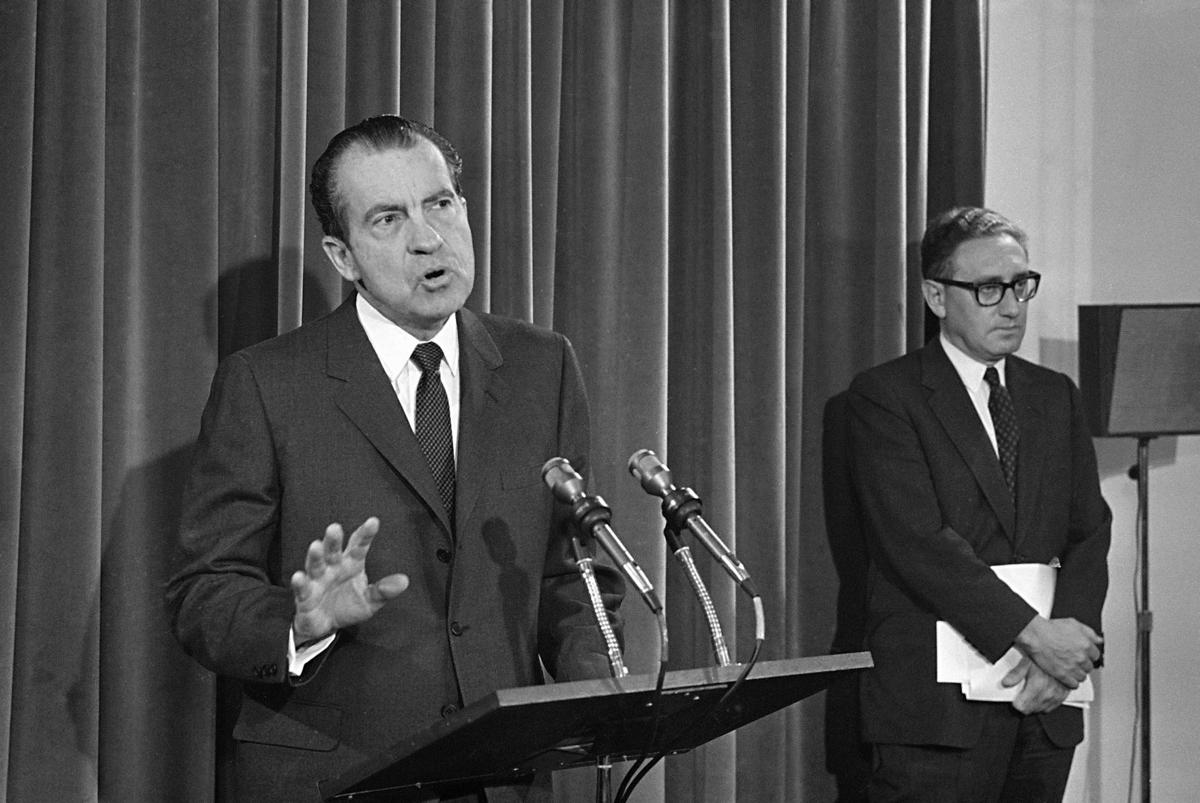 President Nixon used this term in a November 1969 speech prevailing upon the American people to support the Vietnam War. He was referencing the great mass of blue collar and suburban conservatives who weren't joining anti-war protest marches, weren't participating in the counterculture, and preferred to not speak up. Nixon didn't invent the phrase, though, as several other prominent figures had used it, including Nixon's own vice president, Spiro Agnew.
Famous quote:
"Let historians not record that, when America was the most powerful nation in the world, we passed on the other side of the road and allowed the last hopes for peace and freedom of millions of people to be suffocated by the forces of totalitarianism."
Woodrow Wilson's Second Inaugural
While Wilson ran on the slogan, "He Kept Us Out of War," by the time of his second inauguration in March 1917, it was clear that US neutrality couldn't last. German attacks on merchant shipping had increased, and a number of American citizens had been killed on ships flying neutral flags. Wilson's speech prepared the nation to enter a war it was still divided about.
Famous quote:
"We are a composite and cosmopolitan people. We are of the blood of all the nations that are at war. The currents of our thoughts as well as the currents of our trade run quick at all seasons back and forth between us and them. The war inevitably set its mark from the first alike upon our minds, our industries, our commerce, our politics and our social action. To be indifferent to it, or independent of it, was out of the question."