It is absolutely never too early to start getting in the Halloween spirit. Pumpkin spice has officially arrived, soon there will be a pumpkin patch on every corner, and the debate over whether candy corn is actually good is raging once again. And while this year's Halloween is sure to be a bit different than ever before, the #1 way to get in the spooky spirit is still with a good movie, whether its a seasonal classic, a new horror gem, or a family favorite that just screams fall vibes.
At the moment, Netflix doesn't have much in the way of actual Halloween-themed movies (hopefully some more will pop up as October approaches.) But no worries, the streaming service still has plenty of horror-tinged films from spooky to terrifying, and we've narrowed down the list to the best, scariest, and downright fun movies in the bunch. So grab the candy corn (if that's your thing), fire up some apple cider, and settle in for the best Halloween movies you can watch on Netflix right now.
Sleepy Hollow
Writer: Andrew Kevin Walker
Cast: Johnny Depp, Christina Ricci, Miranda Richardson, Michael Gambon, Casper Van Dien, Jeffrey Jones, and Christopher Walken
Tim Burton's Sleepy Hollow is one of the most underrated Halloween-appropriate movies ever made. Iconically spooky, this is a tremendously evocative adaptation of the classic story of the Headless Horseman that is atmospheric and chilling, but also a little goofy and a lot of fun. Johnny Depp plays police constable Ichabod Crane who is dispatched to the titular tiny town in 1799 to investigate a series of beheadings. Burton collaborates with Oscar-winning cinematographer Emmanuel Lubezki (The Revenant) to create one of his most beautiful films, to the point that you can almost feel the breeze flowing through the scattered leaves on the ground. Seriously, this is absolutely one of Tim Burton's best movies full-stop and a perfect Halloween treat. – Adam Chitwood
The Witches
Writer: Allan Scott
Cast: Anjelica Huston, Mai Zetterling, and Rowan Atkinson
Will the 1990 adaptation of Roald Dahl's The Witches give your kids nightmares? Probably! But it's kind of a rite of passage. Produced by Jim Henson, the film tells the story of a group of evil witches who disguise themselves as ordinary women and kill children. A young boy and his grandmother set out to find a way to stop them, and horrors ensue. This is a blend of Neverending Story-style practical effects with pure nightmare fuel, but it's also a wildly imaginative story that hits that perfect spooky fall tone. Just be prepared for some seriously unsettling makeup effects. – Adam Chitwood
The Addams Family
Writers: Caroline Thompson and Larry Wilson
Cast: Anjelica Huston, Raul Julia, Christopher Lloyd, Christina Ricci, and Elizabeth Wilson
They're creepy and they're kooky, they're altogether spooky! The 1991 adaptation The Addams Family is a ghoulish delight from start to finish. It's got a goofily macabre sensibility that feels in lockstep with the Halloween season, as it finds the long-lost brother of the titular family finding his way home — albeit in slightly different shape. It's a story of outsiders and spiders in equal measure. The production design is gorgeous, the performances are delightfully kooky, but above all the throughline of humor makes The Addams Family a supremely entertaining watch. – Adam Chitwood
Poltergeist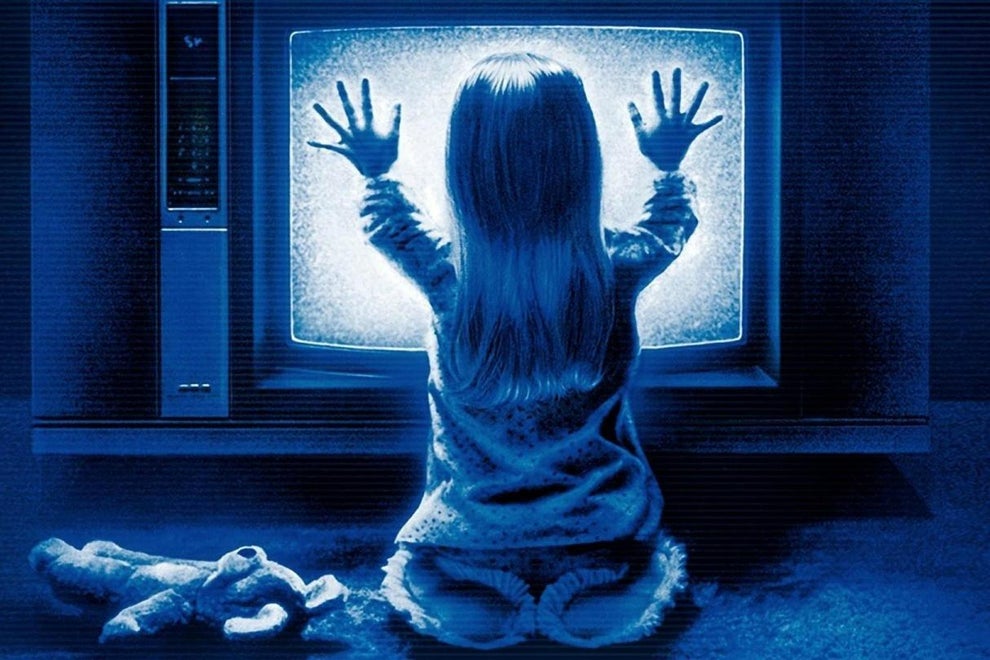 Writers: Steven Spielberg, Michael Grais, and Mark Victor
Cast: JoBeth Williams, Craig T. Nelson, Beatrice Straight, and Heather O'Rourke
If it's a ghost story you're in the mood for, look no further than 1982's supernatural horror film Poltergeist, which is one of Steven Spielberg's few ventures into the straight-horror genre. Spielberg wrote and possibly/maybe/probably directed some of this fright fest, which follows a family who begins to experience supernatural dealings inside their home. Their young daughter is particularly in tune with these spirits, conversing with them through the TV set. The movie is full of great scares and freak-outs, and is very much a home invasion thriller by way of a ghost story. – Adam Chitwood
Paranormal Activity
Cast: Katie Featherston, Micah Sloat, Amber Armstrong, Mark Fredrichs
Say what you will about the sequels, but the first Paranormal Activity is still an absolute banger. This 2009 found-footage feature directed by Oren Peli stars Katie Featherston and Micah Sloat as a young California couple, Katie and Micah, whose pleasant suburban life is upended when they strange events in their condo point toward a haunting. Katie has dealt with paranormal events before, with frequent references to a stranger period in her childhood repeatedly referenced. And while she's wary to engage with any otherwordly beings, Micah is utterly thrilled at the prospect of the plot of Poltergeist playing out in his own home. The couple's opposing views on how to handle the, er, paranormal activity only feed the proverbial beast, with the intensity of events ramping up as time goes on and culminating in a freaky conclusion.
Paranormal Activity makes great use of its found-footage format, not only in its convincing set-up (Micah sets up cameras to catch any of the newly arisen paranormal activity) but the special effects which are "captured" on camera remain legitimate, convincing, and thoroughly freaky. Moments like a nightvision camera capturing demon footprints in baby powder or Micah's camera turning on a swinging chandelier after an unearthly shriek still chill you to the bone. The naturalistic performances and grounded story also work well within the found-footage framework (A tough thing to pull off since found-footage style movies frequently expose these weak points more than they support them.), which makes it all the more unnerving more when you watch more than a decade later. Paranormal Activity is a simple yet simply nerve-shattering watch, which makes it the perfect movie for your Halloween binge. – Allie Gemmill
The Ritual
Writer: Joe Barton
Cast: Rafe Spall, Arsher Ali, Robert James-Collier, Sam Troughton
It's been a long wait for David Bruckner's first feature film, but fortunately, it was worth it. The filmmaker behind standout segments in Signal and V/H/S made his feature debut this year with The Ritual, a Netflix original that digs into the well of shame and regret to mine piercing, distinctly adult terrors. Oh, and there's a great monster too. The Ritual follows four friends into the woods, where they venture out mourn the death of a dear friend, but once they're there, a spindly, scarcely seen creature haunts them every step of the way. Bruckner takes his time building the terror, offering brief glimpses at their monstrous stalker and using the natural camouflage of the forest to his advantage in staging his scares, and between the chilling looks at the creature, he takes his time fleshing out the trauma shared by these old friends and the conflicts that would threaten to tear them apart even if they weren't being hunted by a supernatural force. The end result is a mature, understated horror movie that slowly settles in under your skin with plenty of spooky folklore vibes that feel right at home in the Halloween season. — Haleigh Foutch
I Am The Pretty Thing That Lives in the House
I Am the Pretty Thing That Lives in the House doesn't have much in the way of story, but what it lacks in narrative, it makes up in atmospheric chills and slow-burn dread. That said, if you like your horror with propulsive action, move right along to the next entry because this one's definitely a slow burn. The payoff is the sensation that you're watching some immersive, slippery nightmare unfold on screen.
Writer-director Oz Perkins never gets flashy or too-clever with his tale. Instead, he sets a simple table with elegance. Told in dulcet, almost whispered voiceovers by Ruth Wilson's hospice nurse, Lily, the film makes two things clear from the start — ghosts are real, and Lily is about to become one of them. As always, Wilson is enchanting on screen and her terror is always convincing. Pensive and patient, the movie is more about mortality than ghosts (though it's got one or two chilling visual gags up its sleeve), and the unavoidable fact that death waits, unrelenting, for us all. — Haleigh Foutch
A Ghost Story
Director/Writer: David Lowery
Cast: Casey Affleck and Rooney Mara
If you want to add an existential crisis to your Halloween funtimes, then A Ghost Story is for you! This 2017 drama finds Casey Affleck playing a man who dies but then comes back to haunt his wife (Rooney Mara) and her house. There are no big special effects, it's simply Affleck wearing a white sheet and moping around. But the construction of the film, and the incredible score, drive home the largess of existence and the sorrow of loss. This one's certainly unique. – Adam Chitwood
Train to Busan
Writers: Joo-Suk Park, Sang-ho Yeon
Cast: Yoo Gong, Yu-mi Jung, Dong-seok Ma, Su-an Kim, Eui-sung Kim, Woo-sik Choi, Sohee
After the zombie genre got a big boost in the early aughts, the living dead thrived on serialized television but they died off in cinemas for a while. Train to Busan is a proper return to form for the genre, an old-fashioned zombie drama with heart and soul, a simple but clever set-up and some scary af zombies.
The film follows a father and his young daughter on a terrifying train ride that sends them speeding through a zombie outbreak in South Korea, trapped inside increasingly infected compartments of the passenger train. Filled with characters you root for — and some you love to root against — Train to Busan is packed with zombie action that uses the tight quarters to thrilling effect, traveling through the cars of the train with a series of imaginative set-pieces that put the physicality of these contorted, fast-moving zombies to great effect. After watching the living survive among the dead for years on the silver screen, it's damn well time for someone to give the undead their bite back and Train to Busan is just the ticket. — Haleigh Foutch
The Witch
Director/Writer: Robert Eggers
Cast: Anya Taylor-Joy, Ralph Ineson, Kate Dickie, and Harvey Scrimshaw
Wouldst thou like to live deliciously? So bellows The Witch, one of the scariest (and prettiest) horror movies in recent memory and a perfect Halloween watch if you're into spooky period pieces.. This wholly original story was billed as "A New England Folktale," and indeed it takes place in 1630s New England and follows a family who has been banished from a Puritan plantation for being too religious. Now secluded near the woods, strange happenings begin to occur—like the kidnapping of their baby—and the parents fall further and further into madness, all the while young Thomasin (Anya Taylor-Joy, who you know from Split) tries to hold everything together. It's gorgeous, terrifying, and builds to an operatic finale that you won't soon forget. This isn't your typical jump-scare or masked menace horror flick. It's something far more sinister. – Adam Chitwood
The Babysitter
Writer: Brian Duffield
Cast: Samara Weaving, Bella Thorne, Judah Lewis, Robbie Amell, Hana Mae Lee, Emily Alyn Lind, Andrew Bachelor, Leslie Bibb, Ken Marino
This action-packed horror comedy sets a perfect Halloween mood for folks who might be looking for a little blood-soaked thrill without giving themselves nightmares. Based on a killer script from Brian Duffield, The Babysitterstars Samara Weaving in an absurdly stunning, star-promising performance as the titular babysitter, who's hiding some deviously dark secrets from the boy she sits for. Indulging in a bit of a rebellious streak one night, the kid doesn't take the shot she gives him and stays awake long enough to walk right into a Satanic ritual, setting off an insane, combustive series of events that pit him against a bunch of beautiful and ambitious young adults who are willing to do whatever it takes to get what they want. Robbie Amell , in particular, has deliciously unhinged charisma, but in general, the whole movie is crackling with personality and crowd-pleasing surprises. — Haleigh Foutch
The Evil Dead
Director/Writer: Sam Raimi
Cast: Bruce Campbell, Ellen Sandweiss, Hal Delrich, and Betsy Baker
A true horror classic with a very strong fall vibe, you simply must see the original The Evil Dead. The 1981 film tells the story of a group of college students who visit a remote cabin in the woods and subsequently fall prey to demonic possession. That's it. That's the plot. And the movie is wonderful. The secret sauce that makes The Evil Dead such a pleasure is the low-budget stylings of director Sam Raimi, who gives the camera its own personality and delights in the gory violence that besets the film. While there is some humor, the true "horror comedy" tone of the franchise doesn't fully come into play until Evil Dead 2, which is as much a remake of the original as it is a sequel. But in terms of pure cinema history and a prime example of young aspiring filmmakers just doing the dang thing rather than waiting for permission to make a movie, The Evil Dead is a must-see. – Adam Chitwood
Insidious
Writer: Leigh Whannell
Cast: Patrick Wilson, Rose Byrne, Lin Shaye, Leigh Whannell, Angus Sampson, Barbara Hershey, and Ty Simpkins
The next franchise-starter from Saw duo James Wan and Leigh Whannell, Insidious was one of Blumhouse's earliest huge successes, made on a micro-budget but with full creative freedom from the filmmakers and a killer ensemble cast. Patrick Wilson and Rose Byrne star as the parents of a young boy who brings terrifying spirits into their suburban home when he falls into a coma and astral projects into a dangerous world called The Further. Wan and Whannell tap into the zany domestic energy of Poltergeist better than most, and Wan's gift for scare-construction is never clearer than when he's working on a budget that doesn't allow for spectacular effects. Insidious is pure technique, and while the final act is nowhere near as terrifying as the two that come before, that gives the movie a crowd-pleasing quality that makes it a fun experience, even for the scaredy-cats. — Haleigh Foutch
Horns
Writer: Keith Bunin
Cast: Daniel Radcliffe, Juno Temple, Max Minghella, Joe Anderson, Kelli Garner, Heather Graham, David Morse
Based on Joe Hill's superior novel of the same name, Horns doesn't quite capture the giddy depravity and dark magic of the source material, but Alexandre Aja's film adaptation is still a twisted tale of revenge with a flourish of otherworldly weirdness. Daniel Radcliffe stars in one of his first post-Harry Potter roles, as a young man who finds himself the prim suspect in his beloved girlfriend's mysterious death and wakes up one day to discover he has a new set of horns attached to his head. What's more, he has the ability to influence people with just a word, and people just can't stop confessing their darkest desires around him. As his devilish sense of humor (and justice) grows with his powers, Horns develops a wicked sense of humor all its own that feels right at home in the trickster spirit of Halloween. — Haleigh Foutch
Written by COLLIDER STAFF