Batman will be back in a solo movie in 2022! In keeping with the character's evolution on the big screen, this won't be the same version of the Dark Knight Detective seen in films like BATMAN V SUPERMAN and JUSTICE LEAGUE. This is a different take on Batman, with a new director and a somewhat surprising actor in the starring role. The new Batman movie, which is simply titled THE BATMAN, features Robert Pattinson as Bruce Wayne and his alter-ego, Batman. (Or is that relationship the other way around?)
While some story details are still being kept quiet, we are beginning to learn a lot more about the movie. Here's everything you need to know about THE BATMAN, including a look at the new trailer, showing off the interaction between Pattinson and Zoë Kravitz, who plays Selina Kyle, aka Catwoman.
Who's Making The Batman?
Matt Reeves, the director of CLOVERFIELD, LET ME IN, and DAWN OF THE PLANET OF THE APES and WAR FOR THE PLANET OF THE APES is writing and directing THE BATMAN. (That's him working on WAR FOR THE PLANET OF THE APES, above.) He took over from writer/director/star Ben Affleck and co-writer Geoff Johns, who were set to make the movie while BATMAN V SUPERMAN was in production. In January 2017, Affleck stepped down as director, and Chris Terrio (JUSTICE LEAGUE, STAR WARS: THE RISE OF SKYWALKER) was signed to write a new draft of the script.
Matt Reeves signed to direct THE BATMAN in February 2017. Eventually, he also did a rewrite of the script. Nearly two years later, Affleck fully dropped out of the film, opening the door for a new actor to star as Bruce Wayne and his alter-ego, Batman.
What Kind of Movie Will The Batman Be?
While it's too early to definitively say THE BATMAN will be any one thing, Matt Reeves has made a few ideas clear so far. In 2017, the director said "I think there's a chance to do an almost noir-driven, detective version of Batman that is point of view driven in a very, very powerful way that is hopefully going to connect you to what's going inside of his head, and inside of his heart."
Batman, of course, originally appeared in "Detective Comics," which became the namesake of DC Comics. The degree to which the character acts as a detective changes depending upon the creative team behind any given story, but that aspect of Batman has always been a core part of his story. Prior movie versions of Batman have shown him in detective mode, but comments from Reeves make THE BATMAN sound like it could explore that side of the character's skill set in more depth.
At the same time as the trailer debuted, Reeves referred to his movie version of Batman as "broken" and "confronting the shadow side of himself," which are comments that could mean a lot of different things. But combined with the images in the trailers, you can start to get a sense of what the movie might be like.
Is The Batman an Origin Story?
All the comments from writer/director Matt Reeves have made clear that THE BATMAN will not be an origin story! Instead, as The Hollywood Reporter wrote when detailing the story of Robert Pattinson being cast in the lead, Batman "is written as around 30 years old, and the story is neither another rehashing of his origin nor the tale of a seasoned crimefighter ruling Gotham City. He is Bruce Wayne still trying to find his footing on his way to becoming the genius detective."
In this new Batman movie, Bruce Wayne has been patrolling Gotham for about a year and a half. It has even been referred to as a "Year Two" story, referencing one of Frank Miller's signature Batman story arcs. In other words, think of something along the lines of the final act of Christopher Nolan's BATMAN BEGINS. (There's even a shot in the first trailer that looks a lot like one of Nolan's first Batman setpieces.)
Reeves told THR that Batman is essentially an "experiment" to see if one man can change a deeply corrupt Gotham City. As a series of murders rocks the city, Bruce Wayne will face both the perpetrators and his past as he investigates whether or not his own family was tied to Gotham's corruption.
Is the Joker Movie Connected to The Batman?
One big question about THE BATMAN is whether or not there's any chance that Joaquin Phoenix's version of the Joker will show up. At this point, that seems highly unlikely, as JOKER was designed as a story that stands apart from the rest of the DC Comics movies. Still, there's always the (very slim) chance that Robert Pattinson's Bruce Wayne will be revealed as the adult version of the boy seen in JOKER.
Rumors originally claimed that THE BATMAN would be set in the 1990s, ten or more years after the events of JOKER, which would more or less line up with JOKER's Bruce Wayne as he gets close to 30. That timeline would also allow THE BATMAN to exist in the same world as BATMAN V SUPERMAN and JUSTICE LEAGUE, so long as viewers could accept that Robert Pattinson grows up to be Ben Affleck.
In fact, there's something else going on, as THE BATMAN factors into DC's expanding Multiverse plan.
The Batman Enters the Multiverse
The upcoming Flash movie, FLASHPOINT, will truly engage the notion of a DC multiverse on the big screen. We've seen that in the CW shows based on DC properties, but knowing that Michael Keaton and Ben Affleck will appear in the Flash movie suggests that it will approach alternate universes in a way akin to SPIDER-MAN: INTO THE SPIDER-VERSE.
How does that affect THE BATMAN? At DC's Fandome event in 2020, Walter Hamada, president of DC Films, said "On one Earth, you have Gal and Jason and Ezra, as this Justice League and you can continue telling these stories, while on another Earth, you can have a more grounded, real, Year Two Batman [in THE BATMAN]. There is that one Earth, that greater Earth with this existing Justice League and another that's sort of happening with that Year Two Batman. And of course, there's outliers like JOKER, that doesn't exist on either Earth, but that's OK. Matt Reeves can continue to build out his Gotham."
The New Batsuit!
In early 2020, director Matt Reeves released a short camera test featuring Robert Pattinson wearing the new Batsuit. It's just a single shot in which Pattinson slowly walks into focus, with the camera tight on his chest before booming up to reveal the cowl.
Because the shot is lit with low red light, details were difficult to make out. Batman's chest insignia looks like it is formed by a pair of folded batarangs, while the suit itself has a fairly armored look. The trailer shows a lot more, and we can see that the cowl looks like leather, with stitched edges — all of which means this suit seems like it draws inspiration from a few different sources. The shape of the cowl even calls back to the '60s TV series, but THE BATMAN clearly doesn't share any of the show's comedic tone.
Now with two trailers online, we can see that Reeves has masterminded a version of Batman who is slimmer, more mobile and less bulky than any other live-action cinematic conception of the character. That alone makes this movie an interesting proposition.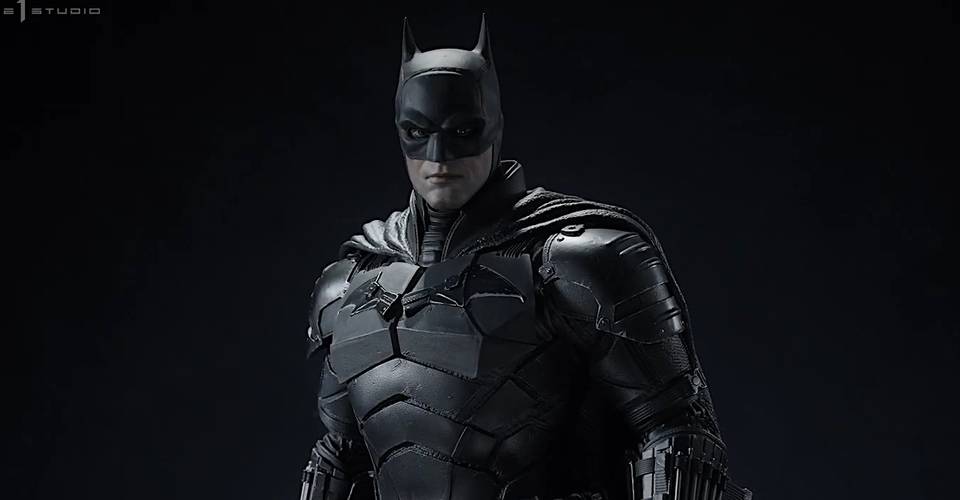 Will The Batman Begin a Trilogy?
Matt Reeves has been working on THE BATMAN since 2017, which means that he has had plenty of time to field questions about his approach to the Dark Knight. Later that year, while promoting WAR FOR THE PLANET OF THE APES, for example, he said: "I have ideas about an arc, but really, the important thing is just to start… you have to start with one." He mentioned that while RISE OF THE PLANET OF THE APES was made with the hopes that a series would follow, the precise plan was not set in stone. "I would say that that more relates to the way that I see a Batman story, is a kind of ambition for a series of stories, but really the most important thing is gonna be to tell a vital first story."
So THE BATMAN is the first story, and it could well lead to a series. That said, we'll have to see how the first film turns out before knowing for certain that additional movies will follow, or that Reeves will make them.
The Batman Cast
THE BATMAN cast has been creating intense conversation since the first announcements. Robert Pattinson leads the cast as Bruce Wayne/Batman, and right there you've got a starting point for a Batman movie that is very different from any other. It's a genius casting choice, as Pattinson has demonstrated a total fearlessness in other roles over the past few years.
Andy Serkis, who played the ape Caesar in two PLANET OF THE APES movies directed by Matt Reeves, appears as Alfred. That casting choice suggests a very different Alfred than we have seen in previous movies, too, not to mention a younger one than most other movie versions of the character.
Zoë Kravitz plays Catwoman, and Paul Dano plays the Riddler, while Jeffrey Wright plays Commissioner Gordon. It's too early to know what comic book incarnations of those characters each actor will base their performances on. The trailer shows that the Catwoman and Riddler costumes are quite a bit different from their comic book counterparts. Both of those characters seem to be early in their journeys as well — just like Batman.
Additionally, new talent Jayme Lawson is playing a character named Bella, who is "a grassroots political candidate running for office in Gotham," according to Collider. And spectacular character actor John Turturro has been cast as crime boss Carmine "The Roman" Falcone. (Falcone has been played on screen in the past by Tom Wilkinson, in BATMAN BEGINS, and by John Doman on the show "Gotham.") And Peter Saarsgard plays Gotham City D.A. Gil Colson, an original character. Director Matt Reeves once said "There will be a rogues gallery" in this movie, so will Gil Colson become a new version of Two-Face? That remains to be seen.
And last but far from least, Colin Farrell plays the Penguin. That's an image of him from the trailer just above, and you can see that (a) it's a very different Penguin, and (b) Farrell is wearing some serious prosthetics. A lot of fans wondered if that was actually Farrell in the role, but the effects company responsible for the prosthetics cleared up any confusion — it's definitely him! The second trailer gives us a much better look at Farrell's Penguin, too, and we can't wait to see even more.
What's The Batman Release Date?
THE BATMAN comes to theatres on March 4, 2022.