Authorities in Moldova are gathering Tuesday for an urgent security meeting following a series of blasts in a Russia-aligned separatist region, just days after one of Vladimir Putin's generals suggested that country could be the next target of Moscow's military aggression in eastern Europe. 
The Moldovan authorities are sensitive to any sign of growing tensions in Transnistria, an unrecognised Moscow-backed sliver of land bordering southwestern Ukraine, especially since Russia invaded Ukraine on February 24.
Russia has had troops permanently based in the region since the collapse of the Soviet Union in the early 1990s. Ukraine fears Transnistria could be used as a launchpad for new attacks on its soil.
There are concerns that the incident in the separatist area could helm an invasion from Russia, with many citing similarities in the invasion of Ukraine by Vladimir Putin's forces.
Here's everything you need to know About Moldova:
Where is Moldova?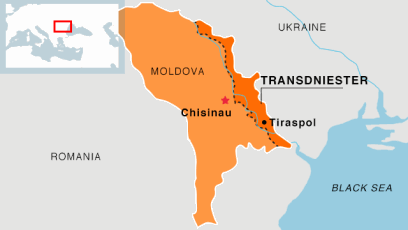 Moldova is located in Eastern Europe and is a former Soviet republic state. Moldova is bordered on the west and southwest by Romania and on the north, south, and east by Ukraine. A part of the former USSR, Transnistria, is a pro-Russia breakaway region of Moldova, which borders Ukraine to the southwest.
What is Transnistria?
The small Eastern European country of Moldova, sandwiched between Ukraine and Romania, used to be part of Romania. It was integrated into the Soviet Union in 1940. The collapse of the Soviet Union five decades later triggered a civil conflict in the early 1990s between the newly independent Republic of Moldova and separatists in Transnistria, who wanted to maintain Soviet ties.
Transnistria, a thin strip of land that runs along Moldova's border with Ukraine, has a population of about 500,000. No country — not even Russia — recognizes the territory as independent. But it functions as a separate nation, where Moldovan authorities admit they have no control.
Russian troops have been stationed in the area for decades as "peacekeepers," with an estimated 1,500 there today. Moldovans make fun of the sliver of land as a backwater stuck in the Soviet era, where Lenin statues remain, international bank cards don't work and a monopolistic company, Sheriff, controls virtually everything.
Is Moldova in the EU or NATO?
Moldova, like Ukraine, is not a member of the European Union or NATO, however it has a close economic relationship with the bloc state and benefits from "the removal of import duties for most goods traded between the EU and Moldova" as part of the Deep and Comprehensive Free Trade area agreement. The EU-Moldova association agreement with its deep and comprehensive free trade area came into full force in 2016.
Economy
Moldova has the dubious distinction of being the poorest country in Europe with a per capita GDP of just $5,327, according to the IMF. The second lowest is Ukraine's, at $8,305 (Moldova's neighbour's is $20,326, while the UK's is $42,480).  
Moldova has a well-established wine industry and produces around two million hectolitres of wine every year. Once upon a time, Russia consumed up to 90% of Moldovan wine but after a diplomatic dispute in 2006, Russia banned the import of Moldovan and Georgian products. Even so, Moldova is still the 20th largest wine producer in the world. 
Why might Russia be interested in Transnistria?
Kyiv has repeatedly warned that Transnistria could be used as a staging area for Russian operations against Ukraine or against Moldova, a non-NATO member that shares a border and a common history with NATO member Romania.
Moldova's Foreign Ministry summoned Russia's ambassador to the country to express "deep concern" comments made by a Russian general that suggested the Kremlin is targeting its territory.
Russia does not officially recognise the independence of Transnistria, but there are similarities with how areas of Ukraine have been viewed by Russia.
Russia recognised two areas of Ukraine as independent before invading to carry out "peacekeeping operations" in the separatist regions, with concerns that they could carry out similar tactics in Transnistria..
TIMELINE
1924 – Moldovan Autonomous Soviet Socialist Republic established east of the Dniester River within Ukraine.
1940 – Russia annexes Bessarabia from Romania, and combines it with most of the Moldovan Autonomous Soviet Socialist Republic to form Moldavian Soviet Socialist Republic.
1991 – Moldova declares independence. It joins the Commonwealth of Independent States, the successor to the Soviet Union.
2001 – The elections see the communists under Vladimir Voronin win just over 50% of the vote.
2014 – Moldova signs association agreement with the European Union, prompting Russia to impose import restrictions on the country's agricultural produce.
2015 – National Bank uncovers official inaction over embezzlement of $1bn – about 12.5% of annual GDP – from the banking system, prompting a major political crisis and credit crunch.