In the year since the global pandemic was declared, Asian-American communities have experienced an alarming surge in discrimination and racist-fueled attacks. These incidents are largely attributed to the racist rhetoric that seeks to blame Asian-Americans for pandemic-related woes, as the novel coronavirus is believed to have originated in Wuhan, China.
As pointed out by TIME magazine, the NYPD reported anti-Asian hate crimes increased by 1,900 percent during the first half of 2020. U.S. Rep. Grace Meng (D-NY) revealed that there were nearly 2,600 reports of anti-Asian acts from March to May across 47 states; 70 percent of those incidents were verbal harassment, 21 percent involved "shunning," and 9 percent were physical assaults.
Last month, an 84-year-old Thai immigrant named Vicha Ratanapakdee was fatally assaulted while walking in San Francisco. Days later, a surveillance camera captured an attack on a 91-year-old man in Oakland's Chinatown, and last week, a 64-year-old grandmother was robbed in broad daylight as she got into her car parked outside a San Jose Vietnamese market.
On March 16, eight people were killed in shootings at three Atlanta-area massage parlors — and though authorities said the suspect was not motivated by race, six of the victims were Asian women.
"There's a clear correlation between President Trump's incendiary comments, his insistence on using the term 'Chinese virus' and the subsequent hate speech spread on social media and the hate violence directed towards us," Russell Jeung, a co-founder of Stop AAPI Hate, told TIME. "It gives people license to attack us. The current spate of attacks on our elderly is part of how that rhetoric has impacted the broader population."
In wake of the recent attacks, activists within the Asian-American and Pacific Islander communities are calling on others to help combat xenophobia and anti-Asian racism. To assist with that effort, we've assembled a list of ways you can help curb these acts of violence as well as support those who've been most affected by them.
Report Instances of Violence and Discrimination
Stop AAPI Hate, an initiative launched in response to the spike in anti-Asian hate crimes, is urging the public to report incidents of discrimination and violence against Asian Americans and Pacific Islanders. The nonprofit has created an online form in which people can report the type of incident as well as the time and place it occurred. This tracking information will allow activists to "push for better protection, educational resources, and policies" that may one day "put an end to this."
Stop AAPI Hate has outline its five-pronged approach:
Serve as the leading aggregator of anti-Asian hate incidents
Offer multilingual resources for impacted community members
Provide technical assistance from rapid response to preventative measures
Support community-based safety measures and restorative justice efforts
Advocate for local, state, and national policies that reinforces human rights and civil rights protections
The public can also report anti-Asian incidents at Stand Against Hatred. Those in the NYC area can also report by calling 311 and asking for human rights, or by contacting the New York Attorney General at civil.rights@ag.ny.gov or 1-800-771-7755. Los Angeles residents can also report hate crimes by dialing 211 or visiting the LA vs. Hate website.
Volunteer in Your Community
Contact your local Asian community center to find out ways you can help fight anti-Asian discrimination and violence.
Jacob Azevedo, an Oakland resident of Hispanic descent, has launched the Compassion in Oakland volunteer organization that seeks to promote safety and community within the Bay Area. After learning about the attacks against elderly Asians, Azevedo took to social media offering to escort anyone who felt unsafe traveling in the neighborhood. Since then, hundreds of people have followed his lead.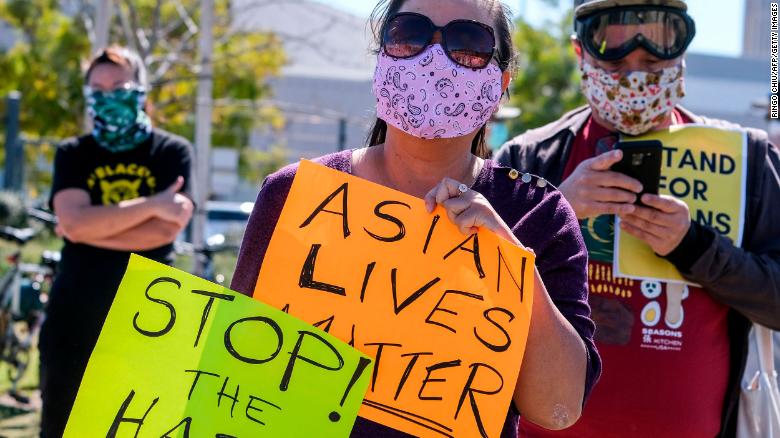 "I wasn't intending to be some kind of vigilante," he told CNN. "I just wanted to offer people some kind of comfort … This is important because this community just needs healing. There's a lot of racial tensions going on because of the previous president's rhetoric but in general our communities need healing. This is an issue that's been ongoing for a while."
The Oakland Chinatown Coalition is also seeking volunteers for its Community Strolling program, which aims to build relationships with communuty members and visitors as well as clean up trash around the area. You can access the sign-up form here.
New York City's Heart of Dinner has launched a grassroots initiative called #EnoughIsEnough. The campaign seeks to raise awareness about the recent string of anti-Asian attacks, as well as provide meals for Asian-American, Black, and Latino communities. Those in the NYC area can get involved in a number of ways, whether it's delivering meals, helping with marketing, or writing notes for care packages.
Make Your Voice Heard
An easy and effective way to support the AAIP community is by helping spread awareness online. Social media users are encouraged to share articles about instances of anti-AAIP discrimination and violence, as well as use hashtags like #HateIsaVirus and #TheyCantBurnUsAll; the latter of which aims to unite Asian communities and allies to fight against racism and hate crimes.
You can also sign petitions that seek to raise awareness and end the attacks on Asian-Americans. The Change.org petition Stop Hate Against Asian Americans calls on mainstream media outlets to amplify coverage of the recent rise in racially motivated assaults. End Hate Crimes Against Asian Americans urges New York law enforcement and elected officials to sufficiently address the violent crimes against the AAIP communities. The petition demands thorough investigations of the incidents under the hate crime designation.
Check in on Someone You Know:
With 20 million Asians in the United States — six to seven percent of the nation's population — odds are that you know someone who is of Asian descent. A survey by PEW Research Center reported that Asian Americans and Black Americans have experienced discrimination during the pandemic. Asking something as simple as "How are you feeling about this?" or "How can I support you?" can go a long way.
Want to do more? Educate yourself.
The responsibility to be aware and educated falls on you — do your research and do not burden your Asian American friends and family with that responsibility. Here are a few books we recommend to get started:
We Gon' Be Alright: Notes on Race and Resegregation by Jeff Chang
Minor Feelings: An Asian American Reckoning by Cathy Park
The Woman Warrior: Memoirs of Girlhood Among Ghosts by Maxine Hong Kingston
The Unpassing by Chia-Chia Lin
Dear Girls by Ali Wong
Model Minority Imperialism by Victor Bascara
The Leavers by Lisa Ko
Racial Melancholia, Racial Dissociation: On the Social and Psychic Lives of Asian Americans by David Eng and Shinhee Han
Interior Chinatown by Charles Yu
Yellow: Race in America Beyond Black and White by Frank Wu