What's up, Wildcats? Excited to revisit East High? Good! Because that's exactly where we're headed following the confirmation that season three is all systems go.
"We are overjoyed to be heading to the great outdoors for season three, and grateful to our partners and friends at Disney Plus for their continued support of our next-generation Wildcats," said creator and executive producer Tim Federle (via Variety).
So grab some risotto (too soon?), do your stretches, and grab that mic as we sing and dance our way through everything we know about HSM:TM:TS season three.
High School Musical: The Musical: The Series season 3 release date: When will it return on Disney+?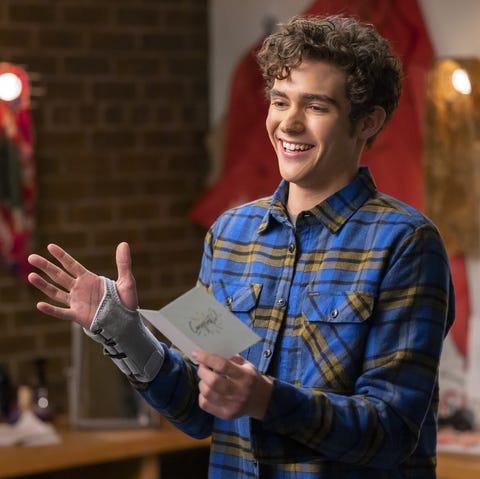 Currently we do not have a release date for HSMTMTS. The only indication we have about what's to come is that the show will air 'in 2022'.
HSM:TM:TS season 3 cast: Who will be in it?
Expect some new faces joining the Wildcats for the upcoming musical, as well as, according to a Disney+ spokesperson, some old faces too.
On January 18, it was announced that Disney Channel alums Corbin Bleu (an OG Wildcat who played Chad Danforth in the franchise) and Jason Earles (star of Hannah Montana) will be joining the cast for season three. Corbin stars as a fictional version of himself, while Jason plays Dewey Wood, the "stone-faced, killjoy" Camp Shallow Lake director. This won't be Jason's first time on the HSMTMTS set, however — he joined production for the show's first two seasons as the cast's acting coach and mentor.
Leading lady Olivia Rodrigo seems likely to return, but given her astronomic rise to fame in real life, it's not been confirmed yet.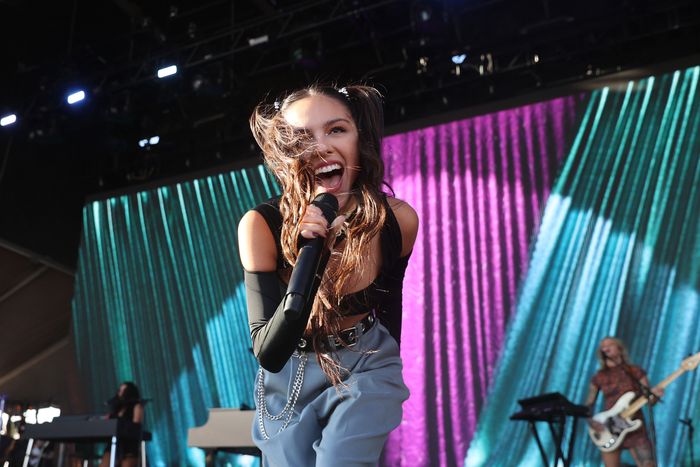 However, the season three plot could mean she could skip a season pretty easily. More on that in a bit.
As for the rest of the cast, there's:
• Joshua Bassett as Ricky Bowen
• Matt Cornett as EJ Caswell
• Sofia Wylie as Gina Porter
• Larry Saperstein as Big Red
• Julia Lester as Ashlyn Caswell
• Dara Reneé as Kourtney Greene
• Frankie Rodriguez as Carlos Rodriguez
• Mark St Cyr as Benjamin Mazzara
• Kate Reinders as Miss Jenn
• Joe Serafini as Seb Matthew-Smith
Jordan Fisher may also end up playing a bigger role in the future after his character, Jamie Porter, made an impact at the end of season two.
HSM:TM:TS season 3 plot: What will the third season be about?
Season three sees the story move from Salt Lake City, Utah to Los Angeles, California as the gang goes to theatre camp.
We also know that this season's musical of choice will be Frozen, following on from their performances of High School Musical in season one, and Beauty and The Beast in season two.
As a result of the new location, it could mean that some fan favourites won't be making an appearance as they'll simply decide not to go.
(This could be the case for Rodrigo's Nini Salazar-Roberts.)
"I think they [the storylines] were [left more open-ended for Nini]," show creator Tim Federle told Hollywood Life. "I think things are open-ended actually for a number of characters just because you want the maximum flexibility going forward.
"Look, I have so much respect for Olivia as a songwriter and as a human and what her own dreams are. I love High School Musical with Olivia. I think Olivia is a massive part of our success, but I think season three is sort of a TBD in terms of where Nini's journey would go."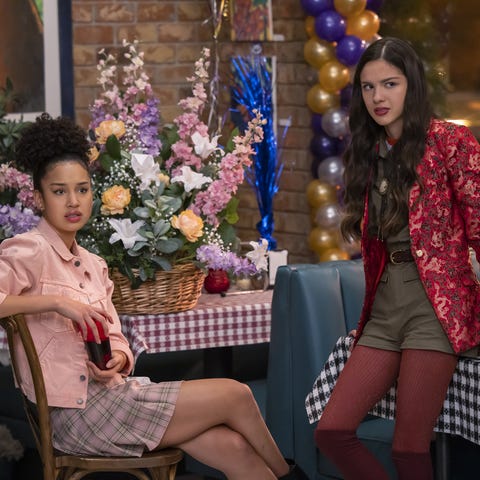 "Choosing the musical for the show is hard because there are so many possibilities," Federle told Hollywood Life. "I think at the end of the day, the music is a really cool storytelling component of the show, but I really think it's about the character dynamics. It's like Gina and Ricky, Nini and Ricky, and it's Big Red and Ashlyn that I think the audience really tunes in for. That's a big decision we weigh in heavily when choosing the next show."
What happened in High School Musical: The Musical: The Series season 2's finale?
At the end of season two, the Wildcats decided they don't want to compete at the Menkies anymore, and surprisingly enough, their teacher Miss Jen agreed.
As well as this, Benjamin revealed to Miss Jen that he might not end up going to California because he would rather stay with her and try to move things forward romantically. Elsewhere, EJ almost messed things up with Gina, but at the last minute, they realised their mistakes and decided to share their very first kiss.
Gina's brother, Jamie, also made an impact when he offered to work with Nini on producing her music. The future's looking bright for her, but not so much for Ricky, her past love, because he's calling up the mean girl from the rival school for a date. And little does he know that she was the one who sabotaged his transformation scene in Beauty and the Beast…
At least Carlos and Seb are doing well. Expect them to break more ground for LGBTQ+ representation when season three arrives, along with a whole lot of drama from everything else we just recapped from season two.
HSM:TM:TS season 3 trailer: When can we see a promo?
Right here, right now, there's no new footage to share.
But on November 12 (a.k.a Disney+ day), the streaming platform took to Twitter to tease that the Wildcats may be tackling Frozen for their next musical. "Love is an open door…" the post reads, referencing a duet from the animated film. On January 18, Frozen was confirmed to be the next production.