As much as we look forward to Halloween, we'll admit it has a more-trick-than-treat way of sneaking up on us. October goes by in the blink of an eye, and when you're caught up with picking apples, sipping pumpkin spice lattes, and checking off the rest of your fall bucket list, it's easy to find yourself costume-less when the big day arrives.
The good news is, there are plenty of Halloween costumes you can pull directly from your closet, using items you already own. This is a great way to not only cover up your lack of preparation, but also save some cash. Plus, bonus sustainability points for re-using items you already own rather than purchasing something you'll probably only wear once.
Whether you're lacking time, budget or inspiration, we've got you covered. Keep reading for nine easy Halloween costume ideas you can pull directly from the depths of your wardrobe.
Wednesday Adams
You're creepy and you're kooky. You're out the door in 10 minutes with this costume. All you'll need is a black dress, white collar, black tights and black lipstick.
Rosie the Riveter
A WWII culture icon, Rosie the Riveter is one of the easiest costumes to make last minute. All you need is a denim shirt and a red bandana headband.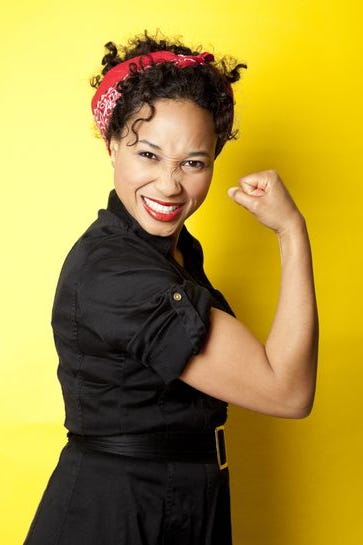 Frida Kahlo
Kahlo might be best known for her signature unibrow, but her outfits and next-level color combos were also pretty fabulous. Pull off this look with a flower crown, floral fashion and funky earrings. Don't forget to pencil in the 'brow!
Britney Spears in "Baby One More Time"
Britney Spears has had a ton of memorable outfits over the years, but "Baby One More Time" is one of the easiest to recreate. All you need is a plaid skirt, a gray cardigan layered over a white button-up, and some pink fuzzy hair accessories.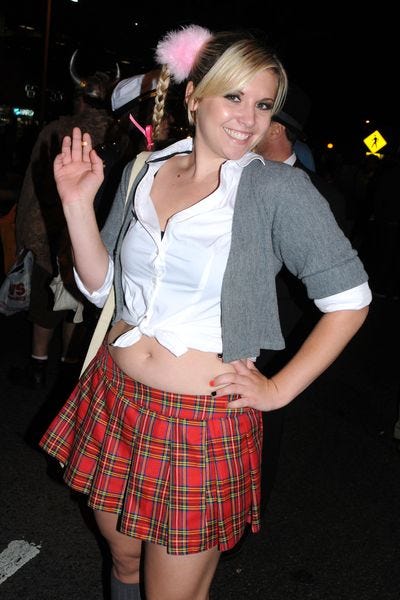 Flight Attendant
Head out on the town or navigate the friendly skies? Whatever your plans are, you'll be ready in no time with this super easy costume! All you have to wear is a navy or red skirt, white blouse and printed scarf. Throw in a suitcase and wing pin if you're feeling fancy.
Troll
How much did you love your Troll doll as a kid? Now you can dress up as a life-size one with stuff you probably already have around the house. How great is that? You'll just need any nude-colored clothing, a felt diamond you can cut, and any colorful wig.
Netflix + Chill
Get your mind out of the gutter! You're just getting ready for an epic horror movie marathon, right? There are many interpretations of this costume, from lounging around with some popcorn to a bag of ice along with your Netflix shirt.
Fifty Shades of Grey
Got a bunch of gray paint swatches? Got a plain T-shirt? Then it looks like you've got yourself a punny costume!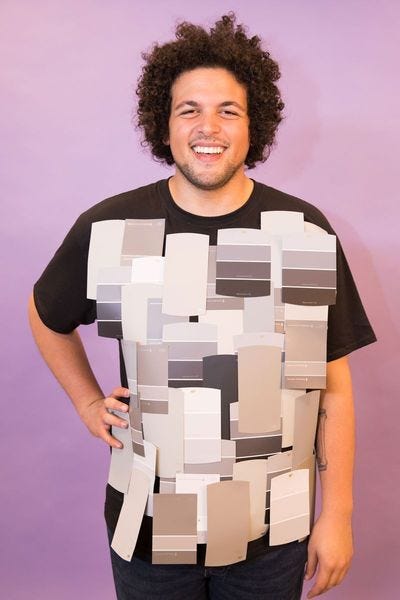 Beyoncé from her Hold Up video
If you have a yellow maxi dress in your closet, it's ideal, but even if you don't, the most recognizable part of this costume is the baseball bat. Pair any maxi dress you have with a baseball bat accessory, and it's a costume for the books.
Mad Hatter
To make your own Mad Hatter's hat, wrap 1⁄2 yard of three-inch-wide yellow ribbon around a green top hat and glue into place. Then, tuck a piece of card stock that reads "In This Style: 10⁄6" into the hatband. Complete your look with a checkered vest, khaki pants, striped socks, and checkered sneakers.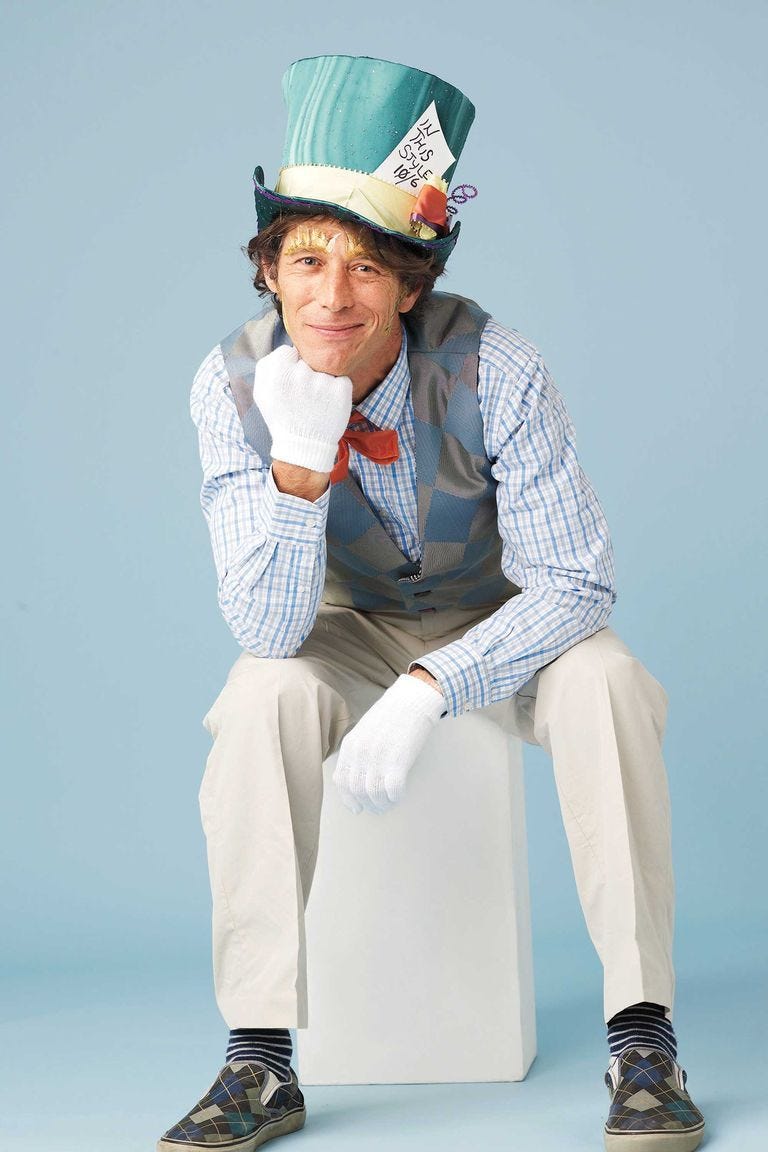 Vampire
For a costume that definitely doesn't suck, pair a white button-up shirt with a red-and-black cape and some ketchup.
'Men in Black'
Whether you go with your significant other, friend, or simply by yourself, this intimidating costume only requires some sunglasses and a black suit.
Violet Beauregarde
Grab anything blue out of your closet and a piece of gum, and Violet Beauregarde is only a blue-painted nose away.
A scarecrow
A fall-time classic: throw on your favorite flannel shirt and grab some face paint. Complete the ensemble with booties and your favorite overalls . Suede accessories are also welcome!
Tweedle Dee/Tweedle Dum
Grab your best pal and go out together as Tweedle Dee and Tweedle Dum. Bonus points if you speak in rhyme the whole night. Wear red pants, suspenders, yellow shirts, blue bow ties and red hats.
Mario
It's you, Mario! And in five minutes, you're ready to power up! All you'll need is a rat hat, red shirt, overalls, and red Converse. Bonus points if you make a cardboard go-kart for some irl Mario Kart.
Brawny Man
If you have a red flannel shirt on hand, then this simple costume is as inexpensive to put together as a roll of Brawny paper towels.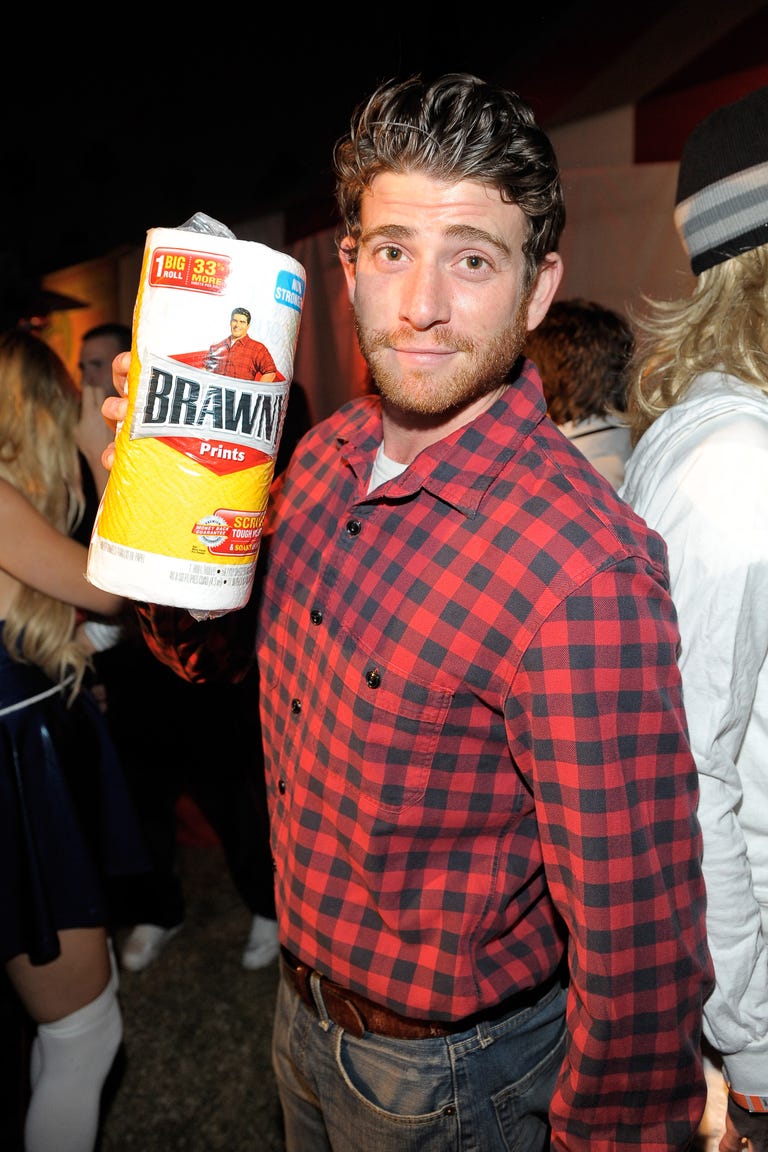 French Kiss
Pair a striped shirt and beret with either Gene Simmons' and Paul Stanley's iconic makeup looks for a playfully punny costume.
Jughead Jones
Riverdale's resident brooding bad boy rocks a look that's extremely easy to replicate. You can either get a pre-made Jughead hat, or buy your own grey beanie and cut the rim into the signature crown shape. Then pair it with a fur-lined jean jacket.
Regina George
This Regina look from Mean Girls is sure to get a few laughs.
Audrey Hepburn
Channel your inner Holly Golightly and have Breakfast at Tiffany's this Halloween. All you'll need is a black dress, pearls, tiara and long cigarette. Extra credit if you bring along your cat.