At the moment, no TV show does epic like Euphoria. Whether it was the intense prologue about Fezco's (Angus Cloud) back story that began the season, or the incredible montage that closed episode four, there have been some stunning moments so far. However, nothing really prepared us for the finale. The finale episode, which aired last night, took things to the next level.
We've known all season that Cassie's (Sydney Sweeney) younger sister, Lexi (Maude Apatow), has been working on a play about herself and her friends and family. And in episode seven (titled The Theater And It's Double) we saw the finished result as Euphoria switched cleverly between scenes from the play and the real moments between the show's characters. And while some were happy to see themselves portrayed (Lexi's mum, Suze, couldn't stop cheering!), others were much less so. Oh, Lexi, what have you done?
Here are 10 things that are totally breaking my brain.
What's next for the Cassie, Nate and Maddy love triangle?
It's clear Nate still loves Jules but doesn't want to be with her because it feels too much like a queer relationship. So, what does that mean for Cassie? Maddy hints that the cycle of abuse will continue and this is only the beginning for her, so it'll be interesting to see if Cassie really fully becomes the new Maddy, not only with identity but with pattern of relationship, too.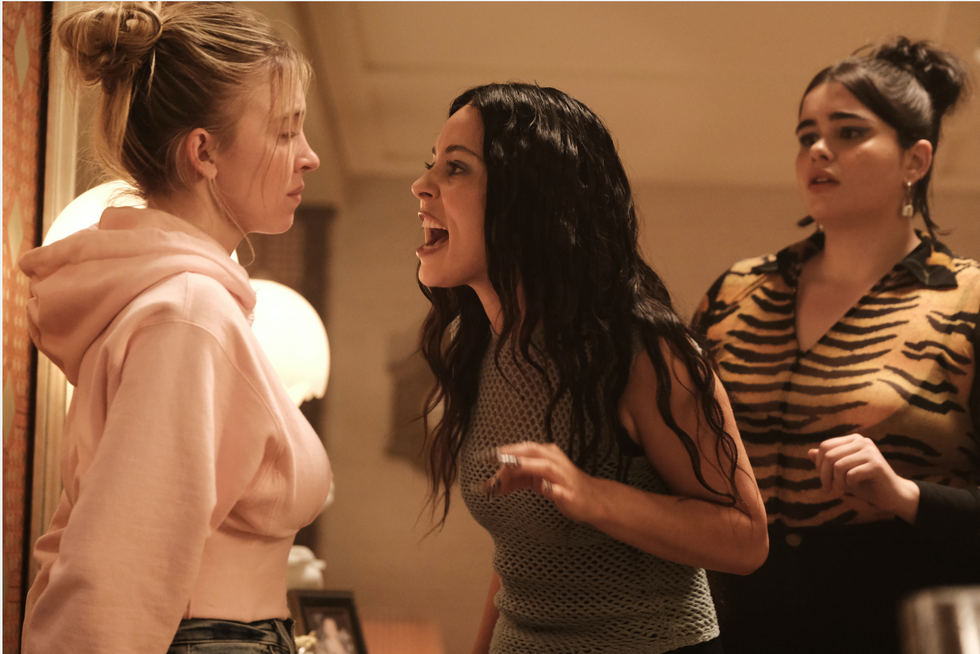 Is Fezco Dead?
This will surely be the main question on everyone's minds after the finale. After Ash is seemingly killed, the audience sees the brothers' empty apartment as a S.W.A.T. officer leaves, stepping on Fezco's card for Lexi on the way out. But Fez himself is nowhere to be seen, raising all the questions: Is he dead? Has he been hospitalized? Was he arrested? Any of these things could be true, and "Euphoria" viewers everywhere will be waiting with bated breath for the answer to be revealed in Season 3. But if we had to venture a guess, it's likely that Fez was taken immediately to the hospital, and will likely face jail time on drug-related charges — and perhaps murder as well — after he recovers from his gunshot wound.
What's up with Gia?
It seems like Sam Levinson is setting her up for a much bigger role in season three, where Rue could have time to focus on Gia's mental health. Gia should have a whole storyline regarding what's going on with her next season.
What's Nate going to do next?
After storming out of the play, Nate confronted his dad, Cal, at his construction site where he appeared to be partying with random people. He reveals that he had seen all of his dad's sex tapes when he was 11 and that he would have recurring sexual dreams involving Cal for years after that (which we caught a glimpse of earlier in the season). Cal then apologizes to Nate for not being present or protecting him as he should have. Nate, with a flash drive of all his dad's tapes in hand, said that he didn't want his apology and that he was seeking revenge. He seemingly turned his own dad in, so the cops pulled up to the site and arrested Cal.
How will Rue pay Laurie back?
Although Rue is sober and happy at the end of season two, the fact that she owes Laurie thousands of dollars for drugs still looms. The drugs she borrowed from Laurie were flushed down the toilet by her mum, so Rue is left with nothing to sell. So how will she pay Laurie back? And what will happen to her if she doesn't?
The only chance Rue seems to have of escaping her debts is the fact that Faye told the police that Laurie murdered Mouse, however I'm not too hopeful that this will lead to Laurie's arrest after Fez's arrest at the end of the finale.
Why was Maddy being filmed?
After one of Maddy's dress up sessions whilst baby sitting for Samantha, she left the jewellery drawer in the closet open. The next time she babysat, a hidden camera could be seen in the alarm clock, watching her undress.
So, why was Samantha filming Maddy? Was it just because she was suspicious of her stealing from her closet, or did she have more sinister intentions? Given the flirtatious nature of their interactions I'd be tempted to believe the latter.
What happened to the third Jacobs child?
One of the biggest questions of this season surrounds the Jacobs family. When Cal left his home after coming out, he took a family portrait that featured not four, but five people. We know that there's Marsha (Paula Marshall), Nate (Jacob Elordi), Aaron (Zak Steiner) and Cal, but the other person hasn't been revealed, leaving fans wondering if the individual is Ash Tray (Javon Walton) or even Elliot.
One would think that the actors would have an idea as to who that person could be, but it seems that's not likely, with Dominic sharing that he is tempted to ask Sam for answers. "I'm not going to lie, I saw this online," he said on The Tonight Show Starring Jimmy Fallon. "And I looked at it for a while, and there were so many things connecting, and so many people were talking about it all through these Reddit threads. And at the end of it, I was like, 'Am I Nate's brother?'"
Are Rue and Jules done?
Rue and Jules may be one of Euphoria's most iconic couples but I think we can all agree that they should not be girlfriends.
The rollercoaster relationship finally came to an end in the season finale, when Jules attempted to patch things up with Rue, but instead of saying "I love you" back, Rue simply kissed Jules on the forehead and walked away.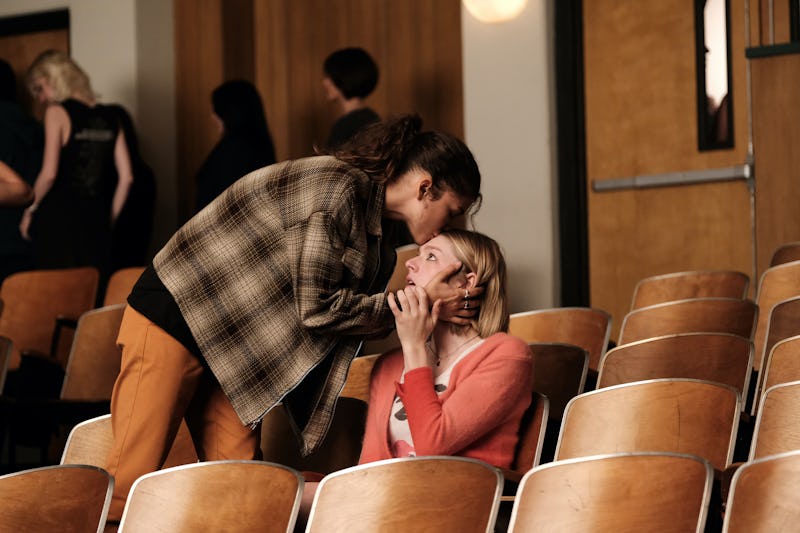 As Rue walked away, her voiceover narration seemed to suggest that this was a true, final breakup. "Jules was my first love. I'd like to remember it that way," Rue mused, notably speaking in the past tense. "I don't know if that's actually true, though. I think I was high for too much of it."
Those final lines definitely sound like the future Rue who's narrating the show never got back with Jules. And while many Euphoria fans are still hardcore Rules shippers, a lot of viewers actually celebrated the long-awaited breakup.