Angus Cloud, better known as Fezco on HBO Max's Euphoria, has been the name on everyone's lips since season two premiered on January 9 and Fans fell in love with Fez during the first season of the show. But how much do we know about the breakout star?
His Background
He was born in 1994 which makes him 26 years as in 2020. Cloud's native home is Oakland, California. However, his mother and father are said to have hailed from Ireland. They both worked in universities within Oakland. Before being cast in Euphoria he was actually planning to move back to Ireland with his family.
He Went to the Same School As Zendaya
Before they shared the screen on the HBO hit series, Cloud and Zendaya both roamed the halls of the Oakland School for the Arts, although it's not clear if they attended at the same time since Cloud refuses to confirm his age. He studied technical theater in school and learned skills like set-building and lighting for theater and TV. "I just liked the hands-on [stuff]," he told the NME in January. "It seemed cool, and I think I had a few buddies doing that, so I just jumped in [too]."
He Was Discovered on the Street in New York
Yes, you read that right. Surprisingly, Cloud has never acted in any other show before, neither has he undergone any training on acting. Euphoria is the very first show he has been cast in. It all began in 2018, when he was walking down the street in Manhattan going about his business, a representative who introduced herself as an employee of a casting company stopped him. She thought he would be perfect for a certain role in an upcoming TV Series. At first, he thought she was bluffing and trying to scam him but eventually she bought him over. He went to audition for it and landed his current part. Nevertheless, after shooting the show's pilot, his management decided to set him up with acting classes, with an intention to boost his acting skills. Combined with his natural talent, this should go well for him.
He's Extremely Private
Cloud is a very private person and keeps a lot of his personal life under wraps. Currently there is no girl out there with a claim to him. Or maybe he just too secretive to let the public know about his personal relationships. "I won't tell people if they asked me — if you was gonna ask me when my birthday was, I won't tell you because I don't want people to try to judge me off that," he said during a February 2022 conversation with Glamour.
His Fun-to-do Activities
Away from acting, Cloud relishes in, skateboarding, cycling and photography. Additionally, he enjoys traveling, naming Miami as his favorite travel destination. He also directs and edits music videos for his friends and posts them on his YouTube channel.
He is Likened to Mac Miller
There have been several comments online pointing out to a strong resemblance between the actor and Mac Miller – a rapper who died from drug overdose. His looks and how he speaks reminds fans of the deceased rapper. According to a Twitter post, one of his fans started to cry after watching him take care of Rue in Euphoria. She said he reminded her of Mac Miller who had died from fentanyl OD. Many other people retweeted in support of her sentiments.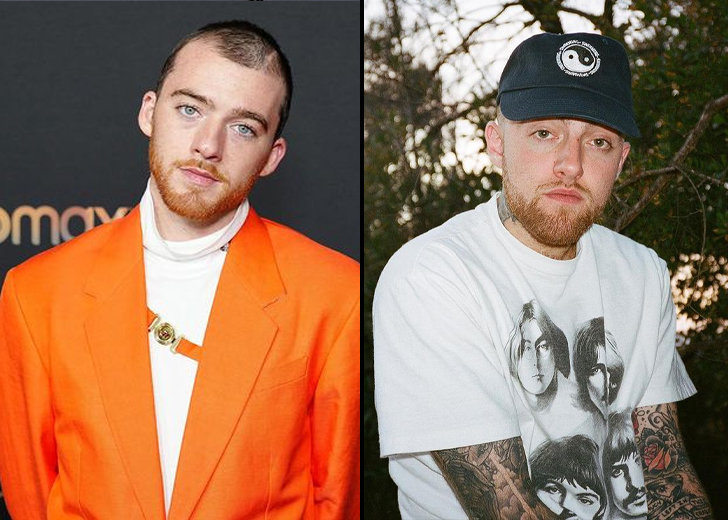 He is Active on Instagram
Cloud's most preferable social media platform is Instagram where he actively posts promos, photos and memes. He also uses the platform to connect with his fans who love him and are keen on following his every move. He currently has about 500,000 followers on Instagram. You can also find him in Twitter, though he is not as active there as he is on Instagram.
He Has Big Plans For Future Projects
Following his success at Euphoria, Cloud plans to fully explore his potential in acting. Already enrolled for acting classes, he hopes to use the skills he acquires to act in Hollywood films. He also has a keen interest in becoming a voice over artist.
He is living his best life at New York Fashion Week
Angus Cloud made his rounds throughout fashion week. Cloud attended a few shows over the past week but sat front and center for Coach's Fall 2022 runway show next to Megan Thee Stallion, Rina Sawayama, and Rickey Thompson. (He was also munching on a bag of Flaming Hot Cheetos in a white shirt, might we add. An icon indeed.)
He might be the biggest #Fexi stan
Fans who have been tuning in to Euphoria every week hoping to see Lexi and Fez as a couple are not alone. "We need more Fexi content, give the fans what they want," Cloud wrote via Twitter in January. He followed it up with a meme comparing the two characters to Fiona and Shrek, leading many fans to believe that he is just as invested in their relationship as they are.