Every Oscar show has its big moments, but Will Smith slapping Chris Rock overshadowed them all this year. Here are other key moments you might have missed.
Troy Kotsur makes history as the first deaf man to win an acting Oscar.
It began on Oscar nomination day when Troy Kotsur, learning of his supporting actor nod for "CODA," literally fell off his chair in a video that went viral. He continued to charm Hollywood and by Oscar night Kotsur, who plays a randy father in the film about a deaf family with a hearing child, was a clear favorite. Still, his win was emotional — many in the audience, including Chastain, Javier Bardem and Nicole Kidman, responded with waving hands — what is known as a deaf clap. Even his interpreter choked up during Kotsur's speech. He joined "CODA" costar Marlee Matlin as the only deaf Oscar winners. "I just wanted to say this is dedicated to the Deaf community, the CODA community and the disabled community," Kotsur signed. "This is our moment."
Mila Kunis honors Ukrainians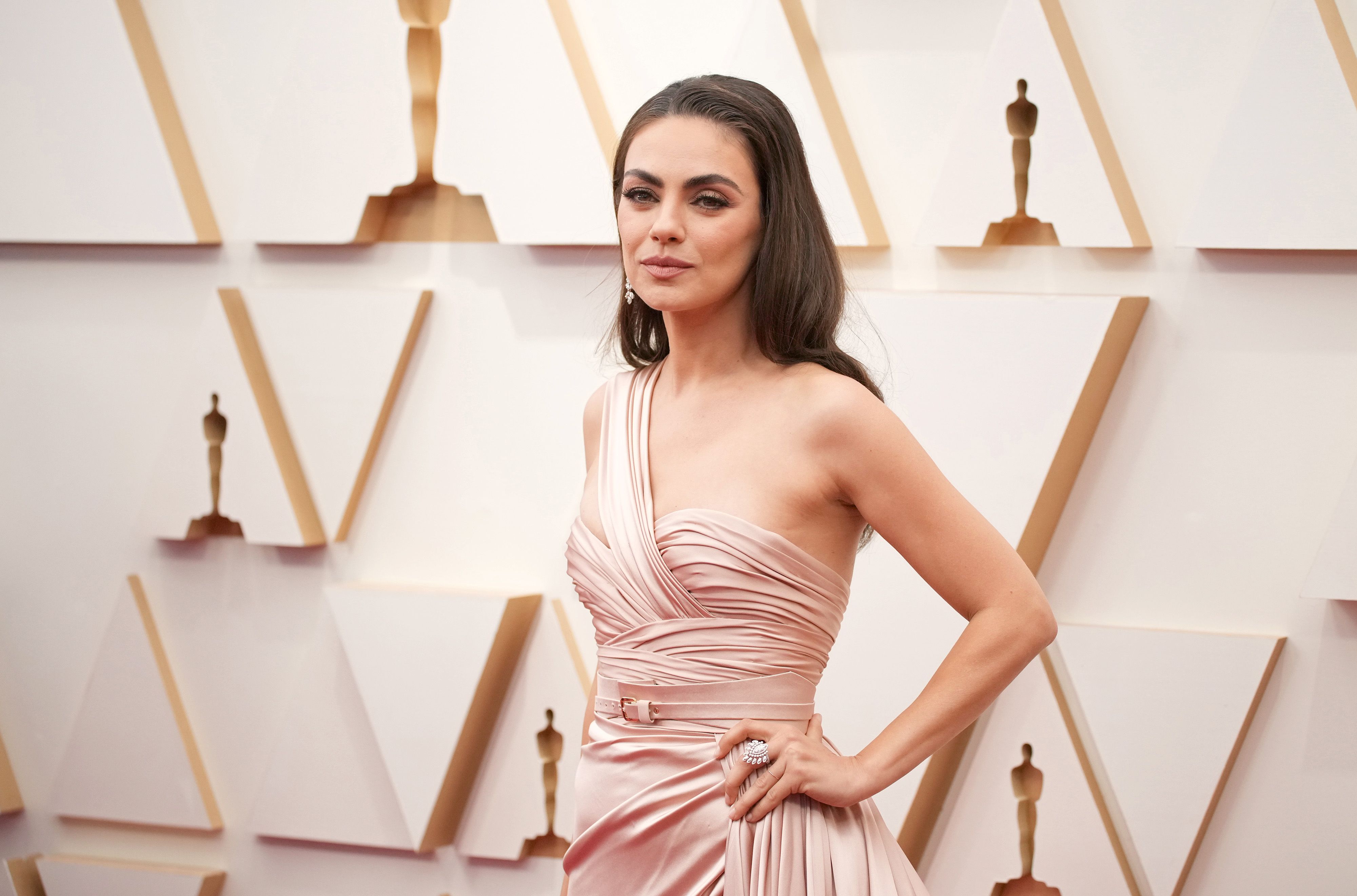 Mila Kunis made a heartfelt tribute to those affected by Russia's ongoing attack on Ukraine while presenting at the 2022 Academy Awards.
"Recent global events have left many of us feeling gutted," Kunis said before presenting Reba McEntire's performance of "Somehow You Do." "Yet when you witness the strength and dignity of those facing such devastation, it's impossible to not be moved by their resilience. Once cannot help but be in awe of those who find strength to keep fighting through unimaginable darkness."
Kunis, who was born in Ukraine, and husband Ashton Kutcher have raised more than $35 million in humanitarian relief for the people of Ukraine, and last week joined Ukraine President Volodymyr Zelenskyy on a video call to further discuss relief efforts.
The Oscars broadcast had a message of its own following Kunis' remarks, calling for a moment of silence "to show our support for the people of Ukraine currently facing invasion, conflict and prejudice within their own borders."
More stars, including Jamie Lee Curtis, Samuel L. Jackson and co-host Amy Schumer showed solidarity with Ukrainian refugees during Sunday's red carpet.
I want to be in America
Holding her Oscar in triumph, Ariana DeBose echoed the words of her famous character in "West Side Story," Anita. "Now you see why Anita says, 'I want to be in America,'" said DeBose, who won for best supporting actress, as expected. "Because even in this weary world that we live in, dreams do come true." There was much that was special about her win. DeBose won the trophy 60 years after Rita Moreno claimed the award in 1962 for the original film version of the Broadway musical. And she made history as well, becoming the first Afro-Latina and openly LGBTQ actor to win in the category. "To anybody who has ever questioned your identity," she said, echoing more lyrics from "West Side Story," "I promise you there is a place for us."
Jessica Chastain speaks out about suicide prevention after winning Best Actress Oscar
Jessica Chastain accepted the best actress award for her performance as Tammy Faye Bakker in The Eyes of Tammy Faye at Sunday's Oscars, and during her acceptance speech, she touched on suicide prevention, and LGBTQ and transgender rights in wake of the "discriminatory and bigoted legislation that is sweeping our country."
"Right now, we are coming out of some difficult times, [where we were faced with] love, trauma and isolation, and so many people out there feel hopelessness and they feel alone," Chastain said. "And suicide is a leading cause of death in the United States. It's touched many families, it's touched mine, and especially members of the LGBTQ community, who oftentimes feel out of place with their peers. We're faced with discriminatory and bigoted legislation that is sweeping our country with the only goal of further dividing us. There's violence and hate crimes being perpetuated on innocent civilians all over the world."
Beyoncé opened the show with a tennis-inspired performance of "Be Alive" from King Richard
After an opening greeting from Venus and Serena Williams, whose tennis-playing youth and life with their father is the subject of "King Richard," the opening number was performed by none other than Beyoncé. The superstar sang her nominated song, "Be Alive," in a dance-heavy performance from an open-air stage in Compton, where the Williams sisters were raised. Even her star power didn't win the song an Oscar, though. It was Billie Eilish and her brother, Finneas, who won for their "No Time to Die" James Bond theme song. Finneas thanked the duo's parents with words that brought smiles to many, saying: "We love you as parents and we love you as real people, too."
Billie Eilish and FINNEAS performed their Bond song "No Time To Die"
The 007 song by Billie Eilish and Finneas O'Connell has won a Golden Globe, a Grammy and now an Oscar for best original song.
The sister-and-brother artists thanked the whole Bond team and O'Connell closed the speech with words of gratitude for their parents, saying they had "always been our biggest inspirations and our heroes. We love you as parents and we love you as real people, too."
To win, they beat out some impressive names, including Beyoncé, Van Morrison and Lin-Manuel Miranda. They also prevented Diane Warren from nabbing her first Oscar on her 13th try.
Do Say Gay
One might have expected there to be more political references on this Oscar night. There actually weren't too many, but several presenters and winners did refer to Florida's so-called "Don't Say Gay" bill. Co-host Wanda Sykes — one of a trio with Schumer and Regina Hall – took a shot at the bill that passed a Republican-controlled state legislature earlier this month. "We're going to have a great night tonight," said Sykes, who is openly gay. "And for you people in Florida, we're going to have a gay night." Later, Chastain, best actress winner for "The Eyes of Tammy Faye," told the crowd: "We're faced with discriminatory and bigoted legislation that is sweeping our country with the only goal of further dividing us."
Lady Gaga praised for touching moment with Liza Minnelli at the Oscars
Lady Gaga proved a supportive co-presenter to Liza Minnelli when the pair handed the 94th annual Academy Awards' biggest prize on Sunday.
Gaga, 36, accompanied Minnelli, 76, on stage as the Cabaret star used a wheelchair. The crowd cheered, prompting the House of Gucci actress to grasp Minnelli's hand and say, "Do you see that? The public, they love you."
When EGOT winner Minnelli sorted through her notes, acknowledging, "I don't understand," Gaga told her, "I got it."
"You know how I love working with legends," said Gaga. "And I'm honored to present the final award of the evening with a true show business legend."