Formerly the Disney darling who starred with Demi Lovato in Barney & Friends and later The Wizards of Waverly Place, Selena Gomez has ditched the innocent image and cemented herself as a grown woman, growing collection of ink and all. Between her on-again, off-again status with Justin Bieber, and roles in racy movies like Spring Breakers, Selena Gomez is a force to be reckoned with, and her various tattoos are proof of that.
Get a closer look at all of Gomez's tattoos and find out what they mean ahead. 
1. Rose
"It means a couple of different things," Selena explained on Live With Kelly & Ryan. "Me and Cara, one of my best friends — I was maybe 16 when I met her — she calls me rosebud. So it's a nickname. And I've always wanted a rose and now I got one. And I love it!"
2. Rare
To celebrate the release of her album at the start of 2020, Gomez got "Rare" tattooed behind her right ear at New York City's Bang Bang Tattoo studio. In several interviews and on social media, the singer disclosed how personal the album was, so it makes sense that she marked the occasion with fresh ink.
3. Prayer hands
It makes a reference to her lifestyle, culture, and upbringing.
4. SemiColon
In 2017, Gomez and 13 Reasons Why stars Alisha Boe and Tommy Dorfman got matching semicolon tattoos. The tattoos are a reference to mental health awareness and suicide prevention.
5. "1"
On the same day as her "4" tattoo back in 2018, Gomez also got the number "1" tattooed on her rib cage with best friend Courtney Barry. "My actual #1," she captioned the photo.
6. "4"
Sel got this tattoo with four of her closest friends (get it) and explained that they're "my 4 for the rest of my life."
7. Love yourself First
Written across her rib cage is the phrase "love yourself first" in Arabic script. It was actually a design fans could copy via temporary tats she sold during her Revival tour in 2016.
8. "LXXVI"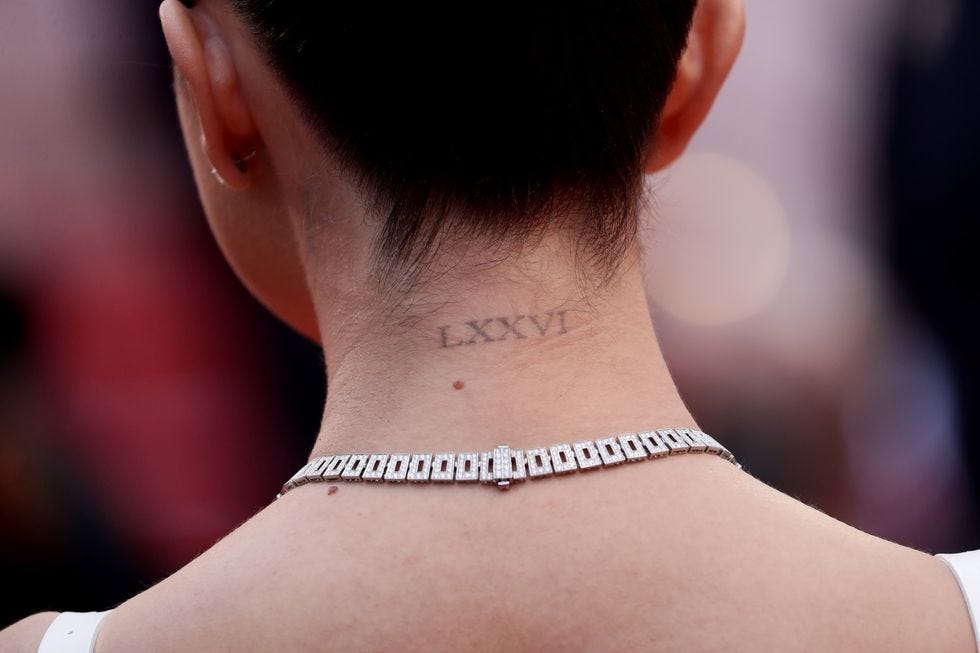 The artist said of the tattoo, via Daily Mail, "The tattoo was a tribute to a family member who she said means a lot to her."
9. "God Who Strengthens Me"
Selena Gomez is open about how close she is to her faith. She says "I can do all the things through Christ who strengthens me."
10. Date of her kidney transplant
With the debut of her music video for "Rare," Gomez revealed yet another tattoo: a date that signifies when she got a kidney transplant. You can see the numbers right on top of her right elbow.
11. "x31"
On Gomez's left hip is "x31," which — according to an interview with Refinery 29 — stands for the date she met one of her closest friends. 
12. Sunshine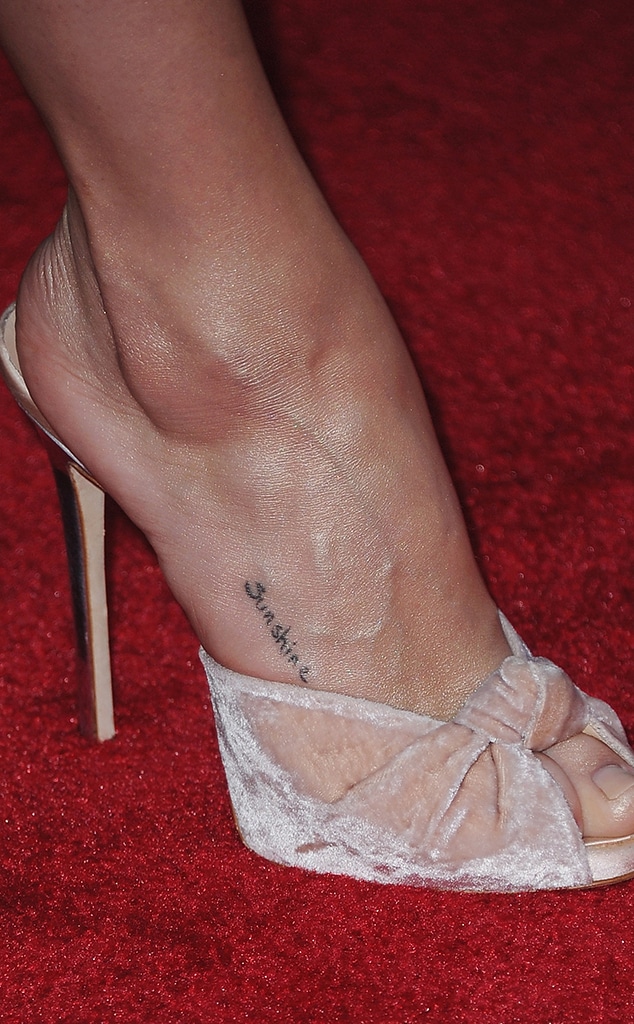 Gomez has a tattoo of the word "sunshine" on her right foot. Back in 2016, the "Lose You to Love Me" singer posted a photo with her grandma, writing, "Nana is my sunshine." So, Gomez's ink is believed to be a tribute to her grandmother.