York is one of the most popular places to visit in the UK, and it's no surprise – spend a day in York and chances are you'll have walked past every type of architecture from every era in human history. Here are five facts about the city that you might not have heard about…
#9 – Racing Romans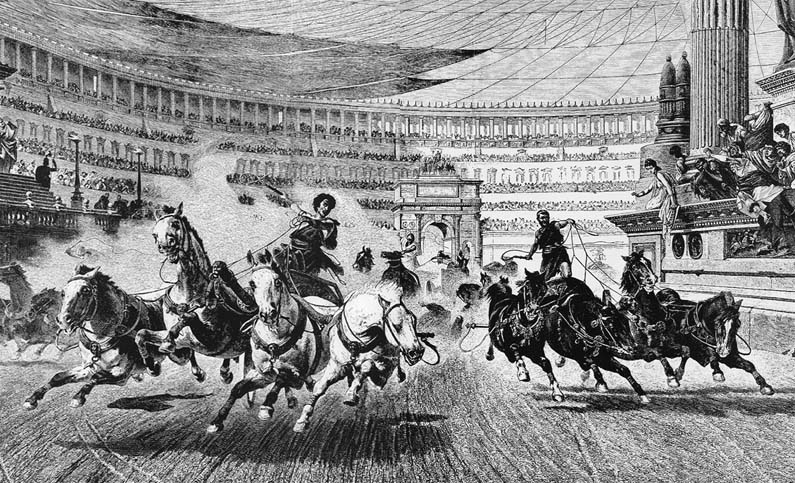 Yorkshire is known for being a hotbed of horse racing but a little known fact is that there has been racing here since Roman times. There are recordings of gatherings in various open spaces around the city particularly in the forest of Galtres but also on Acomb Moor. Racing grew in popularity in the eighteenth century as it became more of an organized event, leading to crowds of over 100,000.
---
#8 – They Like Trains
York is the home of the National Railway Museum, and is part of the British Science Museum Group. The NRM tells the story of rail transport in Britain and its impact on society. The museum itself has won numerous awards including European Museum of the Year Award in 2001.
It is also home to the national collection of historically significant railway vehicles as well as a collection of other artefacts including written and pictorial records. It is the largest of its type in Britain, but not the biggest in the world by floor space. That title goes to La Cite Du Train in France, however it receives far fewer visitors than the NRM.
---
#7 – Scottish warning
If you're a Scot and you're planning on visiting the historic city of York then I would advise you visit on a Sunday as there is a law in York that it is perfectly legal to shoot a Scotsman with a bow and arrow. However there has been no records over the last 10 years of a Scotsman being shot such a weapon in the last ten years. 😂
However, there a vague recollection of an alleged occurrence of several centuries ago which involved a group a men from the Nottingham area dressed in green who were enjoying a stag night in York.
---
#6 – Ghostbusters Needed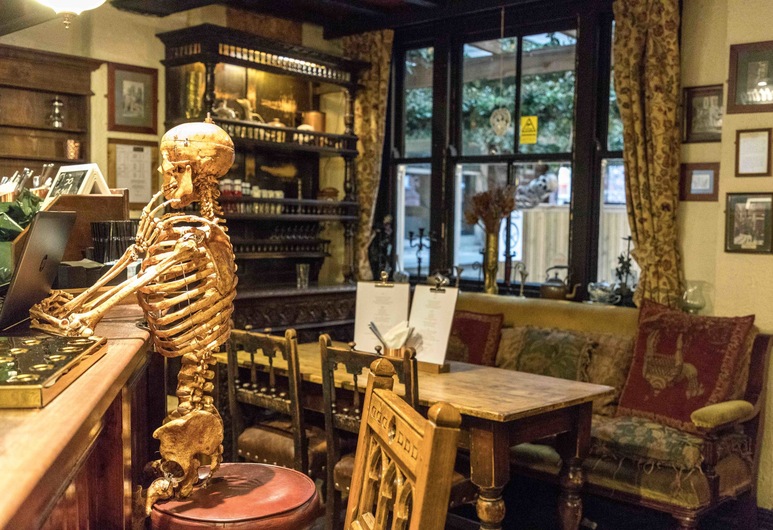 York is an ancient city founded by the Romans in 71 AD when it was called Eboracum. Since then it has had a violent and volatile history with invasions from the Vikings, the Normans and even the English Civil War. Due to this there are many different legends involving buildings, pathways and trees. But it seems that a lot of these legends take form of ghosts.
A study by the international Ghost Research Foundation states York is the most haunted city in Europe, with 504 hauntings within the confines of the city's ancient walls. Spirits such as Seamus the dog that haunts the York Minster, the Crying Girl up stairs in College Street and the haunted pub The Golden Fleece are just a number of apparitions that prowl the streets of York. 👻
---
#5 – York and Its Chocolate
York is the UK's home of chocolate. When the other Northern centres made their wealth from wool, cotton and steel, York made its from chocolate. Due to this chocolate is a big part of York's tradition, and still has a massive influence over the city today, with many employed in the industry today.
York was where many of the chocolate bars you sea today were created. Names such as Smarties, KitKat and Terry's Chocolate Orange, which was not the only fruit shaped chocolate back in the day, Terry's also produced a chocolate apple which wasn't a hit with the public. Chocolate Orange and KitKat are still produced in York with 6 million bars made a day which adds up to over a billion bars a year! 🍫
---
#4 – Constantine The Great
Constantine arrived in Britain with his father, the Emperor Constantius, around 305 AD. Constantius was sent to deal with the troublesome Picts north of Hadrian's Wall. However, Constantius died the following year in York, leaving his son Constantine to succeed him as Emperor. Has he was unable to return to Rome, Constantine became the first Emperor to crowned in Eboracum, as York was known in Roman times. There are many reason he is remembered as the great here a few reasons.
When he returned to Rome, Constantine managed to unite the Roman Empire, a feat no other emperor had managed in the past 80 years. He also abandoned Rome as the most important city in the empire and built a new capital called Constantinople (now Istanbul, Turkey). Another thing Constantine is notable for was becoming the first Roman emperor to convert to Christianity in AD 312. This was at a time when only 10 percent of Romans were Christian, this lead to a lot of the Roman Empire converting to Christianity.
---
#3 – Sturdy Walls
York is famous for its Roman walls which have stood for centuries. Over the years they have withstood numerous attacks and pillaging of their stones, but substantial portions of the walls remain, making them the most extensive examples of Roman walls in England. They are known variously as York City walls, the Bar walls and the Roman walls. The original walls were built in 71AD. The rectangle walls having been built as part of a fort defense and about half of these Roman walls form part of existing walls.
The walls are punctuated by four main gatehouses or bars the Botham bar, Monk bar, Walmgate bar and Micklegate bar. These restricted traffic in medieval times and were used to extract tolls, as well as being defensive positions in times of war and are all still standing today. There are a couple of smaller bars the Fishergate Bar, Victoria Bar.
---
#2 – Shopping Shambles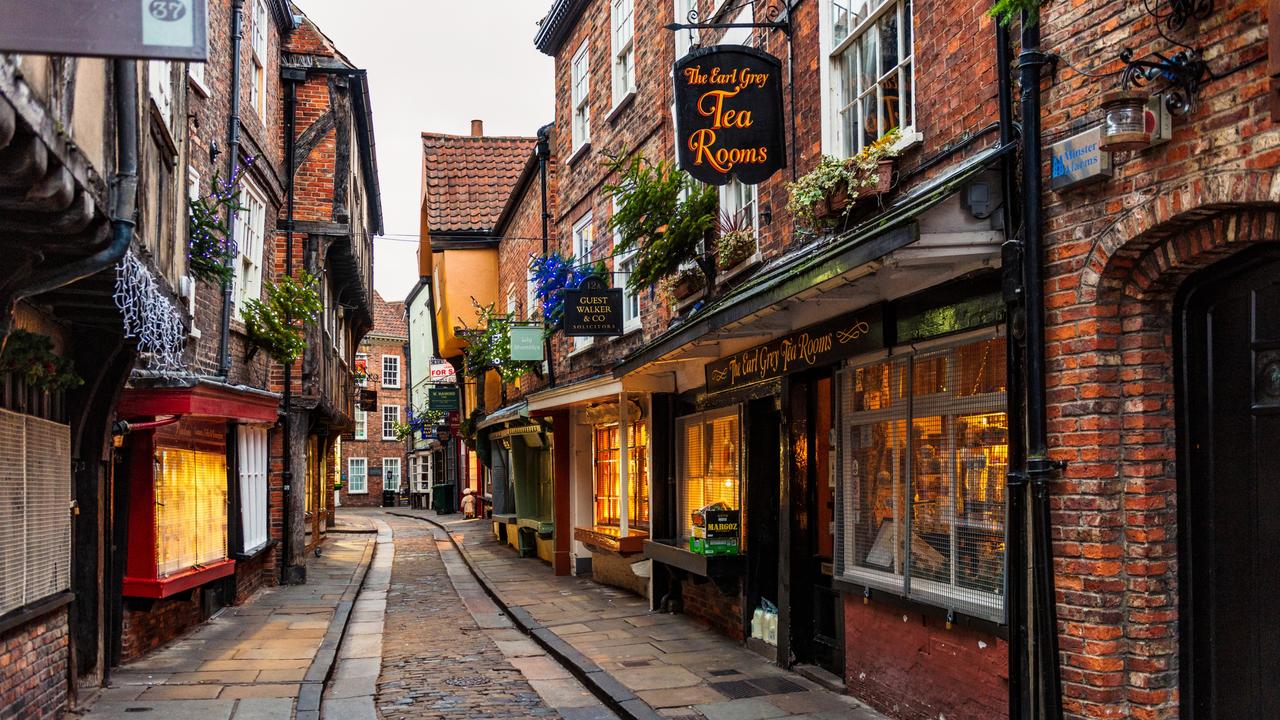 Shambles is a old street in York with overhanging timber framed buildings, some dating back as far as the fourteenth century, and is estimated to be one of the best preserved medieval shopping streets in Europe. It was a butchers market at one point with twenty five butchers shops located along the street, none of which remain today.
Among the building of the shambles is a shrine to Saint Margaret Clitherow, who married to a butcher who owned and lived in a shop there at number 10 Shambles. Another way the Shambles remembers its meat market past is by having meat hooks hanging outside every house. The shops currently include a mixture of eateries and souvenir shops, but there is also a bookshop and bakery.
---
#1 – 250 Years in the making
York Minster is the tallest building in York and is probably the most famous. York Minster is one of the largest and finest of its kind in Northern Europe. The minster seat is the seat of the Archbishop of York, which is the second highest seat in the Church of England. What makes the building so special is the length it took to build with the official completion happening 250 years after it first started.
In more recent times York minster has had more money spent on the building. This was due to a fire that broke out in July 1984. The fire believed to have been caused by a lightning strike destroyed the roof in the south transept.