We may not be left wondering who's the titular character on HBO Max's Gossip Girl, but the first half of the first season left us with so many juicy questions, namely about the characters' very complicated relationships.
After all, those first six episodes saw sisters Julien (Jordan Alexander) and Zoya (Whitney Peak) both involved with Obie (Eli Brown) at one point — and he wasn't kissing the one who was last his girlfriend in the midseason finale. Max (Thomas Doherty), Aki (Evan Mock), and Audrey's (Emily Alyn Lind) dinner took quite a turn. One of the teen's fathers had quite the mysterious warning. And a sex tape ended up in Gossip Girl's DMs…only to be erased since Kate (Tavi Gevinson) allowed the wrong teacher access to the account.
Fortunately, we only have to wait until Thanksgiving to find out what's next, but until then, we're taking a look at the burning questions we need answered immediately when the drama returns below.
Gossip Girl, Returns, November 25th, HBO Max
How will Zoya find out about Julien and Obie's kiss?
We could see the cracks forming in Obie and Zoya's relationship before her sister joined him at a protest before she did. And Zoya was upset when she saw Julien with him. Will Zoya learn about Julien and Obie's kiss — as they ran from police who showed up at the protest — from one or both of them or Gossip Girl, at the worst time possible? (Our money is on the latter.)
What does Julien and Obie's kiss mean for their relationships — with each other and Zoya?
Just because Julien and Obie kissed, she still has feelings for him, and his relationship with Zoya is falling apart doesn't mean that couple is necessarily getting back together. After all, that kiss didn't come at the best time and there is Zoya to take into account. Something tells us that the fact that the kiss happened will put a strain on Julien and Obie's relationships with her — even if she doesn't know why right away.
Are Max, Aki, and Audrey now a throuple?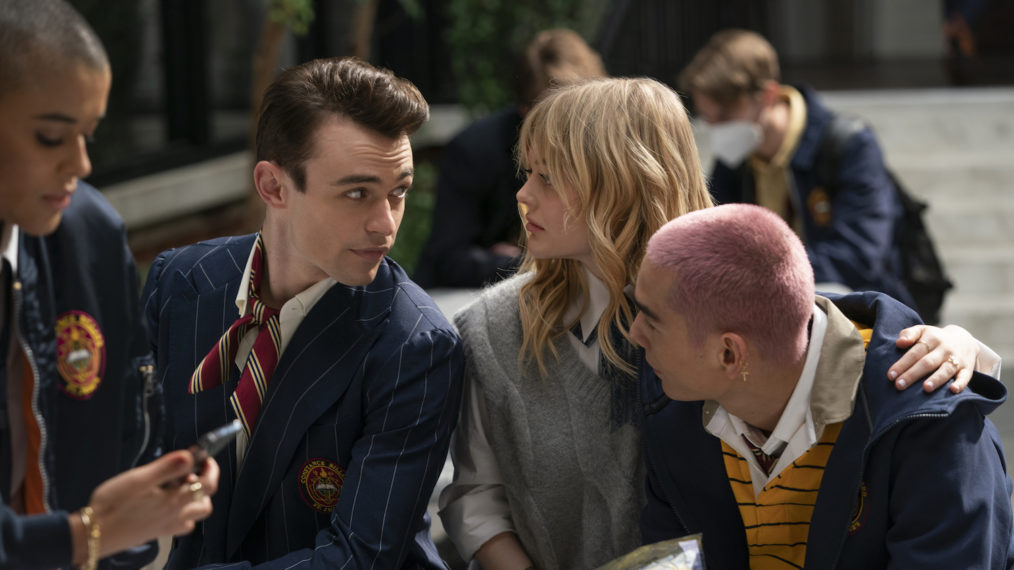 It seemed like just a matter of time before something happened with the three of them after Audrey hooked up with Max and Aki kissed him. And it did in the midseason finale: a threesome. But is it just a one-time thing? Is it casual? Will they be a throuple?
Why did Aki's father tell him to stay away from Julien?
While Aki was busy with Max and Audrey, his father called and left him a voicemail. Not only did he tell his son he supported him — he outed him to the media — but he also wanted him to "just for a little while at least, stay away from Julien. If you call me back, I'll talk you through it."
How will the video of Max and Rafa having sex pop up again?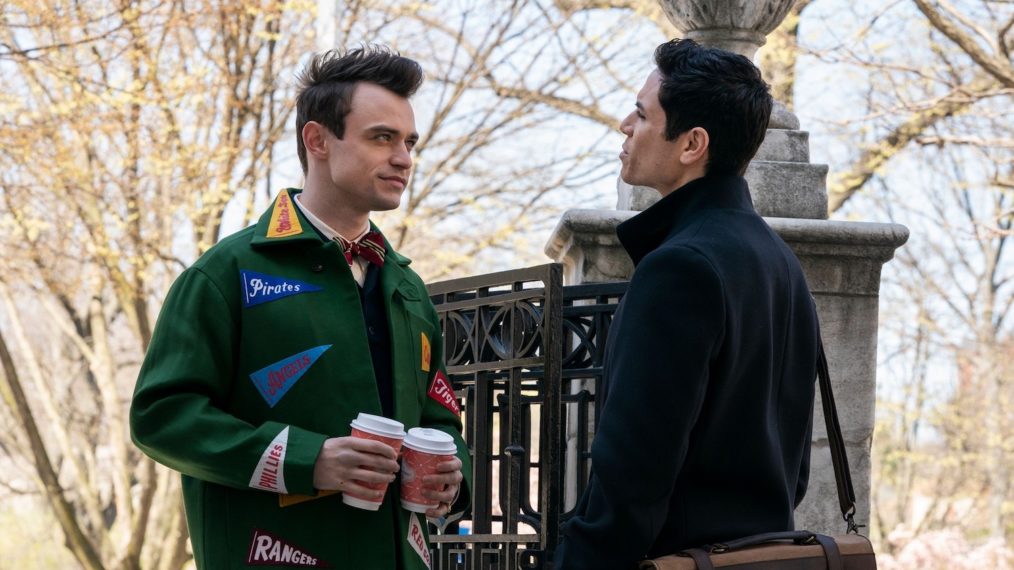 Max sent a video of himself and Rafa (Jason Gotay) having sex to the Gossip Girl DMs. However, Kate had given the other teacher access to the account — and Rafa deleted it before she and the other teachers could even think about how to use it. It could get Rafa fired, maybe even arrested, so how will it come again? (Because let's be honest: It has to.) Will Max take down Rafa by the end of the season?
Will Gossip Girl come crashing down on Kate and the other teachers?
Unlike the original CW Gossip Girl, this one won't have us guessing until the final episode who's behind the titular character. Instead, we're seeing Kate and the other teachers control the account. But even though they've run into a few problems already in just six episodes, will they make it the next six without their identities being revealed?
Will Kate be able to keep things "strictly professional" with Nick?
Though Kate did go out with Zoya's father Nick (Johnathan Fernandez) for what she claimed was just an attempt to get information to use for Gossip Girl, by the end of the midseason finale, she texted him that they should keep things "strictly professional." We'll be shocked if they don't kiss in the first episode back.
By Meredith Jacobs