What I Should Read Next? - November Book Picks
Are your Thanksgiving dinners formal and fancy, with everyone sitting quietly in their chairs? Or are you and your siblings throwing stuffing at each other? No matter how you celebrate the holiday in your home, here are a few books to add to the menu.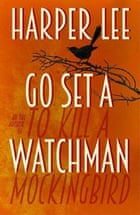 1. 

Go Set A Watchman

by Harper Lee (teen read)
This story was written before To Kill a Mockingbird, but follows the same characters and tells the story of an adult Scout returning to visit Maycomb from New York. 
"As Scout adjusts to a fast-changing society, her perceptions of her neighbours, friends and family are altered forever, she must learn to adapt to her new discoveries and deal with her disillusions. Plus, with some cringe moments worthy of any coming-of-age YA novel. Go Set a Watchman is quite simply about growing up!"
2. 

Blue Lily, Lily Blue

by Maggie Stiefvater (teen read)
If you set your sights a little more distantly, however, and travelling to a mythical world is more your thing, then look no further than the third instalment of The Raven Cycle. Blue is the daughter of a psychic who believes that kissing her true love will result in his death. "Although romance is touched upon slightly, it is nowhere near the main part of the novel,". But as the latest in an ongoing series, the story also follows Blue's quest with Gansey, Ronan, Noah and Adam to find the welsh King Glendower 
3. 
Stig of the Dump

by Clive King (teen read)

If you're looking to escape to a secret world this fall, then this children's classic may be just the ticket to a world of adventure. The tale follows the summer adventures of Barney, who goes to stay with his Grandma and befriends a boy called Stig. What makes Stig so unusual, though, is that instead of living in a house, he lives in an old chalk pit which is used as a dump.

"Why does Stig live in a dump? And why doesn't he understand modern things? You'll have to read the book to find out!". It makes you think about what it would be like to live in a world you don't really understand."
4.

Winter (The Lunar Chronicles)

by Marissa Meyer (Teen read)
Princess Winter is admired by the Lunar people for her grace and kindness, and despite the scars that mar her face, her beauty is said to be even more breathtaking than that of her stepmother, Queen Levana. 
Winter despises her stepmother, and knows Levana won't approve of her feelings for her childhood friend--the handsome palace guard, Jacin. But Winter isn't as weak as Levana believes her to be and she's been undermining her stepmother's wishes for years. Together with the cyborg mechanic, Cinder, and her allies, Winter might even have the power to launch a revolution and win a war that's been raging for far too long.
5.
Need by Joelle Carbonneau (Teen read)
Teenagers at Wisconsin's Nottawa High School are drawn deeper into a social networking site that promises to grant their every need . . . regardless of the consequences. Soon the site turns sinister, with simple pranks escalating to malicious crimes. The body count rises. In this chilling YA thriller, the author of the best-selling Testing trilogy examines not only the dark side of social media, but the dark side of human nature.